'LEGO Star Wars Summer Vacation' Is Not a Must Watch, but Might Entertain You for an Hour — Review
A brand-new LEGO Star Wars animated special for Disney Plus has been released, titled LEGO Star Wars Summer Vacation. After celebrating Life Day in 2020 and getting scared by some terrifying tales last year, our main characters are now trying to relax and have some fun aboard (cue in Disney's shameless plug of their expensive hotel) the Halcyon starcruiser.
Finn, afraid to lose his friends before they move on to their next adventure, tries to maximize their time together but quickly realizes that they are not all on the same boat. Poe wants to engage in all the activities he can get his hands on, while Rey just wants to sit by the pool and sleep it off. The group quickly disperses, and Finn, while looking for them, is visited by three Force ghosts who try to teach him three valuable lessons. They are Obi-Wan, Anakin, and Leia, and they each tell a story of a vacation they had had back in the day.
I deeply enjoyed the LEGO Star Wars Holiday Special that was released a couple of years ago. It was a lot of lighthearted fun, and I always appreciate when Star Wars doesn't take itself too seriously, something LEGO is obviously great at. Terrifying Tales, however, wasn't as memorable to me, and I am afraid this one is the one that worked the least for me, especially in the beginning. Obi-Wan's story was not good at all, and even though I don't mind when LEGO pokes some fun at our characters and exaggerates their personality (something that they did to great effect here with the Emperor, I think), I was not a fan of what they did with Obi-Wan. The character in the flashback does not match the one we know and love from the movies and the most recent Disney Plus series, and I was a bit annoyed by it. Though I always tried to keep in mind these specials are not to be taken seriously, the LEGO humor is something that generally appeals to me, and I found it very rough in this segment of the movie.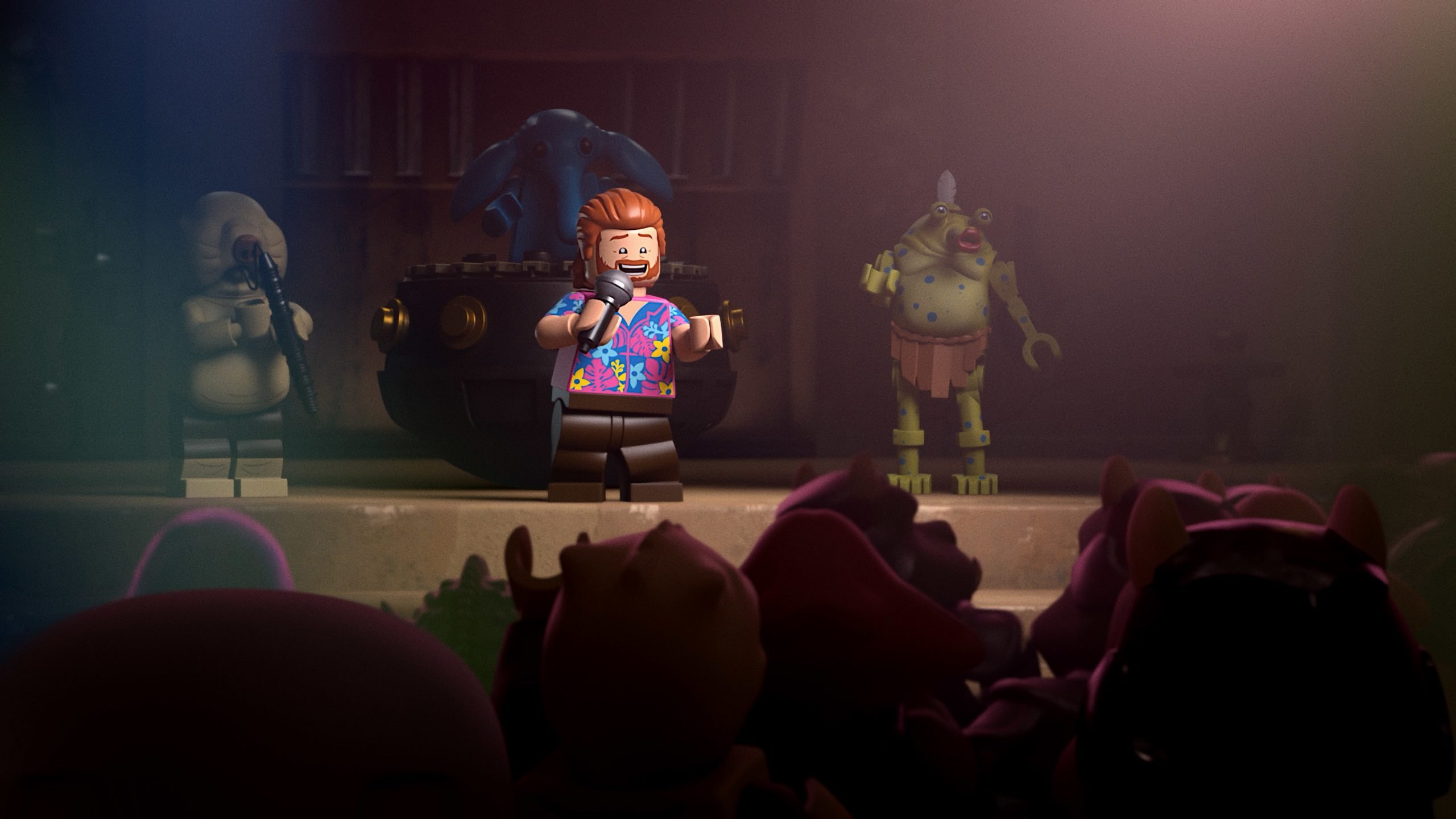 There is another segment focused on the Emperor and Darth Vader, which oddly enough, I enjoyed a lot. Not only because the humor was mostly on point, but also because I found the character dynamics between the two to be very on-brand. Maybe it's because I'm already used to what they do with these two characters in the LEGO specials, and this was the perfect continuation of that, but I thoroughly enjoyed how the Emperor's influence over his apprentice, and Vader's almost total submission to his master.
And last but not least, we get a story about young Ben Solo told by General Leia Organa herself. While the story was rather compelling, my favorite part was seeing the Solo family dynamics, especially the father-son interactions between Han and Ben. I know these are exaggerations and not to be taken seriously (they are probably not even canon, though I am not sure if a decision has been made either way), but I'll take what I can get.
I should also mention, to close up, that these LEGO Star Wars specials continue to explore the idea of Finn becoming a Jedi. After being trained by Rey in The Holiday Special, here it is made abundantly clear that if he were not a Jedi, he wouldn't be getting visits by Force ghosts. I don't know if Lucasfilm will ever explore this story thread in live-action, but the fact that at least they are acknowledging it even in a dumb Disney Plus special is certainly promising for now.
Overall, if you are looking for the next great Star Wars piece of content, I definitely suggest waiting for Andor. If you are looking for some lighthearted entertainment to help an hour of your day go by faster, then you might consider checking out Summer Vacation.
LEGO Star Wars Summer Vacation is now available on Disney Plus. David Shayne is the writer and executive producer, and the director is Ken Cunningham. It also features the voices of "Weird Al" Yankovic as Vic Vankoh (who also composed a song); Yvette Nicole Brown as Colvett Valeria; Thomas Lennon as Wick Cooper; Paul F. Tompkins as Rad; Dee Bradley Baker as Boba Fett; Ashly Burch as the Tour Droid; Kyliegh Curran as Sidero; Anthony Daniels as C-3PO; Trevor Devall as Emperor Palpatine; Allie Feder as Sy Snootles; Jake Green as Poe Dameron; Matt Lanter as Anakin Skywalker; Ross Marquand as Han Solo; Omar Miller as Finn; Kevin Michael Richardson as Jabba the Hutt; Matt Sloan as Darth Vader; James Arnold Taylor as Obi-Wan Kenobi; Kelly Marie Tran as Rose; Helen Sadler as Rey Skywalker; Billy Dee Williams as Lando (Holovid); Matthew Wood as Ben Solo; and Shelby Young as Leia Organa.
If you haven't seen it yet, you may consider checking out this clip that was released just before the premiere on Disney Plus:
Miguel Fernández is a Spanish student that has movies as his second passion in life. His favorite movie of all time is The Lord of the Rings, but he is also a huge Star Wars fan. However, fantasy movies are not his only cup of tea, as movies from Scorsese, Fincher, Kubrick or Hitchcock have been an obsession for him since he started to understand the language of filmmaking. He is that guy who will watch a black and white movie, just because it is in black and white.