Third Wave of Essential Legends Collection Reveals New Covers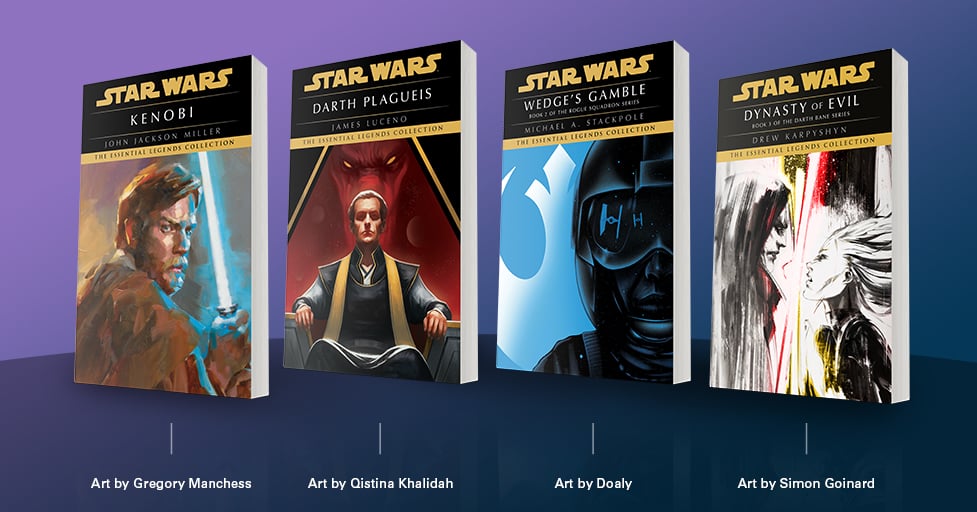 In April, Del Rey announced that for Lucasfilm's 50th anniversary, they would be reprinting some key books in their Legends roster, and releasing them with brand-new covers. The first two waves of books from the Essential Legends Collection included titles like the first two entries in Drew Karpyshyn's Darth Bane trilogy or all three of Timothy Zahn's Heir to the Empire books. The books for the third wave leaked online during the summer, and today, Del Rey officially announced them and also revealed their covers.
As seen in the picture above, they are four books: John Jackson Miller's Kenobi, first released in 2013, and with new art by Gregory Manchess; James Luceno's Darth Plagueis, first released in 2012, and with new art by Qistina Khalidah; Wedge's Gamble, written by Michael A. Stackpole and first released in 1996, with new art by Doaly; and finally, Drew Karpyshyn's Dynasty of Evil, first released in 2009, and with Simon Goinard drawing the new cover.
Wedge's Gamble is the second installment of the X-Wing series, with Rogue Squadron being the first book. That one was reprinted as part of wave 2 of the Essential Legends Collection. Also, Dynasty of Evil completes the reprinting of Karpyshyn's Bane trilogy.
A lot of attention has been brought into these choices. Kenobi and Rogue Squadron seem fitting, as both of these titles are relevant to Lucasfilm's current audiovisual slate, and Zahn's original Thrawn trilogy is also pertinent due to Del Rey currently publishing new books focused on that character. The question is then, why Darth Plagueis and Darth Bane? Could Lucasfilm be working on bringing those characters to live-action too?
The truth is that Del Rey probably knows nothing about Lucasfilm's plans for future projects, and the company has better ways to get fans ready for their eventual canon appearance than the reprinting of a few books. They are infamous for not paying any attention to what's going on in the books while developing new live-action projects, but at the same time, Palpatine's survival from Return of the Jedi had been teased for a long time in several books, including Chuck Wendig's Aftermath trilogy.
Del Rey also announced today that these four books will be available to purchase on April 5, 2022.
Miguel Fernández is a Spanish student that has movies as his second passion in life. His favorite movie of all time is The Lord of the Rings, but he is also a huge Star Wars fan. However, fantasy movies are not his only cup of tea, as movies from Scorsese, Fincher, Kubrick or Hitchcock have been an obsession for him since he started to understand the language of filmmaking. He is that guy who will watch a black and white movie, just because it is in black and white.