'Thrawn Ascendancy: Lesser Evil' Releases New Excerpt Ahead of This Month's Debut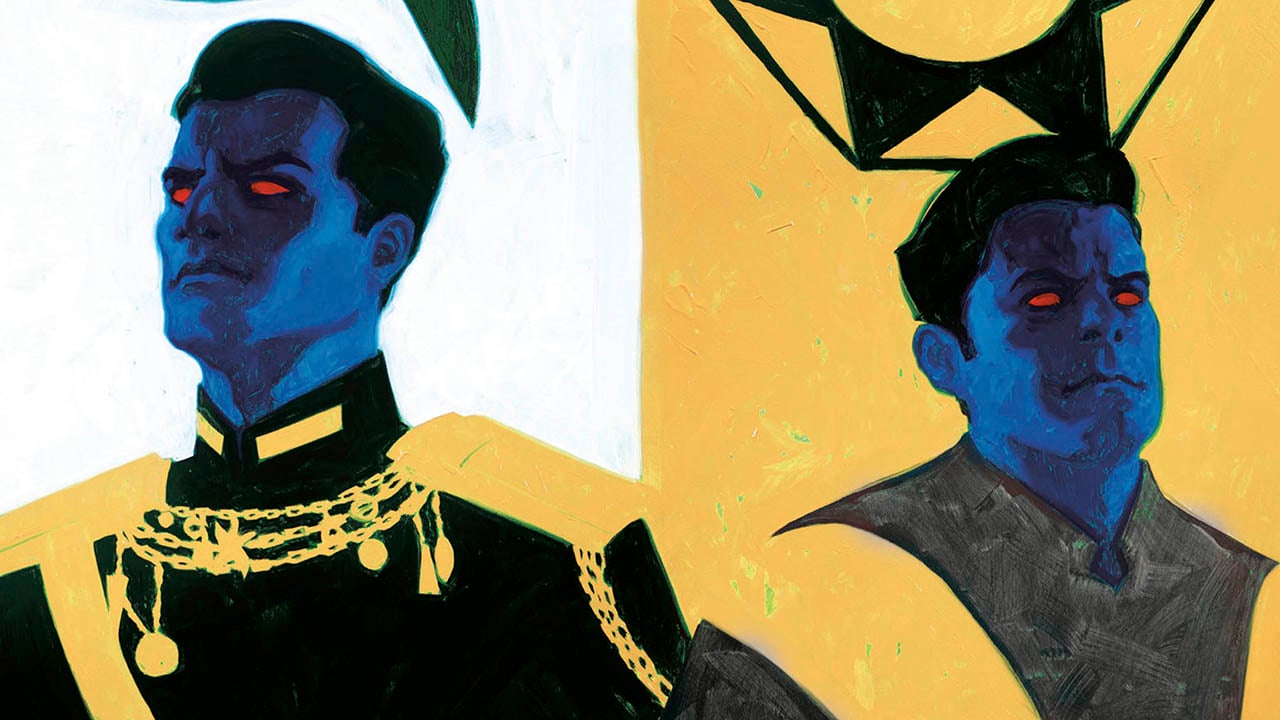 The third and final entry in Timothy Zahn's latest Thrawn trilogy is coming out in less than two weeks, and yesterday, io9 used the occasion to release a new excerpt from the book, both in audio and written form. Marc Thompson is once again providing the narration for the book, much like he did for all the previous canon Thrawn novels.
Thrawn Ascendancy: Lesser Evil is the sequel to Greater Good, released earlier this year, and Chaos Rising, released last year. If you feel like it's been too long since you read those, make sure to check out Kyle and James' book discussions on Greater Good here and on Chaos Rising here.
What follows is a chunk of the new excerpt, but you can check it out in full on Gizmodo, as well as in audio version:
"Conquest."

Generalirius Nakirre gazed out the viewport of the Kilji war cruiser Whetstone at the dozens of trading ships orbiting the planet Zyzek. "Conquest."

"An interesting concept, is it not?" the being known as Jixtus suggested.

Nakirre eyed his guest. It was unsettling having to deal with a being whose garments of robe, hood, gloves, and veil wrapped him in total concealment.

Especially given that such complete anonymity gave him a serious negotiating advantage over Nakirre and his Kilji vassals. Once Jixtus learned how to read the emotional responses reflected in the patterns of ripples and stretches that moved through the dark-orange Kilji skin, he would gain insight that went far deeper than Nakirre's words.

But Nakirre had agreed to travel here with the alien, and the Kilji Overlords had affirmed his decision, and so here they were.

And truth be told, Jixtus did have some intriguing ideas on how the future of the Kilji Illumine could be shaped.

"People who would otherwise ignore the wisdom and guidance of the Kiljis would be encouraged to listen," Jixtus continued. "People who would otherwise scorn and scoff at your philosophy could be silenced or sent where their rantings would not disturb or disrupt."

"It would allow us to bring order," Nakirre agreed, images of unprecedented stability running through his mind. Conquest.

"Exactly," Jixtus said. "Order and enlightenment to billions who currently struggle and flail helplessly in darkness. As you well know, encouragement and persuasion—even passionate persuasion—can move a culture only so far. Conquest is the only way to bring Kilji insight to the whole of a region."

"And you believe these beings are prepared to receive such insight?" Nakirre asked, sweeping his hand across the viewport at the merchant ships floating placidly in their orbits.

"Is there ever a time when enlightenment would not be beneficial?" Jixtus countered. "Whether they realize it or not, whether they accept it or not, the Kilji path is what will ultimately bring them prosperity and contentment. What purpose delay?"

"What purpose, indeed," Nakirre agreed, gazing at the ships. So many merchants, so many nations, all standing helpless before the might of the Kilji Illumine. Which should he choose first?

"As I promised, we will guide you as to the nations most quickly and easily conquered," Jixtus continued. "There are representative traders here from each of the four the Grysks feel are the most promising. We'll speak with them in turn, perhaps sample the goods they've brought for sale. You will then—"

"Generalirius?" Vassal Two called from the sensor station. "A new ship has arrived. Unknown configuration."

Nakirre looked at the visual display. The newcomer was indeed unlike any of the other ships already in orbit. Representatives of some new nation, no doubt, here to join in barter and trade.

Or perhaps not. The design of the craft was not that of a merchant. Its shape, the systematic groupings of bulges along its sides and shoulders, the distinctive sheen of a nyix-alloy hull . . .
Thrawn Ascendancy: Lesser Evil will be released on November 16, but is already available to pre-order here. Look forward to our review too.
Miguel Fernández is a Spanish student that has movies as his second passion in life. His favorite movie of all time is The Lord of the Rings, but he is also a huge Star Wars fan. However, fantasy movies are not his only cup of tea, as movies from Scorsese, Fincher, Kubrick or Hitchcock have been an obsession for him since he started to understand the language of filmmaking. He is that guy who will watch a black and white movie, just because it is in black and white.