Complete Breakdown of the Entire Empire Magazine Article About 'Star Wars: The Rise of Skywalker'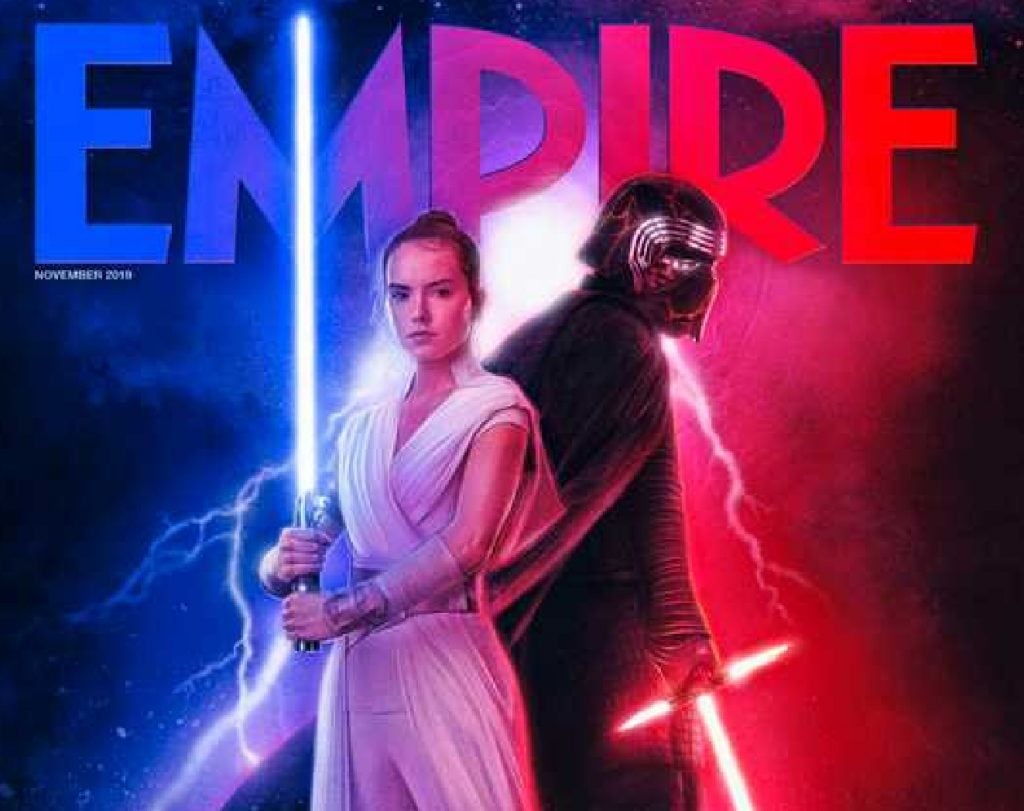 The new issue of Empire hit news stands today, and with it comes an in-depth look at The Rise of Skywalker. The eight page feature pulls back the curtain on the upcoming finale of the Skywalker Saga, interviewing its writers J.J. Abrams and Chris Terrio. So what did Empire tell us about the conclusion that's been forty-two years in the making? Let's check it out.

The article takes us back to late 2017. It's September 5th, and Lucasfilm has just announced that Colin Trevorrow will no longer write and direct Episode IX after two years of working on the project. What should be the crowning achievement of the sequel trilogy is now in limbo with no script, no director, and a release date that was, at the time, less than two years away. Needing someone she knew could deliver, Lucasfilm President Kathleen Kennedy turned to the man responsible for bringing Star Wars back to the big screen and kicking off the sequel trilogy, J.J. Abrams.
"Getting involved in IX came as a bit of a shock," Abrams told Empire, "I had completed VII, Rian was doing VIII, and I was not meant to do IX at all. But the opportunity to not just finish the trilogy, but to finish what George began – this trilogy of trilogies – was too compelling and too tempting to reject … It's exponentially the most daunting thing I've ever been involved with. But it was more exciting than it was anything."
But as exciting as the prospect was, Abrams knew he needed a co-pilot. So, after agreeing to helm the saga's finale, he reached for his phone and started to text. On the other side of the country, Chris Terrio was just sitting down for a sold out screening of Jane Campion's The Piano when his phone started to buzz. Then it buzzed again as text after text poured in and the Oscar winning writer tried to glance discreetly at his phone.
"I've just signed on to Episode IX."
"We're going to write a new script. Would you consider writing it with me?"
Honestly, I think I'd have screamed getting that message. But thankfully for his fellow audience members, Terrio held more restraint.
"He didn't even say the words 'Star' and 'Wars'," Terrio told Empire with a laugh, "He didn't have to. I'd been about to go off and direct a small movie, but when you hear Star Wars, everything else goes away." Whilst he may not have screamed, he certainly text back. And, as the texts kept flowing back and forth, as Abrams and Terrio exchanged ideas and questions about what IX would be, the writer excused himself from the audience and went to book his flight.
"J.J. is constantly brimming with ideas and, in the very best way, he's very impatient about them! So we just started getting into it then and there. I got on a plane to LA the next day."
A day after Terrio landed in LA, Lucasfilm made the official announcement that Abrams would direct Episode IX and co-write the script with Terrio.
Speaking of the writing process, Abrams confirmed again that, just as he left a blank canvas future for Rian Johnson to create The Last Jedi, Johnson had left a blank canvas for the saga's grand finale. "You can't plan everything in advance," Abrams said, "You have a better idea and then you implement it. When I was working on VII, I'd be lying if I said I knew everything that was gonna happen in VIII and IX. I had some ideas. but we had a release date and that required us to work on VII!"
But if you thought Abrams might use The Rise of Skywalker to undo or course correct after The Last Jedi then think again. Empire notes that the suggestion was given "short shrift" by the director, who likened the hand off between directors to that of a TV series:
"I never found myself trying to repair anything. If I had done VIII, I would have done things differently, just as Rian would have done things differently if he had done VII. But having worked on television series, I was accustomed to creating stories and characters that then were run by other people. If you're willing to walk away from the thing that you created and you believe it's in trustworthy hands, you have to accept that some of the decisions being made are not gonna be the same that you would make. And if you come back into it, you have to honor what's been done."
For the Skywalker Saga's grand finale, the intention is to build upon all that has come before, to take the competing ideas of The Force Awakens and The Last Jedi and weave them together. To bring balance to the Force if you will.
"We thought about that ["let the past die"] line a lot," Terrio told Empire, "Rian did something that any good second act will do, which is create the antithesis. In The Force Awakens Luke Skywalker is a myth Rey's obsessed with and there's a warm embrace of the past. What Rian suggested is that the past is a mixed bag and you can't rely upon it to tell you where to go in the future. What we're doing with Episode IX is trying to create a synthesis between those two points of view."
Could this then come back to Rose's message about not fighting what we hate but saving what we love? It's certainly seems like a possibility.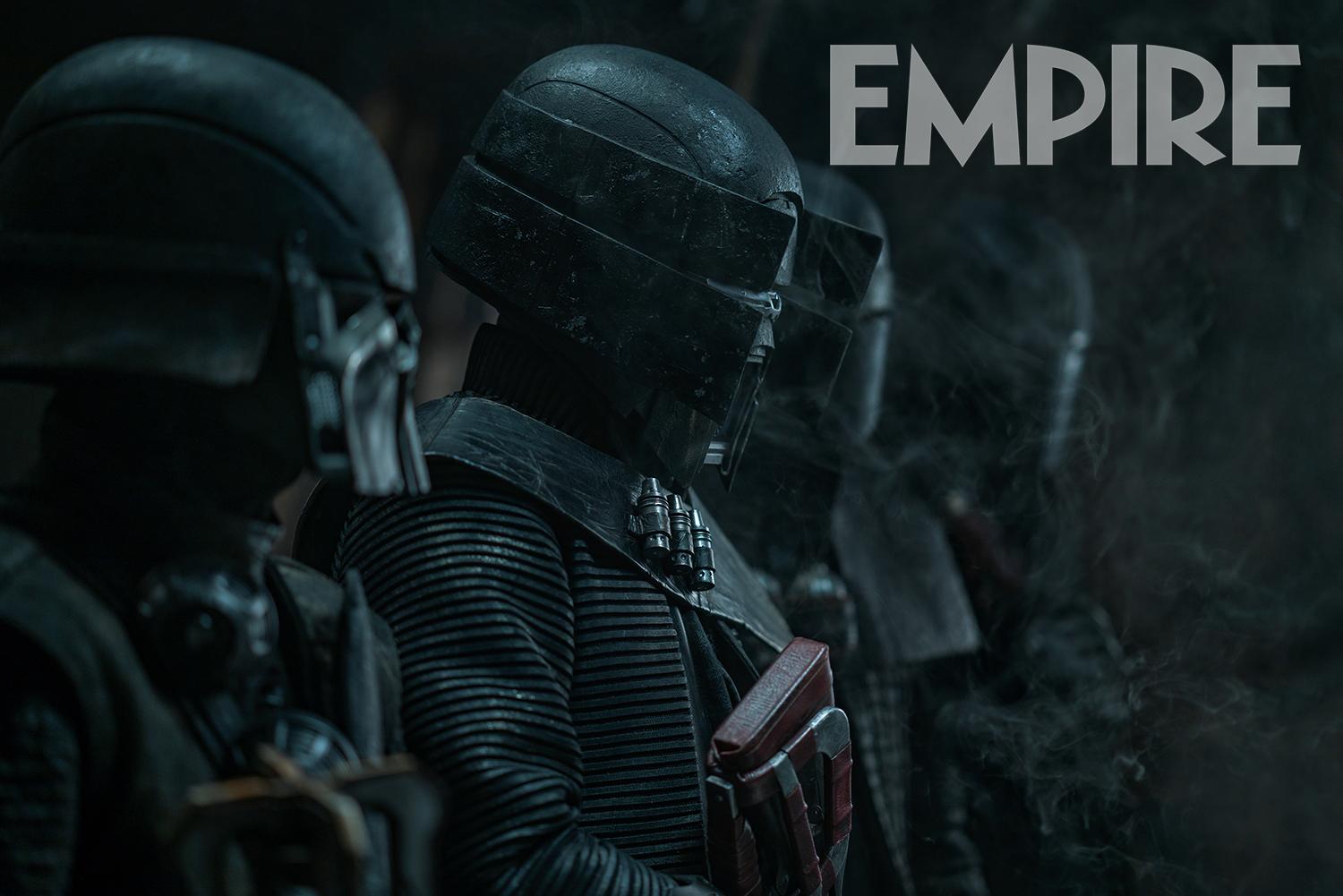 One element teased in The Force Awakens but absent from The Last Jedi was the Knights of Ren. Was this the handful of fallen Jedi students that followed Ben Solo from the Jedi Temple massacre to the First Order? Are they another group entirely? Empire refers to them as Chekhov's gun. That element teased in the first act that must go off in the third. Though no mention is given to where they have been or what role they will play as the story heads towards its conclusion. Also teased once more is the story of Rey's lineage, with Empire saying that mystery looks set to be "reopened" after The Last Jedi seemingly shut the door on the question of her parents. Tellingly, there are no quotes from either Abrams or Terrio on the question of Rey's origin, suggesting that whatever revelations The Rise of Skywalker has in store for her are some of its most closely held secrets.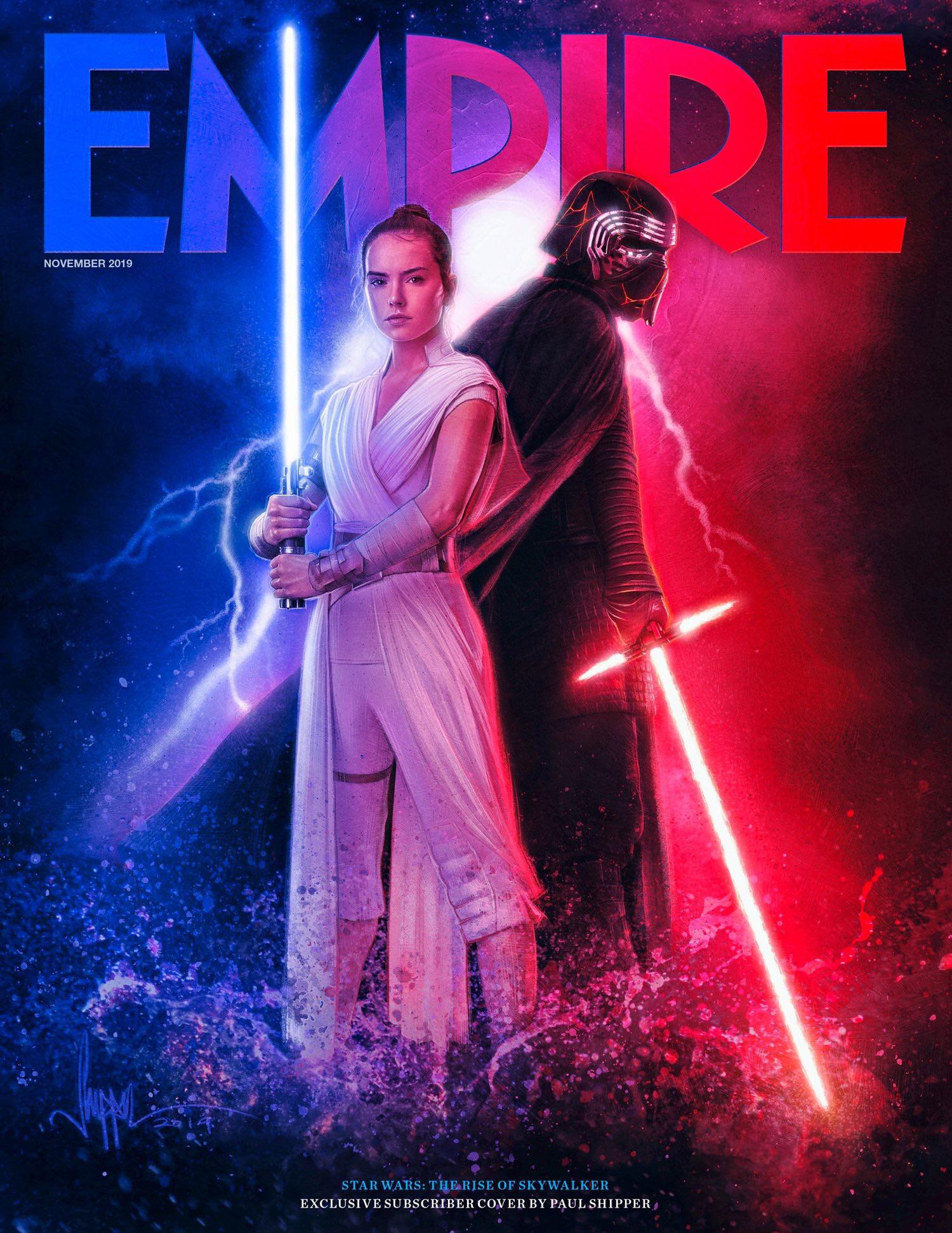 One thing Abrams and Terrio do plan on developing is the relationship between Rey and Kylo Ren. The last hope of the Jedi and the broken Supreme Leader of the First Order. As Terrio told Empire:
"Some of the most interesting scenes in The Last Jedi are the conversations between Rey and Ren. We've tried to pick up that complicated relationship that really has been present ever since the interrogation in Episode VII. When Ren takes his mask off, there's a nakedness about him with Rey that he doesn't express to anyone else. Rian developed that in fascinating ways and we've been able to develop it even further."
That nakedness, the vulnerability he expresses only around Rey, is one of the reasons that Kylo Ren's iconic mask is back in The Rise of Skywalker. As well as given Hasbro new merchandise to sell at this year's Triple Force Friday, the cracked and reforged helmet is a reflection of who Ren is within. Once a mask used to emulate his grandfather, it now represents his broken character, as Abrams explains:
"Having him be masked, but also fractured, is a very intentional thing. Like that classic Japanese process of taking ceramics and repairing them, and how the breaks in a way define the beauty of the piece as much as the original itself. As fractured as Ren is, the mask becomes a visual representation of that. There's something about this that tells his history. His mask doesn't ultimately hide him and his behavior is revealed."
That last part, about his mask not hiding him and his behavior being revealed, really stands out to me and I'm trying to recall if the wider galaxy knows that Ben Solo is Kylo Ren. I can't think of anything in the films to suggest they do, so could this be a hint that his heritage will be revealed to the galaxy at large? As things stand that would seem to hurt Leia more than Ren, but it could be a very interesting twist in any potential redemption arc.
As Ren feels the pull to the light, Rey too feels the call of the dark, as teased so dramatically in the D23 footage recently. "I'd rather let that one lie," Abrams told Empire when they asked him about the dark side Rey that appeared at the end of the teaser. Then he smiled mischievously adding, "But I will say that the movie has a number of things that you wouldn't expect to have happen and that you wouldn't expect certain characters to do. There are surprises along the way. And that's one of them."
The Rise of Skywalker will introduce us to several new worlds according to Empire, from the deserts of Pasaana to the snowy peaks of Kijimi. It's Pasaana where the heroes of the sequel trilogy will finally come together, and we'll see Rey, Finn, and Poe side by side. For Abrams, this is the heart of Star Wars:
"The heart of Star Wars for me is the group of unlikely bedfellows on a breakneck adventure. And in The Rise of Skywalker it's the biggest and most dastardly threat the galaxy has seen. The opportunity here was to have this group that has now become a surrogate family have to deal with this massive horror: the war to end all wars. Not just on the outside, but on the inside, which is to say it's meant to be as much of a challenge personally as it is physically."
The "war to end all wars" certainly makes sense as Abrams brings this trilogy of trilogies to a close. And both sides are bringing in new allies to aid them in this final confrontation. Billy Dee Williams' Lando Calrissian is returning following the Resistance being almost wiped out at the end of The Last Jedi. And we've seen glimpses of new allies too, like Naomi Ackie's Jannah. For the First Order there's Richard E. Grant's Allegiant General Pryde, a new fleet of TIE Daggers, the sinister looking Sith Troopers. And then there's Palpatine. Since that laugh first rang out at the conclusion of the teaser trailer, we've known Darth Sidious is involved, somehow.
Did he survive the Battle of Endor? Has he somehow come back to life? Is he trapped in the netherworld of the Force but still influencing events. Abrams isn't telling. But for him, Palpatine's return was the natural evolution of the story:
"Some people feel like we shouldn't revisit the idea of Palpatine, and I completely understand that. But if you're looking at these nine films as one story, I don't know many books where the last few chapters have nothing to do with those that came before. If you look at the first eight films, all of the set-ups of what we're doing in IX are there in plain view."
Ok, who's planning to re-watch the entire saga now to try and spot the set-ups? More seriously though, I love that Abrams appears to be focusing so much on making this a satisfying conclusion to the full saga and not just the sequel trilogy. And whilst I will be re-watching the saga before The Rise of Skywalker is released, it will be very interesting to re-watch it all after to find the setups  that he's talking about.
For Abrams, bringing the saga to a close has been a unique challenge. "I've always loved the start of something," he told Empire, "because of what it promises. Endings are hard. A great ending not only needs to honor everything that's come before but, whether it's a novel, a series or a film, you want to have it feel like it could end no other way."
For me, Return of the Jedi had such an ending, a feeling that only increased with the release of the prequel trilogy, so I truly hope that The Rise of Skywalker can match the same intense emotion and feeling of satisfaction when the credits roll.
"This story is alive, and you just have to listen to it," is the only was Abrams could describe it to Empire:
"When you land on something that gives you the chills, that's the only way you know if it feels right. You can deconstruct it all you want and try and make sense of how you found it, but somehow it finds you. I don't know how to explain it. Just the way I can't quite explain how we had this footage of Carrie that we're using. You can say 'Oh well, it's just luck, it just happened to be,' but it feels like something else. And I neither can nor want to explain any of it."
I guess that sums it up perfectly. You can analyze a story and characters, use logic to determine what should happen and what the outcome should be, but ultimately it's about feelings and emotion. What feels right. As a great Jedi once said, "feel, don't think, use your instincts." And as J.J. brings this saga to a close, it sounds like the Force is with him.
Make sure to check out Empire for the full article by James Dyer and even more images from The Rise of Skywalker!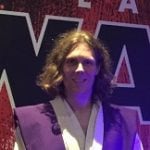 Chris is a lifelong fan of Star Wars, Disney, and super heroes who can't quite believe this golden age of movies and TV we're living in. Having written blogs dedicated to Disney's Aladdin musical and Star Wars Celebration, Chris is excited to be part of the SWNN and MNN teams.