UPDATE! First Two Episodes of Star Wars: Rebels Season 3 to Be Screened at Celebration Europe and More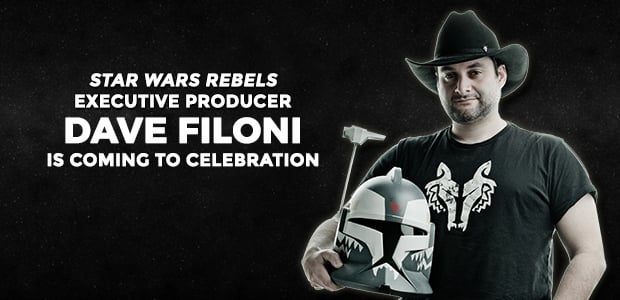 Earlier today we shared a tweet in our Weekly Social Buzz article with this news. It appears that it was accidentally posted earlier on some of the international Star Wars sites and it was taken down. Now comes the full press release, officially released by Disney and Lucasfilm…
Still recovering from the epic Star Wars Rebels Season 2 finale? Feel like you have more questions than answers about what the future holds for the crew of the Ghost? Fear not! Star Wars Rebels Executive Producer and Supervising Director Dave Filoni is headed to Star Wars Celebration Europe in London this July. Filoni (and special guests) will share highly guarded sneak peeks at what's to come in Star Wars Rebels season 3 including a screening of the first two episodes!
A long-time Star Wars fan himself, Filoni's direction has added depth and resonance to the universe and characters with the critically acclaimed Star Wars: The Clone Wars and the Rebels animated series. Fans at Celebration are in for great programming, and some unforgettable Q&A sessions, whenever Filoni takes the stage.
Don't miss Star Wars Rebels at Celebration Europe!
That's great news for all attendees of the highly anticipated Star Wars event taking place in London from July 15-17.
In the past Filoni teased that they have found a way to bring a fan favorite character in season 3. Do you think we will see that character in the first two episodes? Or maybe they will keep the surprise for a later time? Tell us what you think in the comments below.
UPDATE!
And here's another hint about this Legends character from Dave himself:
I'm looking forward to seeing you all at #SWCE 2016! And remember, there's always a bit of truth in legends. pic.twitter.com/auc6HDDAx1

— Dave Filoni (@dave_filoni) May 28, 2016
POTENTIAL SPOILERS
As rory lustermans pointed out in the comments, the picture that Filoni used in his tweet does look like it's from Heir to the Jedi. The first two name that come to mind from Timothy Zahn's trilogy are Admiral Thrawn and Mara Jade. Making Mara Jade canon would be very hard, considering her relationship with Luke. Thrawn looks like a much more plausible candidate. And this would also match with Making Star Wars' rumor from a few months ago that Thrawn will make an appearance in Rebels. Makes perfect sense, right? 🙂