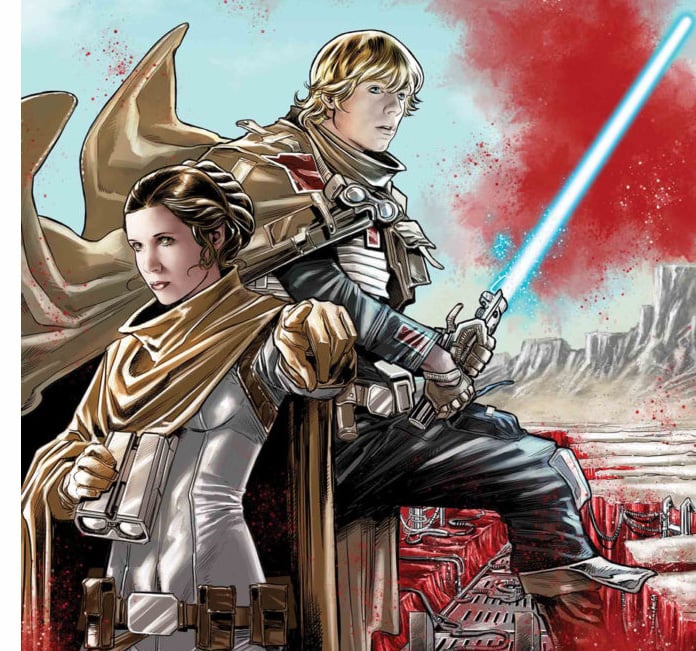 A comic book solicitation has recently leaked on Reddit that reveals information on a brand new comic coming in December that will tie in to The Last Jedi. Bleeding Cool also reported on the upcoming comic, titled Star Wars: The Last Jedi: Storms of Crait #1, stating that it will reveal secrets about the planet. And now with an official announcement. 
September 14, 2017
(from the leaked solicitation on Reddit):
STAR WARS LAST JEDI STORMS OF CRAIT #1

This December, the soon-to-be thrilling Star Wars: The Last Jedi rocks movie screens across the world…and the reverberations are felt all around a galaxy far, far away! First up, learn the secret of the mineral planet Crait! Long before it became a battleground between the Resistance and the First Order, Luke Skywalker and Leia Organa led the Rebellion there in search of a new home! From writers Ben Acker & Ben Blacker (Star Wars Join the Resistance) and artist Marco Checchetto (Star Wars: Shattered Empire) comes the backstory to this winter's biggest adventure!
Rated T
Readers of Claudia Gray's Leia, Princess of Alderaan have already been introduced to the planet as it was the location of a rebel outpost prior to the Galactic Civil War. Hopefully this book will explain how this planet was used during and after the war and lay the ground work for its current significance in the sequel trilogy. After Jason Aaron's Star Wars #33 left me desperately wanting some more Luke and Leia stories, I'm excited to see that they look to be the main characters of this book as they establish a new home for the rebellion on the salt-covered planet.
One bit of contradicting info between these two sources is that Bleeding Cool lists Mike Mayhew as the artist. Perhaps both Mayhew and Checchetto will contribute to the book, or possibly one will do the cover while the other the book's interior. Both of these artists are fantastic, and I will be happy with either one. It is unclear at this time whether this will be a one-shot issue or a mini-series. Stay tuned as we will update you on this upcoming title when we have more information!
UPDATE!
September 15, 2017
StarWars.com has just officially announced the Star Wars: The Last Jedi – Storms of Crait #1 comic. The art will indeed be by Mike Mayhew and the issue will be released on December 27, following the release of the film. Check out the cover by Marco Checchetto below:
"We're excited for the opportunity to tell this story," said editor Jordan D. White, "tying the new sequel series in more tightly with the original trilogy era, and helping make the galaxy far away a little more fleshed out. The Bens are a great fit for Star Wars, as they showed in Join the Resistance, and Mike has done such great work on both covers and the Obi-Wan issues of the flagship Star Wars title, that we couldn't be happier to have him back doing art for us."
Click HERE to check out and comment on this topic in our forum The Cantina