New Kylo Ren Image and Comments from Chris Terrio from Empire's The Rise of Skywalker Issue
Empire's The Rise of Skywalker Issue doesn't hit newsstands until later this week, but they've released a nice tease featuring a brand new image of Kylo Ren and an excerpt from their interview with Episode IX's co-writer Chris Terrio.
The image of Kylo Ren is a dynamic one, showing him in what appears to be a First Order hangar using all the will and power he can muster to remain upright while stormtroopers are seen being blown back behind him. It is unclear what exactly the outside force Ren is resisting, but considering the location of the shot, it could be a departing ship or an attack from outside.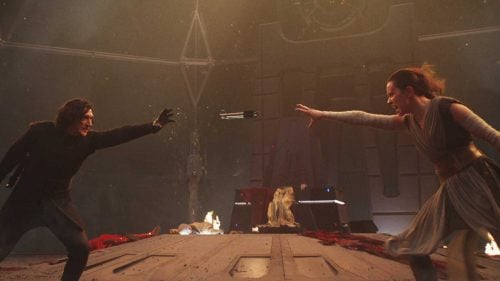 Also included in the tease release today are some comments from Chris Terrio on the nature of Kylo Ren and Rey's relationship as it continues its complicated path from The Last Jedi into The Rise of Skywalker.
From Empire:
Speaking to Empire in the world exclusive Star Wars: The Rise Of Skywalker issue, co-writer Chris Terrio opened up about the complex bond between the trilogy's Force-sensitive duo. "Some of the most interesting scenes in The Last Jedi are the conversations between Rey and Ren," he said, noting the different side of Ben Solo that Rey is able to tap into. "We've tried to pick up that complicated relationship that really has been present ever since the interrogation in Episode VII. When Ren takes off his mask, there's a nakedness about him with Rey that he doesn't express to anyone else. Rian developed that in fascinating ways and we've been able to develop it even further."
The dynamic between Ren and Rey, via some great performances from Driver and Ridley in The Last Jedi, was one of the most engaging and unexpected portions of the middle chapter. Where that relationship goes in the trilogy's last installment has been one of the things spurring the most fan speculation over the last couple of years and is likely to be one of the more interesting things to look forward to in The Rise of Skywalker.
For now, we are only left with this single image and some brief commentary to fuel our continued speculation. Empire's The Rise of Skywalker issue hits newsstands October 3rd.  Head over to their site for today's full article.