Hasbro's Kenner-Style Early Bird Certificate for May the Fourth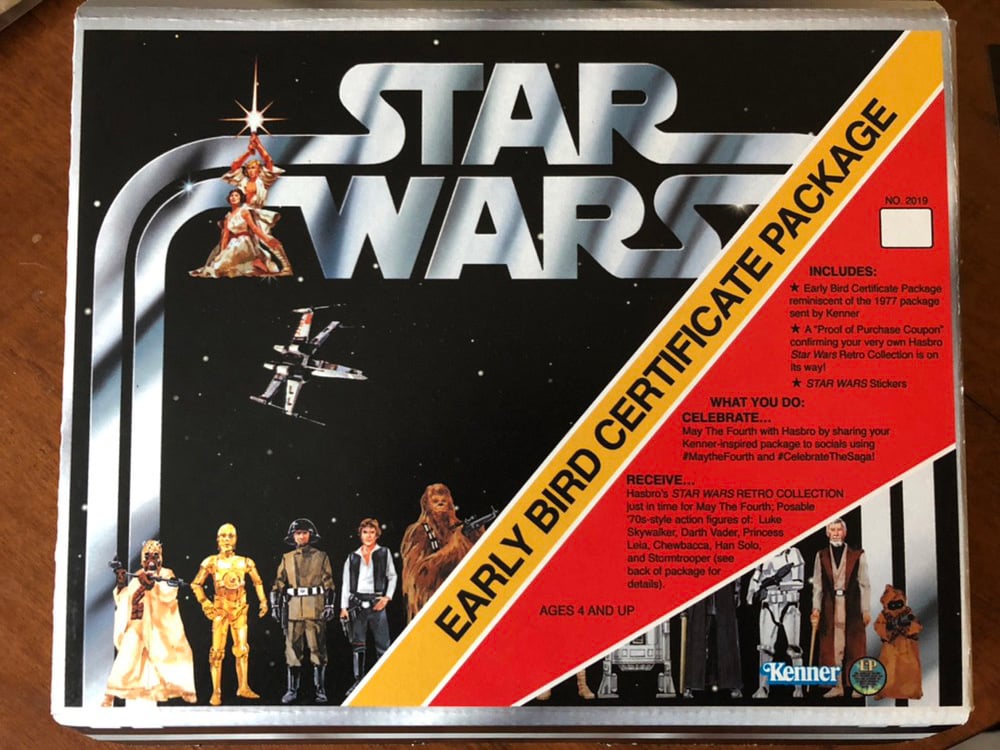 Earlier this year at the 2019 New York Toy Fair, Hasbro announced the Spring release of the Retro Star Wars line inspired by the original 1977 Kenner releases. The figures are reproductions of the original 3.75" figures that were released in conjunction with the original Star Wars (pre-A New Hope moniker) complete with a recreation of the original Kenner packages.
And now, to honor that unofficial Star Wars holiday May the Fourth, Hasbro has been kind enough to gift us with an early bird certificate (also nicely "Kennerized" to fit with the release). This looks to be a great line of figures for anyone who was alive back in the days these were originally available. It is also a great chance to get a look at how far these figures have come for those who have never actually owned any.
We'll update you with images of the actual set as soon as we get our hands on them, and as always we will share them with our readers in upcoming giveaways. For now, here are some images of the cool looking early bird certificate.
STAR WARS RETRO COLLECTION 3.75-INCH Figure Assortment

(HASBRO/Age: 4 & up/Approx. Retail Price: $9.99/Available: Spring 2019)

Inspired by STAR WARS '70s-style action figures, the STAR WARS RETRO COLLECTION 3.75-inch-scale figures feature Kenner-style figure design and detailing, and make a great addition to any nostalgic fan's STAR WARS collection. Imagine the excitement of the '70s when the STAR WARS original trilogy had just begun, and Kenner began releasing classic STAR WARS figures for avid fans of the space saga. With figures inspired by the original sculpt and design of the '70s, the STAR WARS RETRO COLLECTION lets fans and collectors continue their collection from a galaxy far, far away! Characters in this assortment include LUKE SKYWALKER, DARTH VADER, PRINCESS LEIA, CHEWBACCA, HAN SOLO, and STORMTROOPER. Each sold separately. Available exclusively at Target and Target.com on 5/12/2019 and at most fan channel retailers nationwide in Fall 2019.
Special thanks to Hasbro for sending these.