Star Wars: Look & Find Images Reveal Early Scenes Of The Last Jedi.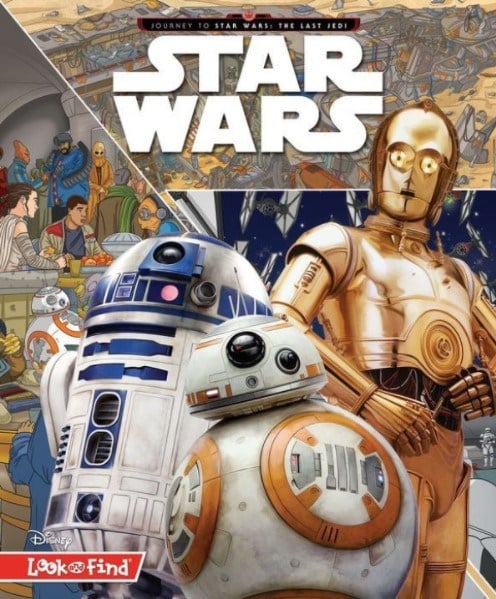 The newest Look & Find book for Star Wars is not a complete adaptation of The Last Jedi, as it features many scenes from The Force Awakens. However, it does feature two spreads that cover scenes from early on in the movie – and we'll let you take a look.
I'll reiterate – these are the only two pairs of pages that feature content from The Last Jedi, and based on their placement, it suggests that the Evacuation of D'Qar happens very early on in the movie. So with that out of the way, let's get on with the first image, which picks up where The Force Awakens left off… Featuring 100% more Porgs, along with a few other denizens on Ahch-To.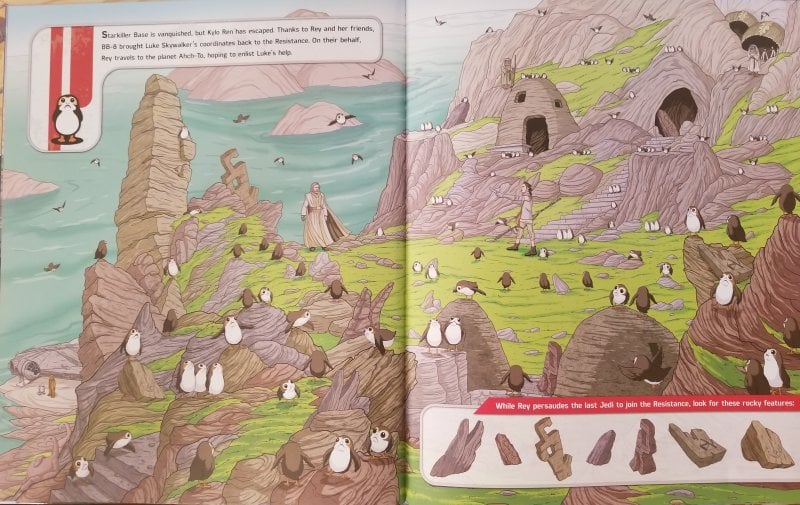 "Starkiller Base is vanquished, but Kylo Ren has escaped. Thanks to Rey and her friends, BB-8 brought Luke Skywalker's coordinates back to the Resistance. On their behalf, Rey travels to the planet Ahch-To, hoping to enlist Luke's help. While Rey persuades the last Jedi to join the Resistance, look for these rocky features…"
See those chill guys camouflaged into the mountain down below where Chewie, Artoo, and the Millennium Falcon are stationed? They might look a little familiar…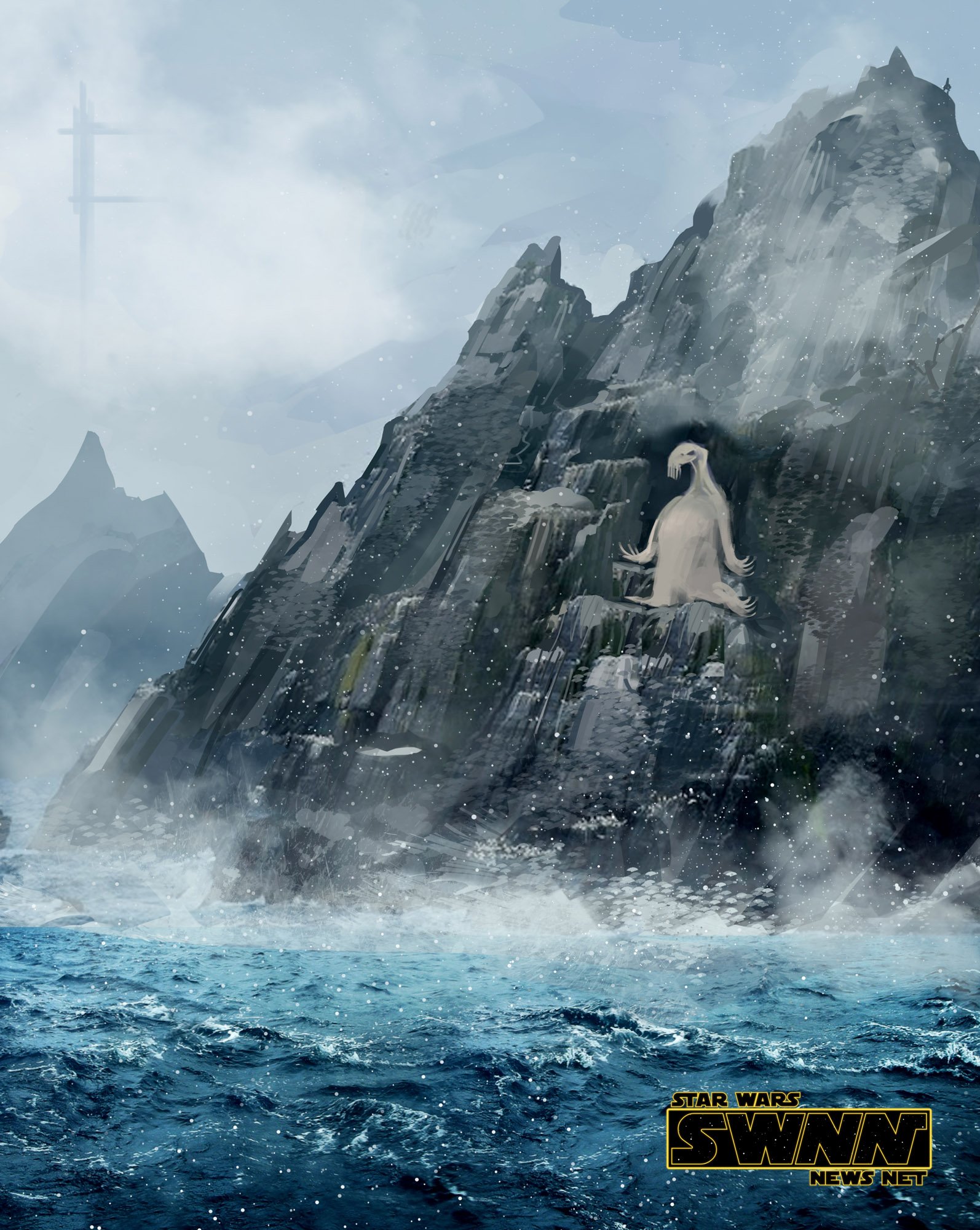 That's right – the mysterious sea creature of Ahch-To that we created the above image of is here, and it's got a buddy (although they're less fuzzy and more blubbery than what we expected, from the looks of things). As we previously speculated, it really looks that the creature is likely not a threatening figure, and obviously there will be more of them.
Also here is an image with all the Ahch-To inhabitants in one place:
With that new look at Ahch-To out of the way, here's the second image. It shows the battle over D'Qar (since the First Order knew about their coordinates at the end of The Force Awakens, and were planning on destroying the Resistance there anyway). None of D'Qar's specific features are explicitly identified here, so it just looks like a standard space battle.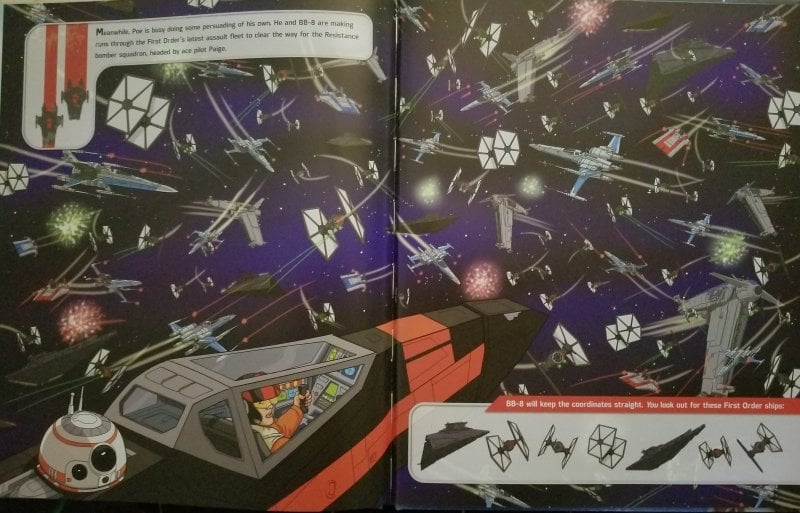 "Meanwhile, Poe is busy doing some persuading of his own. He and BB-8 are making runs through the First Order's latest assault fleet to clear the way for the Resistance bomber squadron, headed by ace pilot Paige. BB-8 will keep the coordinates straight. You look out for these First Order ships…"
Here we can see the new A-wings and Resistance bombers in action, and possibly a new design of Star Destroyer (presuming that they're not just the same variety as the Finalizer under a black coat of paint).
Also the book has two pages with Rey that are the insides of the book cover. Check them out: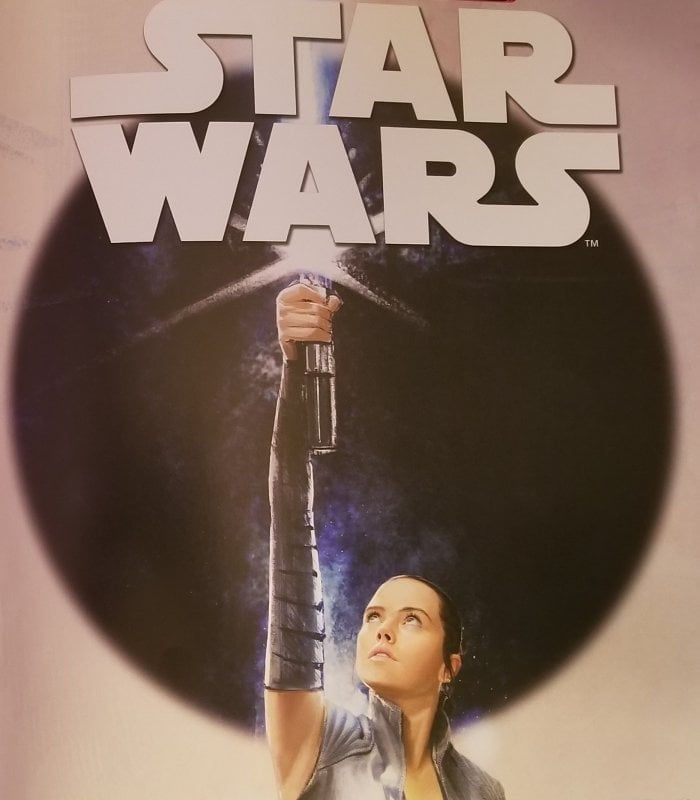 Given that Lucasfilm likes keeping secrets about their projects, this is likely all we'll get as far as information from Look & Find books for a while. But luckily for us, there are alternatives to learning more about the Sequel Trilogy in the months ahead, and we'll be with you as new stories hit.
Special thanks to Cantina member Darth*Smitty-ous who shared these images with us.
Grant has been a fan of Star Wars for as long as he can remember, having seen every movie on the big screen. When he's not hard at work with his college studies, he keeps himself busy by reporting on all kinds of Star Wars news for SWNN and general movie news on the sister site, Movie News Net. He served as a frequent commentator on SWNN's The Resistance Broadcast.