Review: Coercion is What the Doctor Ordered in Marvel's Star Wars: Doctor Aphra #21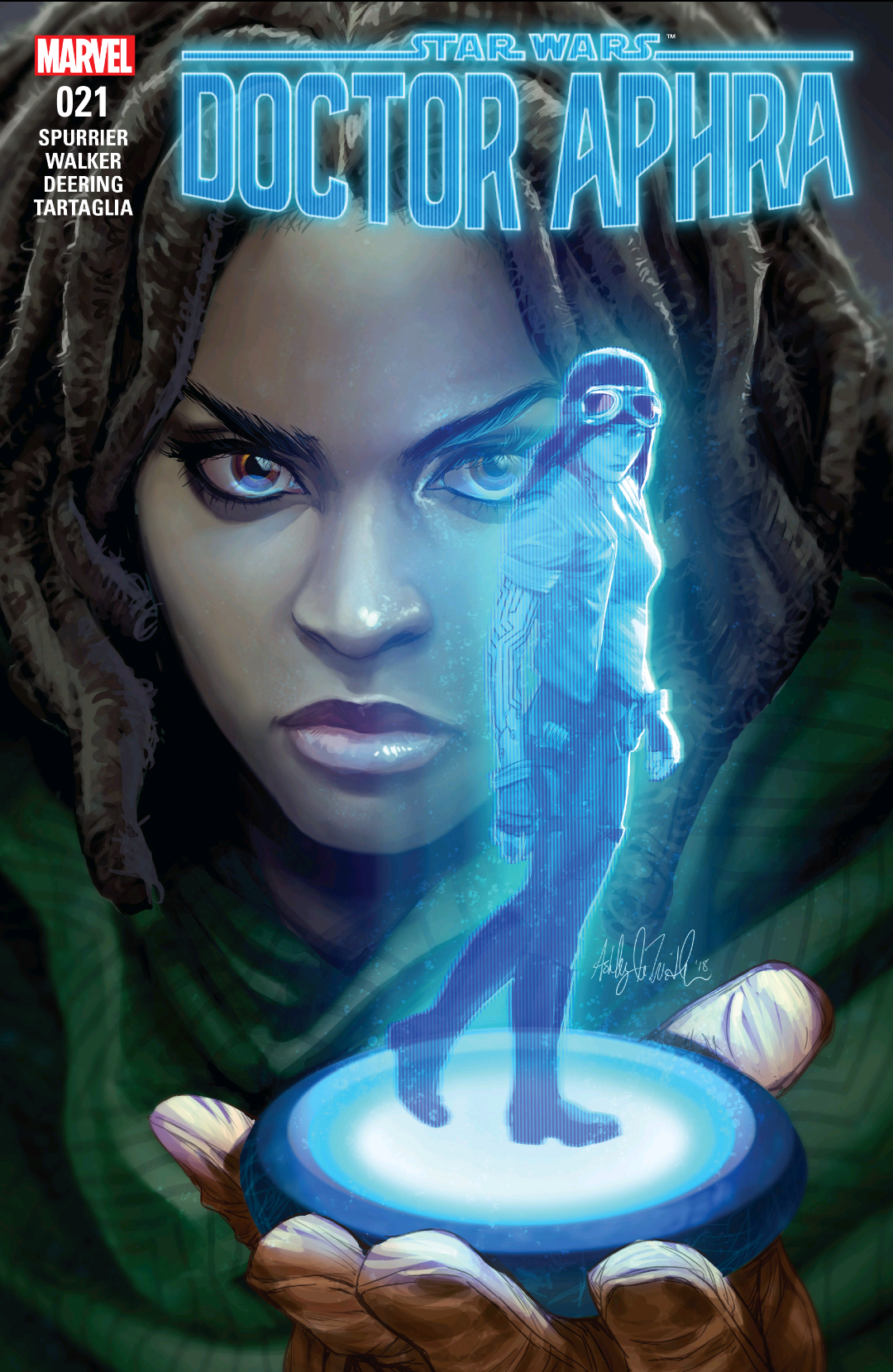 After escaping blackmailed servitude under the deranged Triple-Zero, Aphra has found herself in an Imperial prison where she and the other inmates are being used as expendable troops for the Empire. As Aphra struggles against the fierce interrogation tactics of her Imperial captors, she hatches a plan to escape the facility with a fellow shape-shifting prisoner. When her escape plan is foiled, she reaches out to her latest fling for help. Unknown to Aphra, an old flame has also been conscripted to track her down. Spoilers ahead…
Forced to come up with plan B to escape Accresker Jail, Aphra contacts Tolvan and surprisingly tells her all about her past employment under Darth Vader and confesses everything she knows about his plan to find his son and supplant the Emperor. Knowing that Tolvan would refuse to help her out of jail, Aphra told her all this with the promise that once they eventually do get that information out of her, the next thing they'll do is ask who else she's told – essentially coercing Tolvan into coming to her aid.
Later, Tolvan arrives and helps break Aphra out of her cell, but just before they can escape together, Aphra discovers a valuable relic, a ship used by the early Jedi. Like a raccoon drawn to anything shiny, the good doctor just simply cannot resist taking a look, despite the severity of their situation. As Tolvan impatiently waits for Aphra to come along before they are inevitably discovered, she resigns herself to the fact that she's in love with an evil idiot.
Meanwhile, in the Outer Rim, Aphra's old flame, Sana Starros, is contacted by Hera Syndulla to track down Aphra, desperate for any information the rogue archaeologist could provide to the rebellion. She never comes into contact with Aphra in this issue, but the future confrontation is sure to be rife with drama when Sana crosses paths with not only Aphra, but Tolvan as well.
Doctor Aphra continues to be a fun and engaging series, and although I prefer Gillen's writing, Spurrier does a good job capturing the tone and overall energy that has become par for the course in this series. The recent return of Kev Walker and his frantically vivid pencil work is most welcome, as he has been my favorite artist involved with this series by far.
I also want to give a shout out to this issue's cover artist, Ashley Witter, who gives us one of the most striking covers that I've seen yet on any of Marvel's Star Wars books. It definitely takes its place among my favorites so far, right alongside the cover for Doctor Aphra Annual #1.
But, as they say, you can't judge a book by its cover. So does Doctor Aphra #21 have the goods between the covers and on the panels where it counts? Like I mentioned, this was a fun issue that planted some promising seeds that will no doubt bear fruit in future issues. As this one particular issue goes though, it's really a lot of filler and basically serves to just move the plot forward to where we will ultimately want to end up in subsequent issues.
Sometimes, even issues like this have a lot to offer along the way, but this one was largely forgettable. I wasn't entirely bored with it and was moderately entertained, but this portion of the story would be better judged when read in collected format with the rest of the story arc. It left me wanting more, and while that can be a good thing to say about a story, in this case, I needed a little more substance out of this particular issue.
I'm still excited to see where Aphra's story will take us next, and it's always a trip to see how her selfish shenanigans play out and affect those around her. I'm still invested in the story as nothing about this one turned me off to it completely, having just enough plot development to keep me interested. However, on its own merit, this issue was a little bit lacking in the story department.
Score: 6/10
Doctor Aphra #21 is available now in local comic shops and online at Comixology. Happy reading comic fans!
Jordan Pate is Co-Lead Editor and Senior Writer for Star Wars News Net, of which he is also a member of the book and comic review team. He loves all things Star Wars, but when he's not spending time in the galaxy far far away, he might be found in our own galaxy hanging out in Gotham City or at 1407 Graymalkin Lane, Salem Center, NY.