This week marks a significant change in the status quo of Marvel's Poe Dameron series from writer Charles Soule and artist Angel Unzueta. From the beginning of this series, we have followed Poe and Black Squadron in their pre-The Force Awakens adventures, and now, we are actually in a place that we've never been before in Star Wars canon. Join Poe, Finn, & Rey around the Falcon's Dejarik table in the aftermath of the Battle of Crait as Poe fills in the gaps on what happened to him following the TIE fighter crash on Jakku up to the Battle on Takodana. Read on for the full review…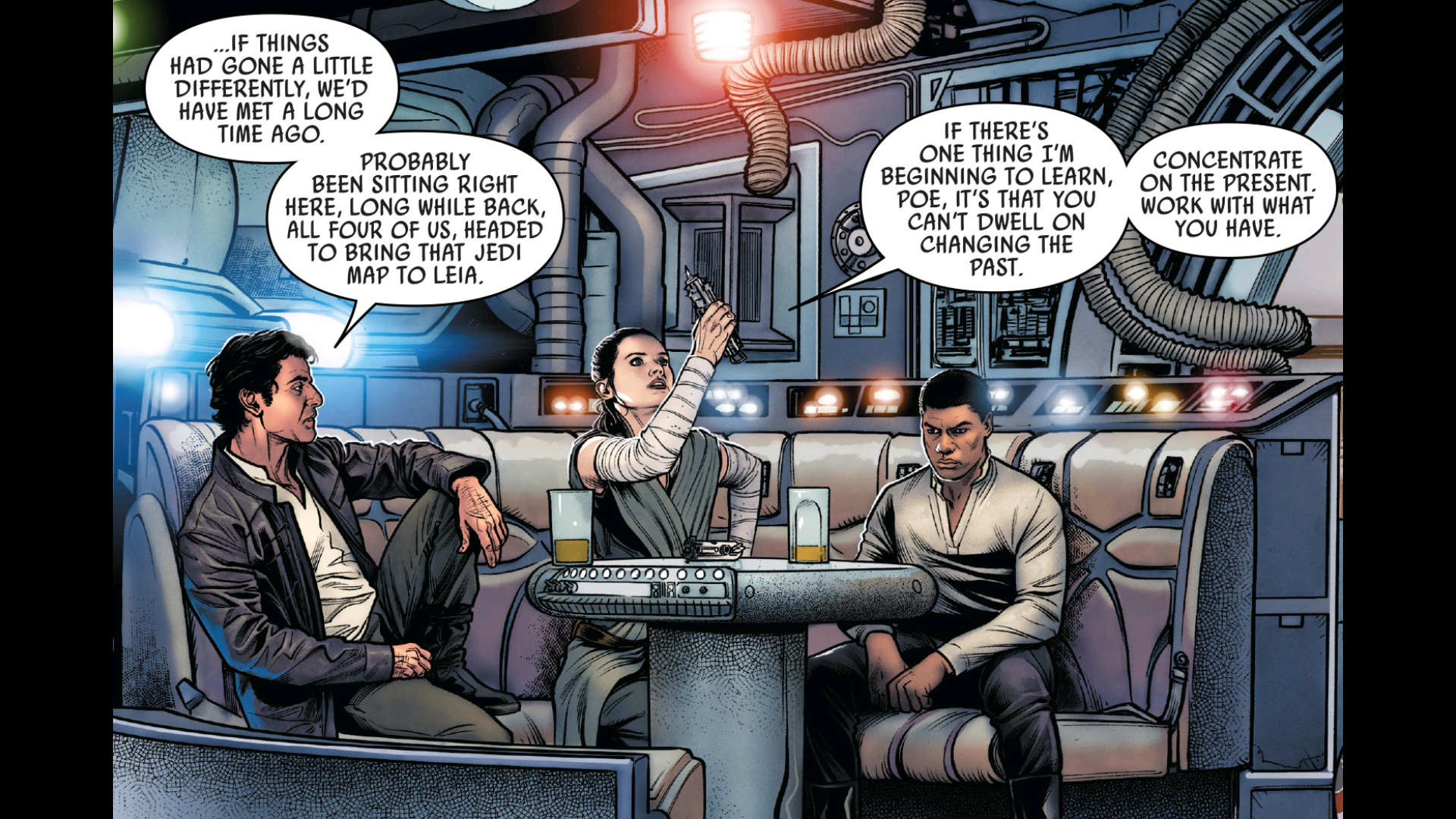 The issue begins immediately following the remnants of Leia's resistance moments after their departure from Crait. As Poe regards their current situation, he makes a comment about how a lot of heartache could have been avoided if things had gone differently on Jakku. Rey tells him that he can't change the past and encourages him to focus on the present while she fiddles with Luke's old lightsaber.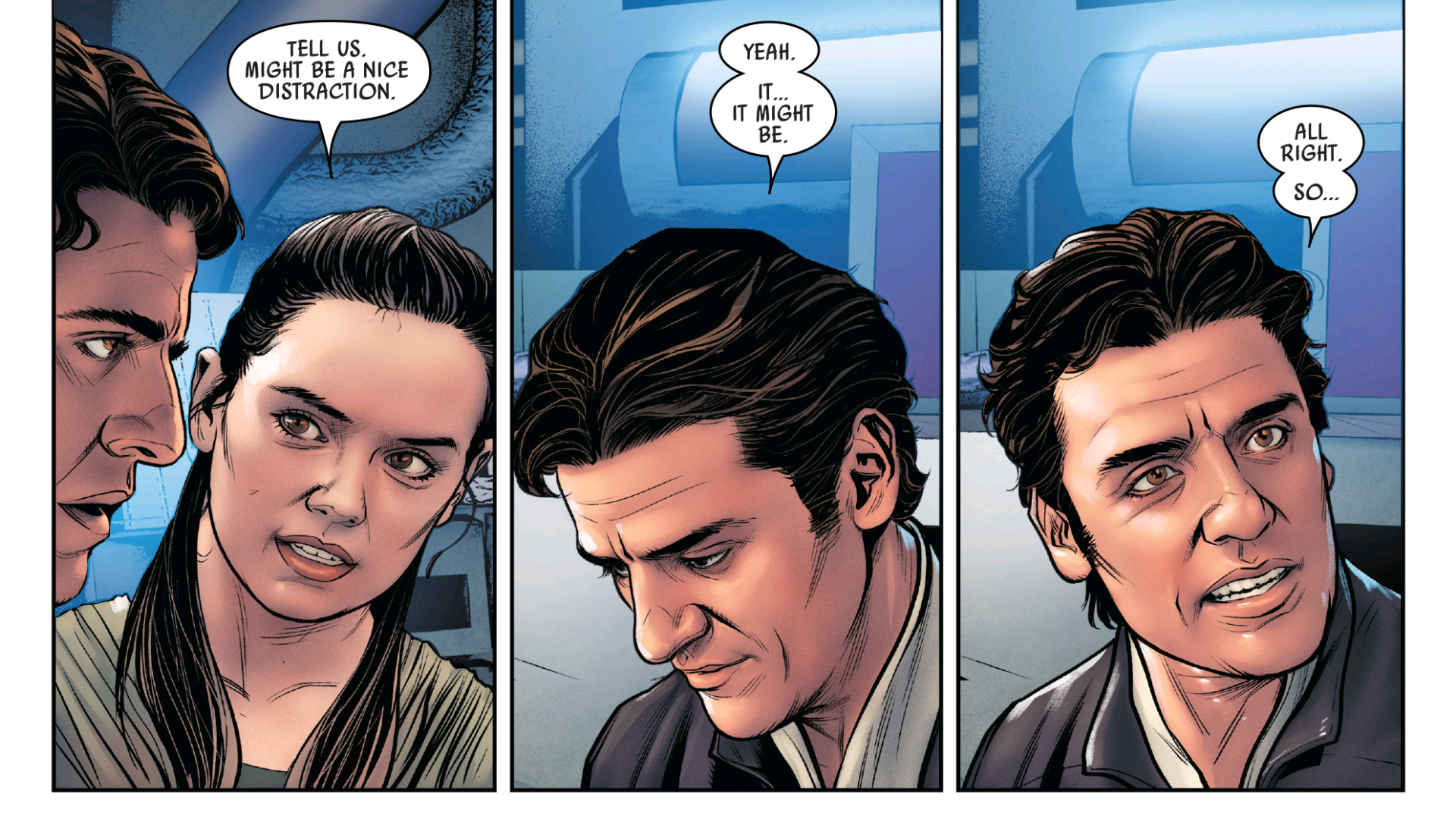 As the conversation continues, Finn mentions that Poe never really explained how he got off planet following their separation on Jakku. After a few barbs from Finn and Rey about the irony of the "best pilot in the galaxy" crashing all the time, Poe decides to tell them his off-screen story during The Force Awakens as a distraction from thinking about everything they had lost since their victory at Starkiller base.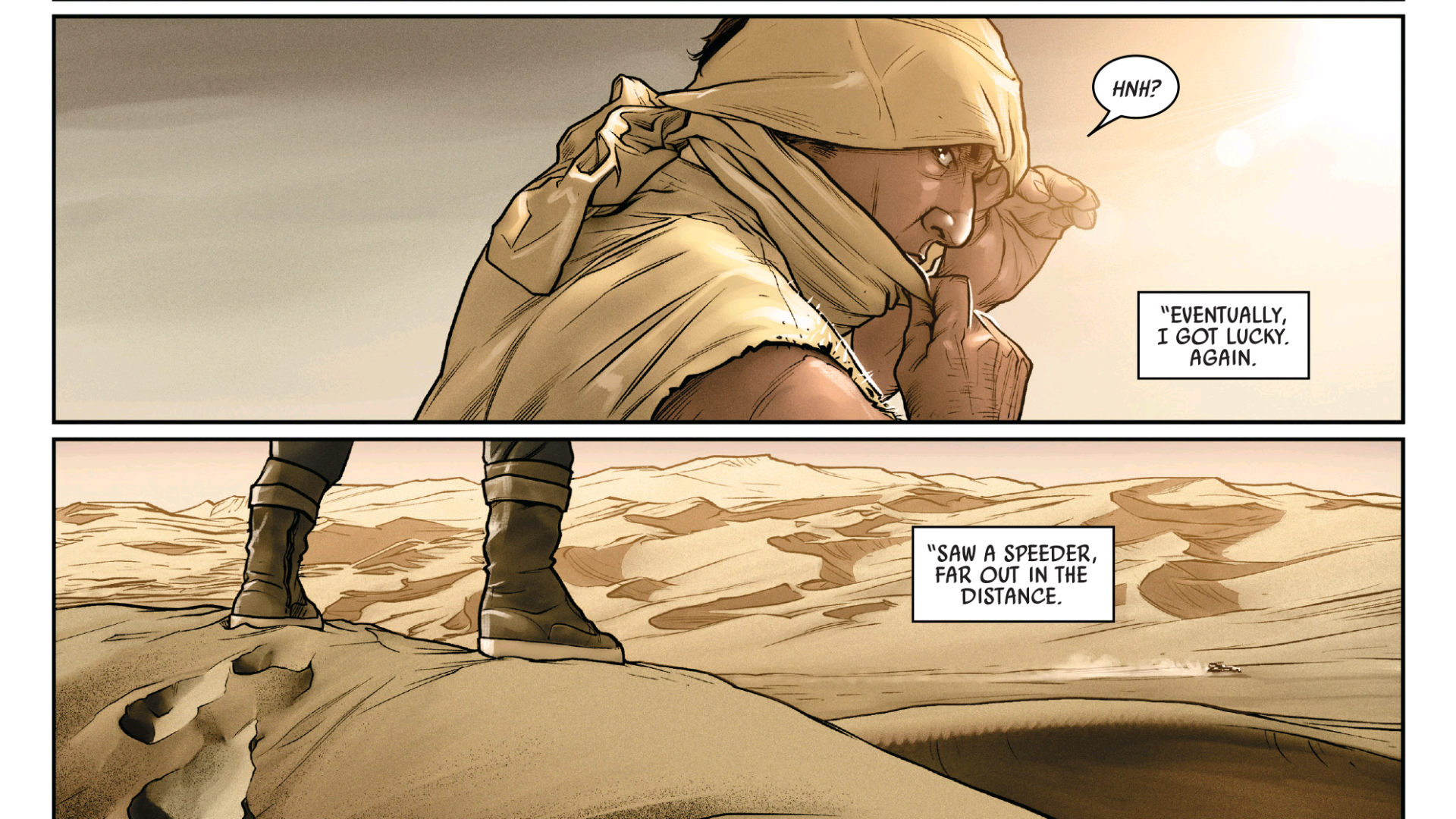 If you've read the novelization of The Force Awakens from author Alan Dean Foster, then this tale won't be anything new to you, as the novel has already revealed how Poe made it off of Jakku, but it was really nice to see Soule adapt those parts from the book, as well as Unzueta's interpretation of the action.
In short, Poe encounters a Blarina named Naka Iit, who, after being impressed by Poe's skills as a pilot while being chased by a group of marauders, takes him to a friend of his who sympathizes with the Resistance. The friend loans his ship out to Poe which gets him back to the Resistance base on D'Qar, where Poe has to report his unprecedented failure to General Organa. To Poe's surprise, Leia informs him that his droid had been spotted at Maz's castle on Takodana by one of C-3PO's operatives.
Although there was really nothing new in this issue in regard to big story moments, it was an enjoyable read with fantastic artwork from Unzueta as always. I am very intrigued by the choice to pick up right at the end of The Last Jedi, and although this issue was mostly a retelling of previous events and set-up for the remainder of the arc, the future of the Poe Dameron series looks promising indeed.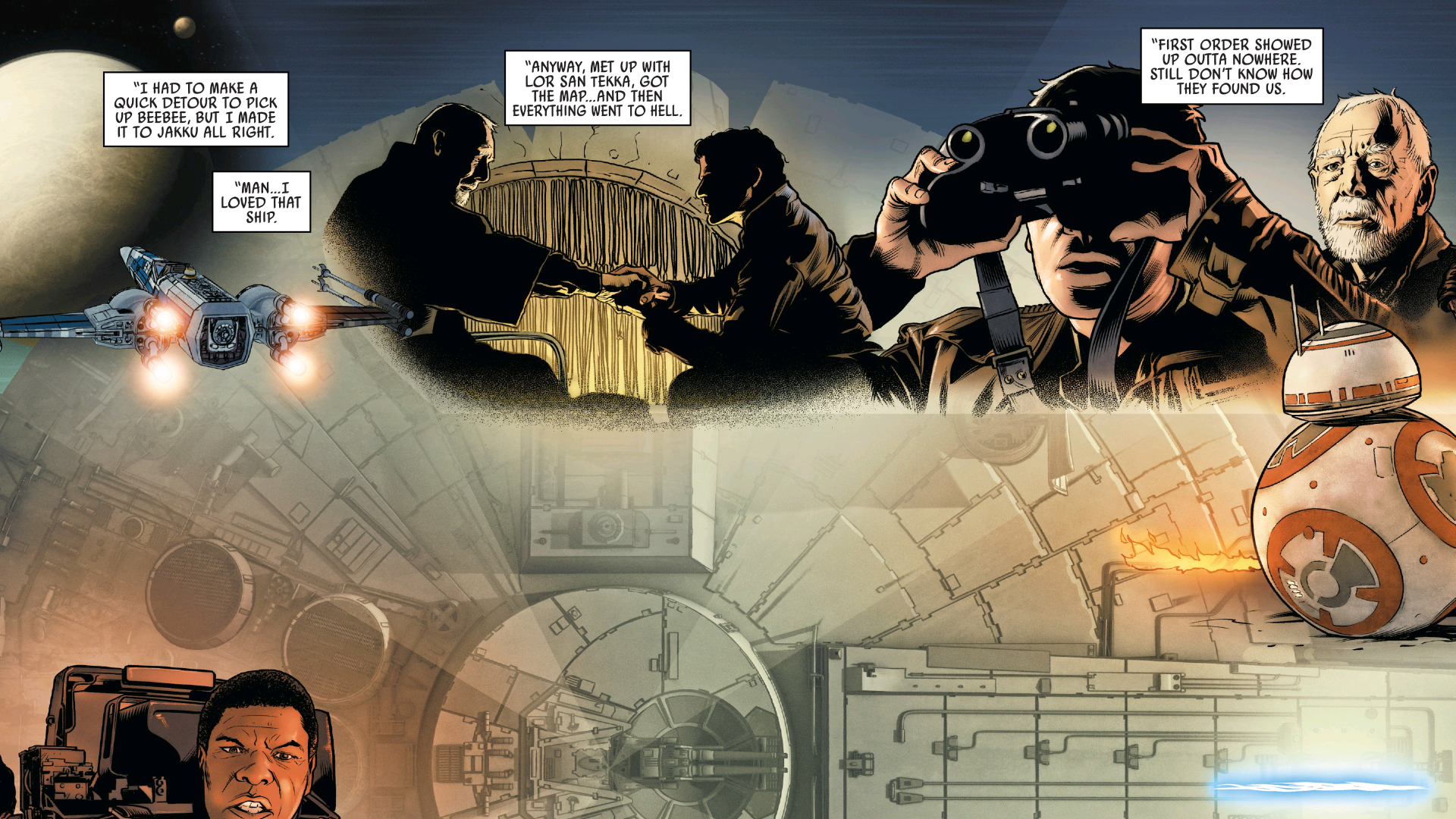 By the next issue, Poe should be concluding his tale from The Force Awakens, and considering he was on screen throughout The Last Jedi, I seriously doubt we'll be getting any more stories of past events. This means that moving forward in the series, we will be in an all-new era of the Star Wars story as the comic will hopefully serve to bridge the gap between The Last Jedi and Episode IX.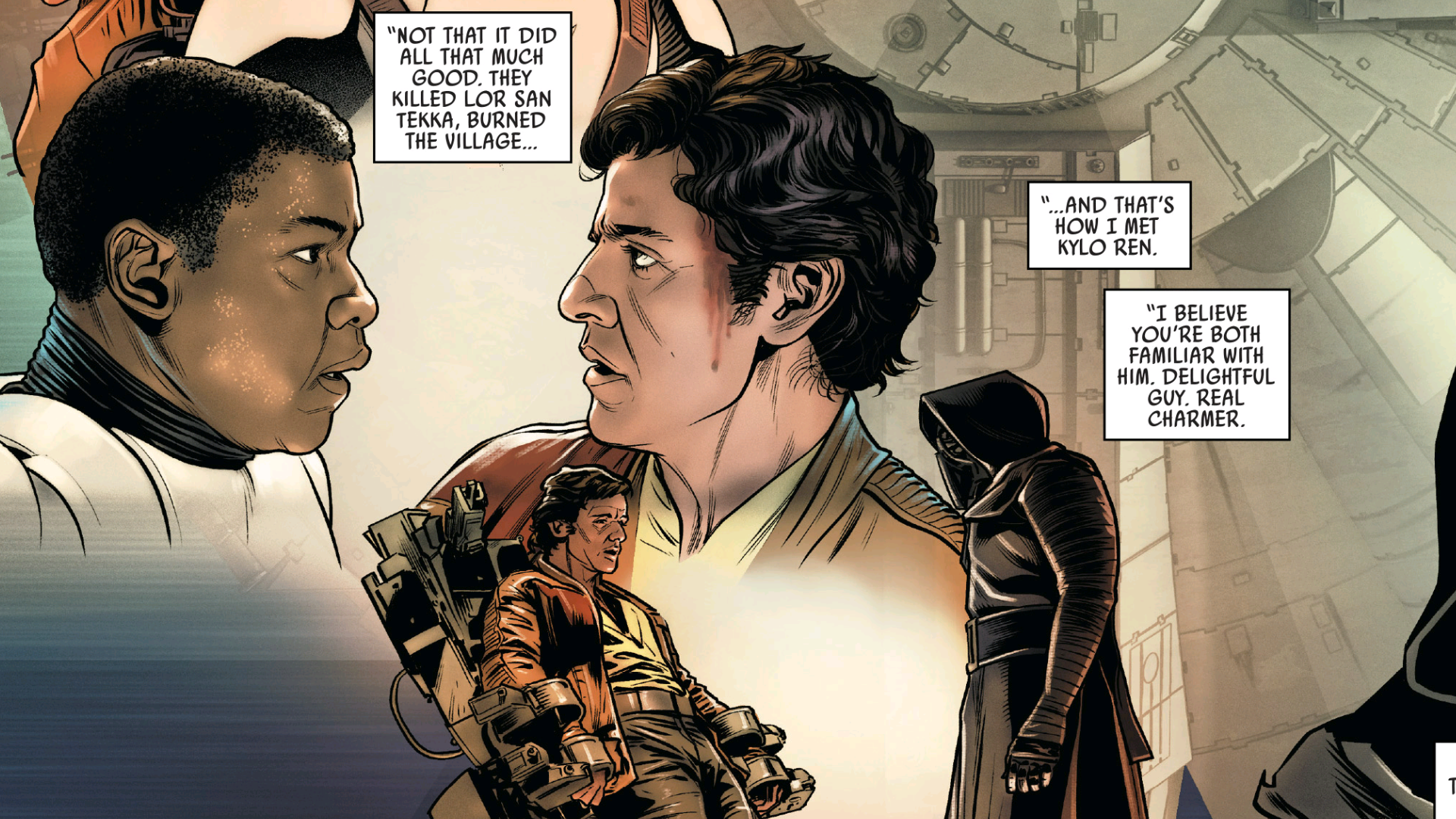 With over a year and a half to go until Episode IX  hits theaters, and due to the advancement of the timeline of the series, I tend to think that there will be a significant gap between the second and third chapters of the sequel trilogy. That gives Soule about twenty more issues of story between the films, and I can't wait to see what's in store. Also, given Carrie Fisher's passing and the knowledge that Leia won't be appearing in the final chapter, I have to wonder if the creators plan to utilize this series to reveal what happens to Leia between films as well. Time will tell, but for now, do yourself a favor and get on board with this series.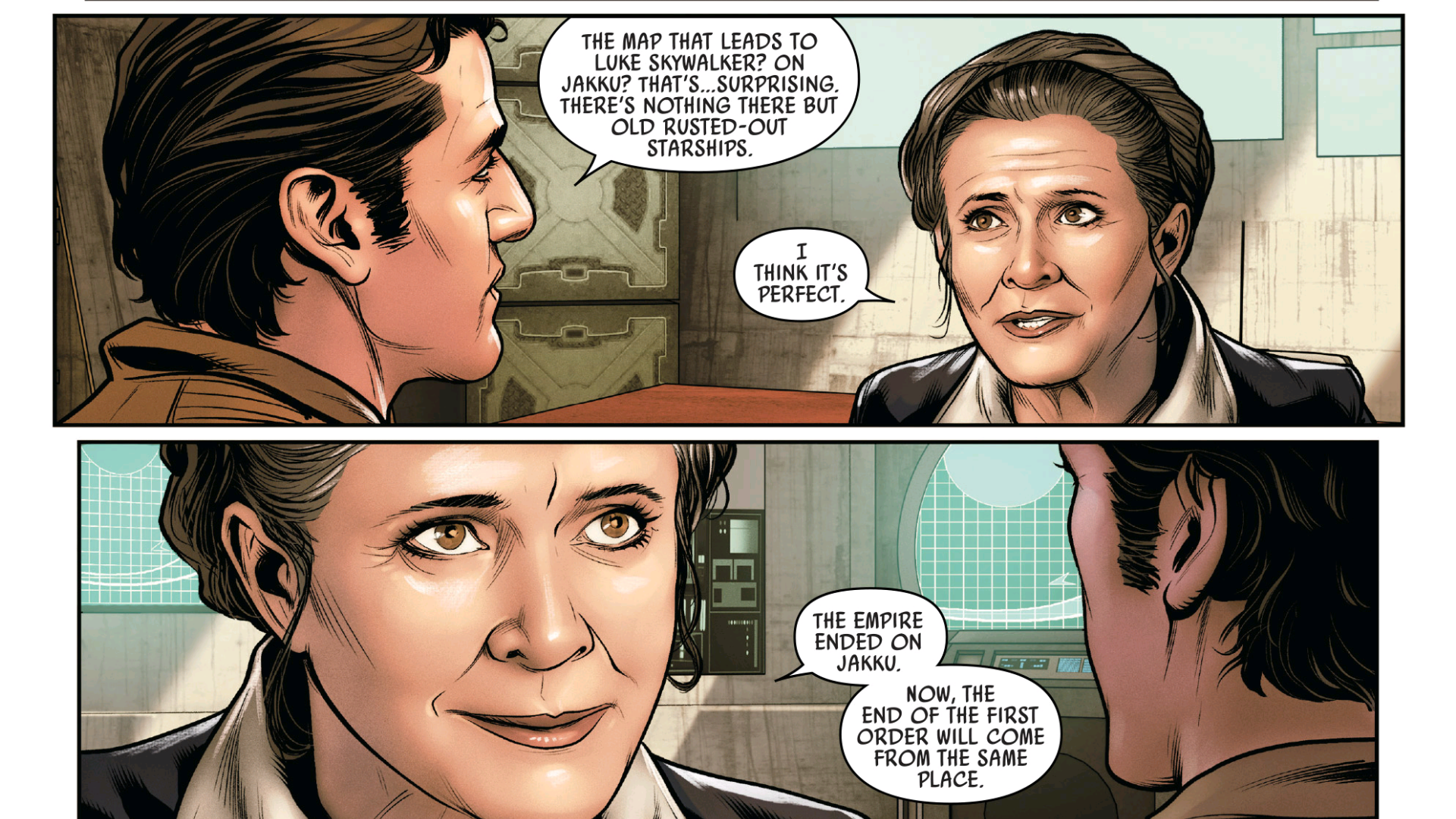 Soule is killing it in comics lately, and although Poe Dameron has not been as gratifying a series as his run on Darth Vader, it's been a consistently entertaining comic, and this is an excellent jumping on point for new readers.
Score: 7.5/10
Poe Dameron #26 is available now in a comic shop near you or online at Comixology. Happy reading comic fans!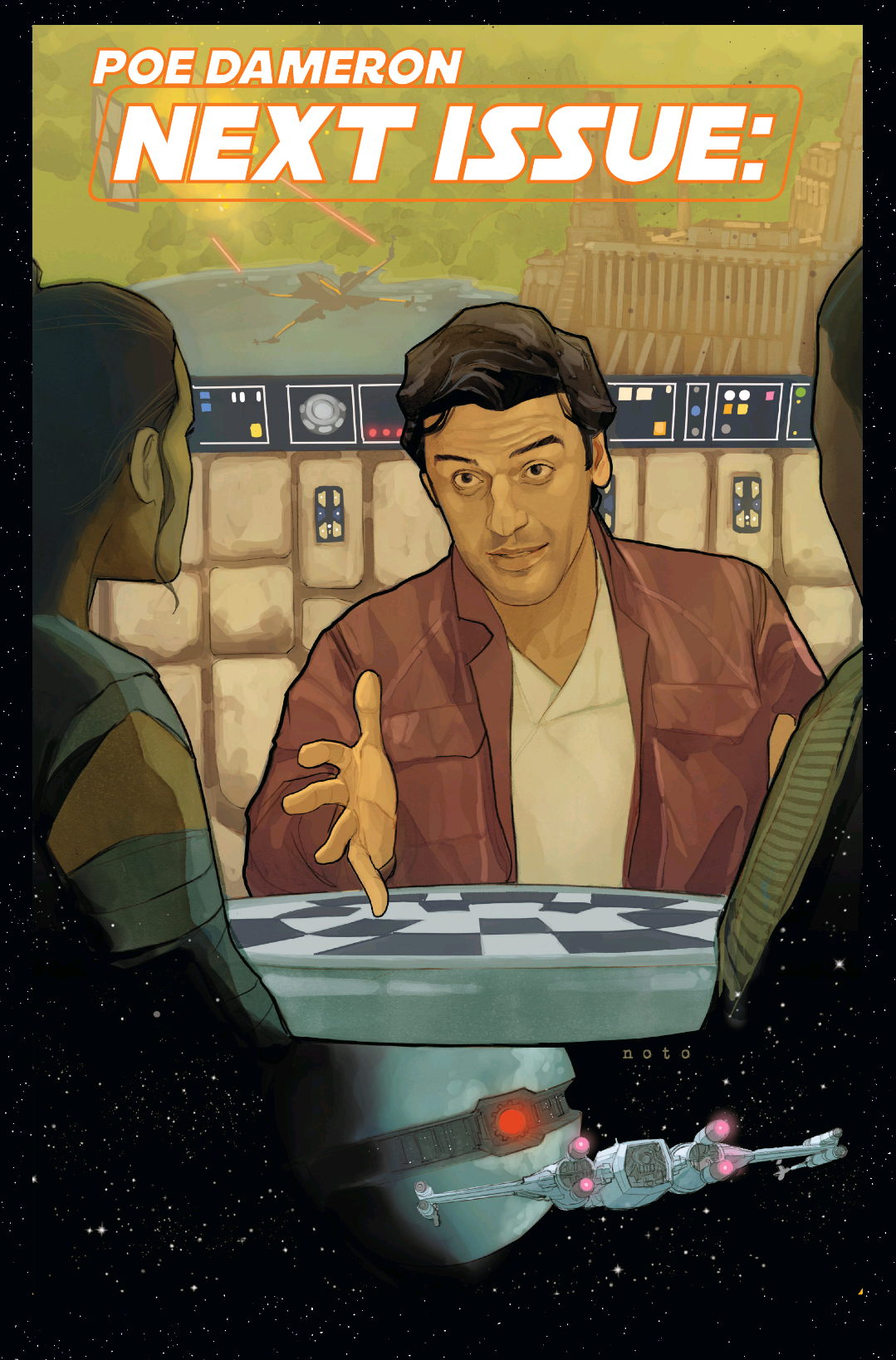 Jordan Pate is Co-Lead Editor and Senior Writer for Star Wars News Net, of which he is also a member of the book and comic review team. He loves all things Star Wars, but when he's not spending time in the galaxy far far away, he might be found in our own galaxy hanging out in Gotham City or at 1407 Graymalkin Lane, Salem Center, NY.
Click HERE to check out and comment on this topic in our forum The Cantina