Daniel José Older on Writing Han and Lando in Star Wars: Last Shot
After releasing the exclusive excerpt from the forthcoming novel Last Shot by Daniel José Older yesterday, the official Star Wars site today released an interview with the author about crafting the story of two friends and scoundrels from a galaxy far, far away that spans across three different time periods.
Star Wars fan himself, Older was captured by Han and Lando since he saw Return of the Jedi in the theater. He was fascinated how each of them managed their dueling natures, because both of them are both the scoundrel and the hero.
StarWars.com: In Last Shot, the story takes place in three distinct time periods. How did you tackle capturing Han and Lando at these different phases in life, considering they both really grew and changed throughout their lives?

Daniel José Older: This was a lot of fun. I got to play with that reckless young time when both of these guys were just gallivanting the galaxy taking themselves way too seriously and the world not seriously enough at all, and then much later, as they struggle with the rigors of adulting in a post-war, still torn-up society. So for younger Han and Lando, I let their easy swagger and adventurous spirits lead the way, and then later on it was about balancing responsibility and the heavier demands of their new found fame and family life (or lack thereof).

StarWars.com: As a new father, I loved the excerpt. For a galaxy far, far away, I found it relatable on a million levels, though I've never been awakened by a Mon Mothma hologram. What can you tell us about writing this scene, and, in general, writing Han Solo, legendary smuggler and scoundrel…as a dad?

Daniel José Older: This was also a lot of fun! (The whole book was way too much fun to write, if we're being honest.) Han is someone we know has the capacity to love deeply — take that moment in Jedi when he's ready to step back because he thinks Luke and Leia have a thing going (eep!); it's so small but says so much about the man he has become. So on the one hand he has a powerful devotion to Leia and Ben and on the other — look, he's still a rugged smuggler deep down, and the open sky still calls his name. So how does a wandering heart find adventure amidst contentment? As we gather from the more recent movies, in Han's case, maybe one doesn't. But at this early point in his marriage he's still really trying to solve that problem.

StarWars.com: Considering the path that Ben took, there's also something tragic about this scene and this glimpse into how Han loved him. Is that something you wanted to convey?

Daniel José Older: Ah, the great thing about writing in this wild and vast universe is so much of that work is already done, so it relieves me of the need to be overbearing or lean heavily into foreshadowing. We know there's tragedy down the road, so it's really the every day regular-shmegular type details that are kind of heartbreaking, like Ben calling Lando "Unca Wanwo."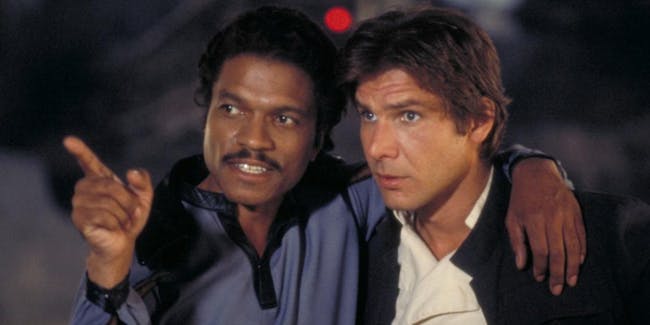 It will be fascinating to see how the two characters and their friendship evolved over the years once Last Shot hits the shelves on April 17th. This isn't the first time Daniel José Older tried his hand in the Star Wars galaxy. He was one of the authors who contributed to the anthology From A Certain Point of View. His entry Born in the Storm was one of the funnier contributions to the anthology.
To read the entire interview with Daniel José Older, head over to the StarWars.com.
Staff member, comic and book reviewer. Cheers for the Light Side, but would drink with Grand Admirals.