Lucasfilm Trademarks What Might Be The Name Of The Next Animated Series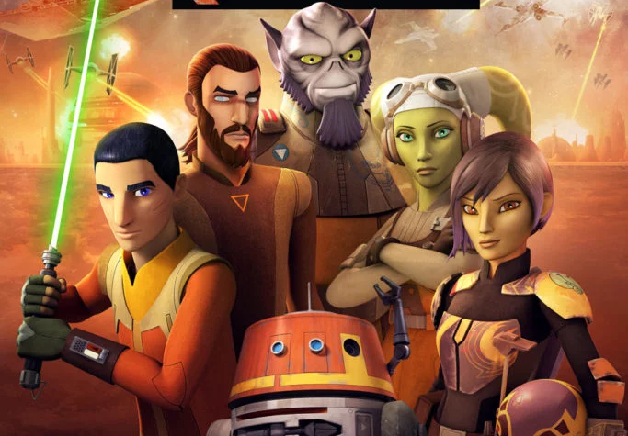 As the sun sets on Rebels, we look toward a different horizon and start to wonder just what the next animated series will be. A new trademark registered by Lucasfilm has just given us a major hint at where the next series is headed – one that tells us when the show is set.
To cut to the chase, here's the skinny on the situation: the trademark that was registered was one for a project called Star Wars Resistance. That name, in and of itself, is quite similar to Star Wars Rebels, suggesting that they will use a similar approach in the Sequel Trilogy Era. My hope is that this series fills the gap between The Last Jedi and Episode IX, as I imagine it will. I personally believe it would be a smart move if they took an approach similar to The Clone Wars and focused on established characters from the movies as opposed to creating a narrative that revolved entirely around a new set of characters – but perhaps it's a little too early to speculate, considering that we don't 100% know that this trademark is for a show to begin with. (There's evidence for it, however – more on that in just a bit.)
Why might this trademark filing be a big deal? Well, for one thing, we already know that Lucasfilm's next big animation project has been in development for a while, what with Dave Filoni stepping down as the showrunner of Star Wars Rebels in 2016 in order to oversee all animated projects going forward, and the company looking for animation directors as of late last month. Plus, multiple Star Wars shows are being developed for Disney's streaming service, and odds are that at least one of them are animated. Obviously, something big is in the pipeline, and while I don't think we'll get a real announcement of what it is for several months (let alone any actual footage of the new show until Star Wars Celebration Wherever 2019 at the earliest), development on whatever it is should kick into high gear right after the five remaining episodes of Rebels air.
The Resistance-First Order war seems like a logical place to develop a new series, and as I said earlier, a narrative set between TLJ and E9 seems like a logical fit if they want to have lightsaber action. And sure, there are a lot of fans hoping for a story about Luke's Jedi Enclave and his relationship with his soon-to-become-evil nephew, but there are two reasons why I don't think that will be the next animated series. One, we already know that it ends in tragedy – a story so inherently dark that the fact that Luke even considers killing his nephew, even for a moment, should clearly indicate that it's not something to be fluffed up in bright, kid-friendly animation. (And sure, we all knew going in that The Clone Wars was going to lead into a story where the Jedi are all killed and the Republic transforms into the Empire, but that was before we knew we were getting a Sequel Trilogy in the first place, so I think of that as an exception and not the blueprint.) Two, J. J. Abrams loves the Knights of Ren and Rian Johnson's The Last Jedi strongly implied that they're the students who joined Ben Solo in betraying Luke – and if this is indeed the case, then they'll want to establish what their backstory is on film before fleshing it out in other stories told in other mediums. (Plus, it's not like General Hux is going to carry a movie as a supporting villain after being turned into a punchline.)
A word of warning – since this is a trademark, it can be used for effectively anything, up to and including mobile games… If it's even ultimately used at all. However, Jordan Maison of Cinelinx is under the impression that this is absolutely bigger than something as simple as a phone app (and he's a braver soul than I for looking deeply into the legalese to get any information about what this is):
For those wondering, the pic on the left is their registration for a MOBILE game. The last two includes all the things registered for the #StarWars Resistance trademark…Pretty big difference and almost exactly the same as the Rebels, FoD, and movie trademarks. Just saying pic.twitter.com/bekTsDOnVP

— Jordan Maison (@JordanMaison) February 21, 2018
If the fine print is way more elaborate than it is for the likes of, say, the Star Wars: Force Arena mobile game, then odds are that there's some fire to that smoke.What do you guys think? Could we really be getting a Resistance-First Order War story so soon after Rebels? Let us know what you think in the comments section and on The Cantina.
Grant has been a fan of Star Wars for as long as he can remember, having seen every movie on the big screen. When he's not hard at work with his college studies, he keeps himself busy by reporting on all kinds of Star Wars news for SWNN and general movie news on the sister site, Movie News Net. He served as a frequent commentator on SWNN's The Resistance Broadcast.