George Lucas Lends Some Advice on the Set of Solo: A Star Wars Story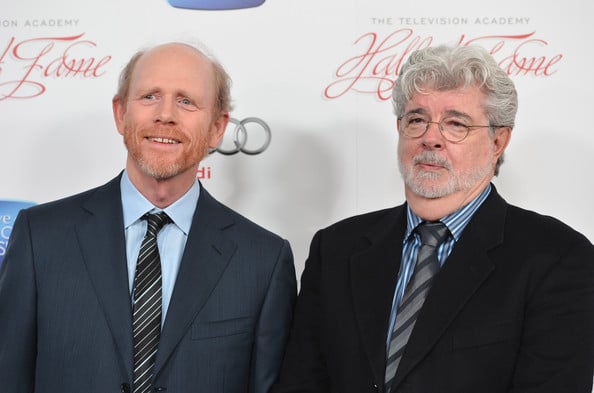 During an interview with Entertainment Weekly's Anthony Breznican, Ron Howard discussed some interesting details about Solo: A Star Wars Story. While the full article can be found here, there's an interesting part where Howard talks about his friendship with George Lucas.
Howard said:
"He came by to visit the first day that I picked up shooting. George and his wife, Melody, came by to pay a little set visit. It made me feel great."
Howard had previously worked with Lucas on American Graffiti and Willow, and greatly respects the man who created this universe we know and love. Lucas gave Howard some advice on the Solo set. According to Kathleen Kennedy, Lucas even gave a suggestion about Han in one scene in particular:
"He had intended to just kind of stop by and say hi, and he stayed five hours. There's even one little moment in a scene that — I can't tell you what, sorry — but in the scene on the Millennium Falcon where George said, 'Why doesn't Han just do this.'"
In essence, George Lucas sort of helped Ron Howard direct a scene in Solo. How cool is that! Kathleen Kennedy spoke on the scene saying "It actually is a funny little bit that will probably get a laugh".
She went on to say, "And Ron happened to be by the monitor and not inside the Falcon and he goes, 'Oh that's a great idea,' and ran in and said, 'George wants us to do this."
Like an older Han stepping back into the cockpit of the Falcon in The Force Awakens, it must have felt a bit like home for Lucas to offer his thoughts, however brief, in the making of Solo: A Star Wars Story. Seeing the character he created over 40 years ago (although with a different actor) must have been a great pleasure for Lucas.
Lucas had one final bit of advice for his longtime friend Ron Howard: "Just enjoy this."
The full article can be found on Entertainment Weekly's website right here.