Laura Dern Hints at Amilyn Holdo Being Force Sensitive in The Last Jedi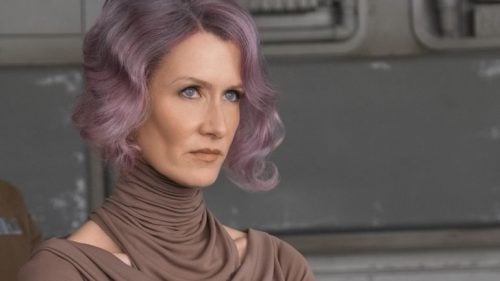 Vice Admiral Amilyn Holdo made an impression on audiences in December after her heroic sacrifice in The Last Jedi. We first met the character in Leia, Princess of Alderaan before Laura Dern brought the purple-haired rebel to life on the big screen. 
During an interview with Entertainment Weekly, Dern made quite the revelation about her character. After having discussions with director Rian Johnson and producer Ram Bergman about Holdo's backstory, Dern revealed that her character was indeed Force-sensitive:
"In their minds, and in their understanding of the origin story, we know that she was a true rebel in the Resistance, and in our culture we might have called her a hippie," Dern says. "But she was longing for peace, and a revolutionary in that way, and wanted to be trained by and led by Leia, who taught her everything she knew. She wanted to come up in the ranks to support Leia's mission, but also had this otherworldly side that does involve the Force."
While it wasn't apparent Holdo was Force-sensitive, audiences wouldn't have known Leia was indeed Force-sensitive (prior to her scene in The Last Jedi) if her brother Luke hadn't told her in Return of the Jedi.
As Luke states in The Last Jedi, "The Force is not a power you have. It's not about lifting rocks. It's the energy between all things, a tension, a balance, that binds the universe together."
Holdo's sacrificial decision at the end of The Last Jedi was easier for her, knowing there's something bigger than herself at play:
"Yeah, her primary goal was to protect the light, to protect the Force, and to keep the revolutionaries alive," Dern says. "And I think the film speaks so beautifully to that with this last image of the next generation of the Resistance, you know?"
Dern ends the interview by talking about Holdo's connection with Leia. Though it wasn't specified by Johnson, Dern states that Amilyn and Leia shared a connection through the Force:
"It sounds great," Dern says with a laugh. "I mean, you would think, you would think."
The Last Jedi was released on Blu-ray today.