Dave Filoni Talks What Will Happen With Kanan and How Lucas and Tolkien Influenced Him for Star Wars: Rebels
In a new article from syfy.com, Shana O'Neil sat down with Lucasfilm's own Dave Filoni to talk more about this past week's episode of Star Wars Rebels.
SPOILERS AHEAD
After the episodes "Jedi Knight" and "Dume", we know that Kanan Jarus is no longer alive after he saved the crew of the Ghost from a certain death, sacrificing himself by doing so. In the interview, O'Neil asks Filoni some questions about those episodes.  
Shana asked Filoni the obvious question: will we see Kanan again? With Filoni responding:
That's a great question. I'm not gonna say. The only thing I would bring up about that, and I'm imagining flying force ghosts, is that I learned from George that being a force ghost isn't just as easy as dying and then you reappear. There's actually a whole philosophy and methodology around it that we got into in Clone Wars with Yoda and Qui-Gon and how Jedi in the prequel era don't actually believe that you can maintain your own individual consciousness after death. They believe you're part of the living force at first and then you pass on and become part of the cosmic force and part of the whole.

In that way, when you see the Dume wolf, to say that Dume isn't exactly Kanan, it's not his individual consciousness, but it is a part of the whole. All material is matter, all things at one level on the same level in different states constantly changing. So Dume is kind of a version of that. There's a consciousness to some degree of Kanan in it, but not so active that it would say, "Hello, Ezra."
So, Kanan's spirit is out there. Kind of. In the words of Filoni, "he's kind of a version of that". I think these statements are perfect from Filoni. It was a tough blow to see one of the characters we've spent numerous years with die so suddenly, but having his spirit fully return as a force ghost immediately after would have felt cheap. Yet, part of him is there with Ezra talking.
Another interesting part of the interview is when Filoni discusses his interpretation of one of Yoda's famous lines from Return of the Jedi:
"I do not subscribe at all to the idea that because there's one line in a movie that says "When gone am I the last of the Jedi you will be" that my characters have to die. I don't buy into that in the least. I think all those lines are subjective. When I see people saying they have to die, that's absolutely not true."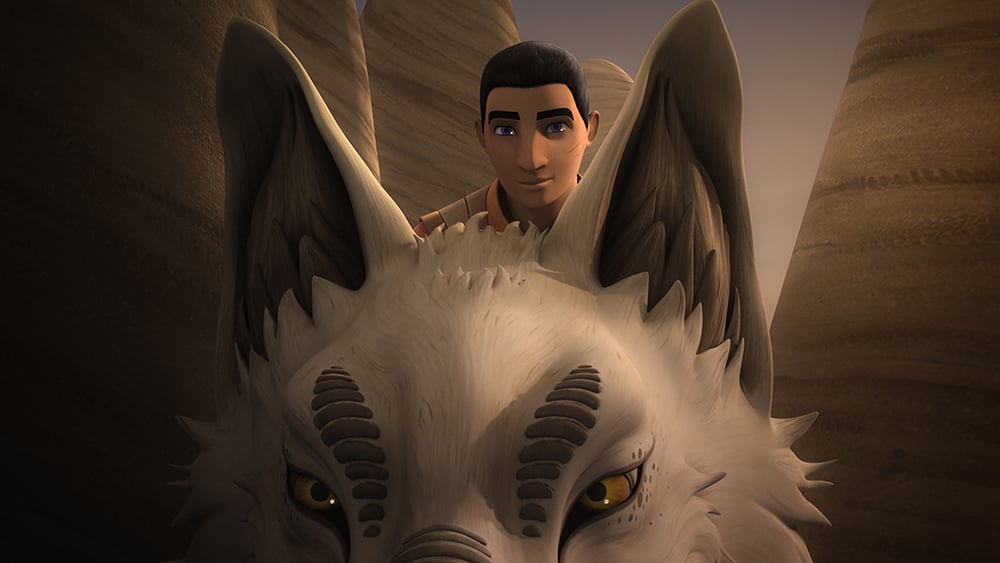 So, what does this mean for Ezra Bridger? Well, according to Filoni's statement, there could be a chance he survives the show. The issue with Ezra possibly making it out of Rebels is we are bound to then ask the question: Where was he during the original trilogy? Filoni could have an answer that we just don't know yet. With just 4 episodes left, we won't have to wait long to see.
Star Wars Rebels returns next week with "Wolves and a Door" and "A World Between Worlds".
For the full interview, including how George Lucas and Tolkien influenced Dave Filoni check out syfy.com.