Star Wars Rebels, Marvel and Books to be Available on UK's DisneyLife in April!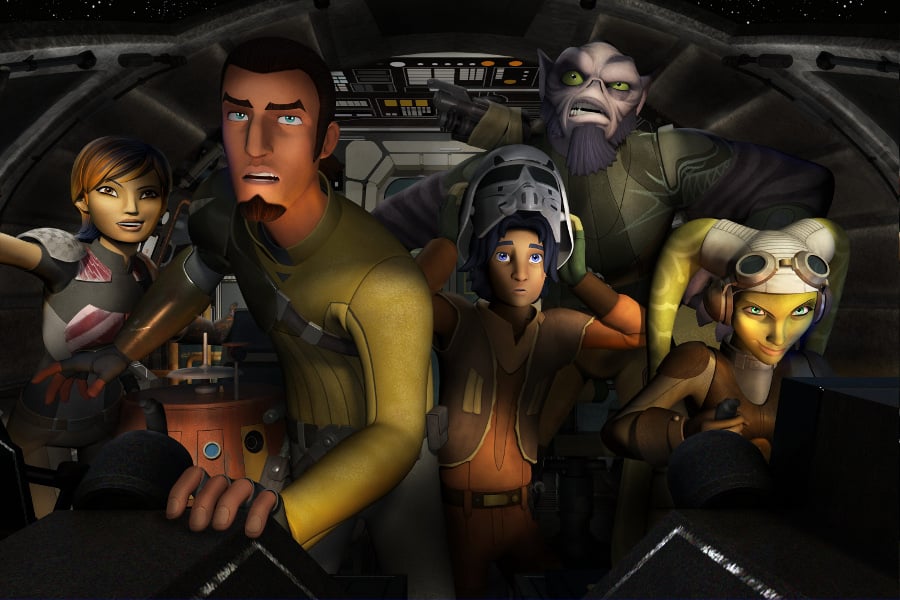 UK's digital entertainment service DisneyLife today announced that the critically-acclaimed Star Wars Rebels, and the hit animated series Marvel's Avengers Assemble, Marvel's Hulk and the Agents of S.M.A.S.H., Marvel's Ultimate Spider-Man will be available to watch on the service from 18th  April, along with a selection of accompanying e-books. Read on for the full press release…
From Disney:
Star Wars Rebels, created by Lucasfilm Ltd. (and the team behind the Emmy®-winning series, Star Wars: The Clone Wars) continues the epic tradition of the legendary Star Wars saga with all-new exciting, action-packed adventures. The action-filled series is set between the events of Star Wars: Revenge of the Sith and Star Wars: A New Hope – an era spanning almost two decades never-before explored on-screen. Star Wars Rebels takes place in a time where the Empire is securing its grip on the galaxy and hunting down the last of the Jedi Knights as a fledgling rebellion against the Empire is taking shape.


The Marvel series feature some of Marvel's most popular characters that take down the most infamous villains in the Marvel universe. Marvel's Avengers Assemble is an animated series featuring the team also seen in the record-breaking blockbuster movies Marvel's The Avengers and Marvel Studios' Avengers:  Age of Ultron. Iron Man leads the team of Earth's mightiest heroes – Hulk, Captain America, Thor, Hawkeye, Black Widow and newcomer Falcon – who combine their powers to battle a new band of villains.
Marvel's Hulk and the Agents of S.M.A.S.H. is an action-packed, fun-filled animated series starring Marvel's strongest Super Heroes – Hulk, She-Hulk, A-Bomb, Red Hulk and Skaar. In the first Marvel-produced Hulk animated series, these mighty Super Heroes form an unlikely family living under one roof, battling evil villains and proving to the world they are not monsters – they are Hulk-sized heroes.

Marvel's Ultimate Spider-Man follows Peter Parker on a quest to become the Ultimate Spider-Man. After being bitten by a radioactive spider and gaining super-human powers, he has joined the ranks of S.H.I.E.L.D. along with a class of other young heroes. Together, they protect New York City from an onslaught of villains, including Doc Ock and his evil Sinister Six, learning that with great power comes great responsibility!

From 18th April, DisneyLife will offer the Star Wars Rebels: Spark of Rebellion TV Special, Star Wars Rebels Season One, Star Wars Rebels shorts and nine Star Wars Rebels books. Along with Season 1 of Marvel's Avengers Assemble and Marvel's Hulk and the Agents of S.M.A.S.H., DisneyLife will also have Season 1 and 2 of Marvel's Ultimate Spider-Man, a selection of Marvel's Ultimate Spider-Man books and the Marvel shorts, Fury Files.
DisneyLife offers Disney's biggest collection of entertainment, including movies, books, music and Disney Channel TV box sets, all in one digital membership service. An easy-to-use app designed for all ages, DisneyLife allows fans to explore Disney stories and characters, such as those from Star Wars Rebels and Marvel's animated series, through a rich and colorful interface unlike any other. DisneyLife subscribers can stream instantly or temporarily download an ever expanding digital library of hundreds of movies and books, as well as thousands of songs and TV episodes (through a UK internet connection).
Visit DisneyLife.com, the App Store or Google PlayTM for more information on DisneyLife or to sign up for a free one month trial and continue your membership for £9.99 a month after your free trial ends. There's no annual contract so members may cancel at any time.