Michael Kaplan Talks Costume Designs in Star Wars: The Last Jedi
Award winning Costume Designer Michael Kaplan (Blade Runner 1982) recently spoke with ET Online regarding his work on Star Wars: The Last Jedi. Kaplan, who was nominated for a Costume Designers Guild Award for his work on The Last Jedi, discussed his inspiration for making some of the most memorable costumes in a Star Wars movie in The Last Jedi, and especially how he came up with the idea of the more elegant look of Carrie Fisher in the movie.
After The Last Jedi hit theaters in December 2017, it was very evident that the costumes used in the movie were not the familiar costumes we usually see in a Star Wars movie, especially the looks of General Leia, Admiral Holdo and the whole sequence in the Canto Bight casino. Of course the reason for that is director Rian Johnson's unique vision and his desire to take the movie in slightly different and original direction.
Kaplan explains Rian Johnson's preferences for Leia's look in The Last Jedi (via ET Online):
One of the biggest challenges was getting used to a new director and his style, and finding out what his priorities were. The way Rian saw the episode, he was adding a lot more humor and color and a certain kind of liveliness that we haven't seen before in Star Wars.
For Leia, Rian wanted a more regal character — he wanted her to be more princess-like. So, we added jewelry. We kept one of her rings and the same earrings, just in a different finish, from Episode VII, and kind of continued to build on that. We gave her more rings and bracelets.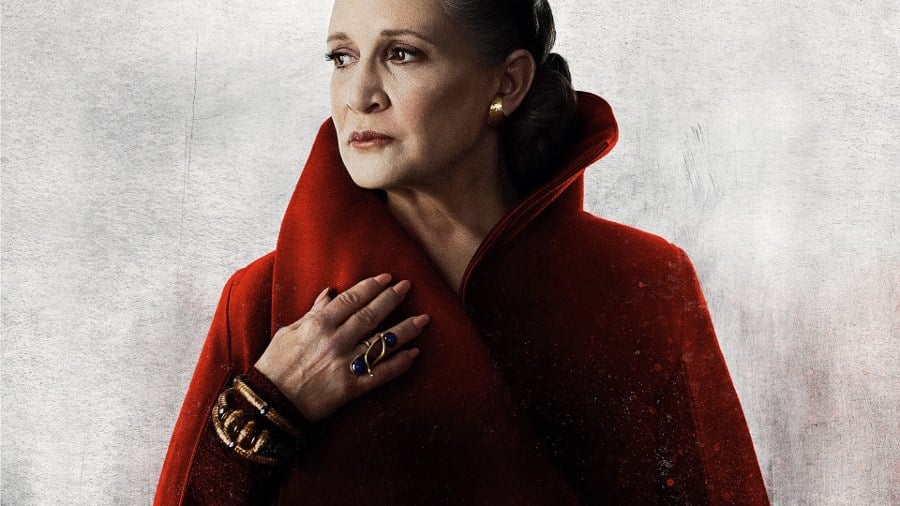 Kaplan also addressed the now iconic high collar costume that Leia wore on Crait:
I thought the capes were a good idea because they framed her so nicely. They said it all — they just added that regal quality. I thought that it would be nice if we could use the cape in different ways. When I showed Rian what it looked like with the collar up, he said, 'I have just the scene for that.'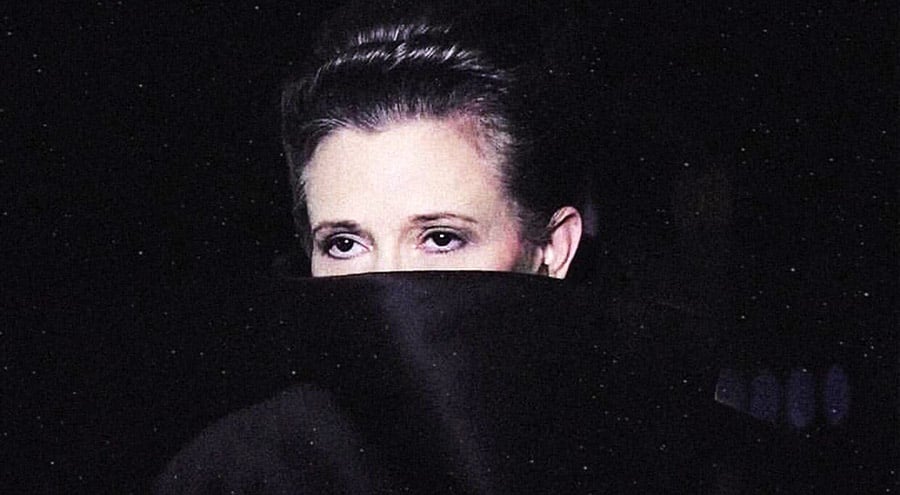 While discussing Admiral Holdo's appearance in the movie, Kaplan revealed that originally Laura Dern's heroic character was not supposed to have purple hair in the movie.
Personally, I didn't think purple hair was very Star Wars. I wanted her to have kind of silver hair, which I thought would be really, really beautiful and elegant. But she thought it would look kind of like gray hair, and she wasn't really thrilled with the idea. I think it was Rian who said, 'Well, why don't we have the hair match the dress.' So, that's how that came about.
Regarding the multiple creatures he had to dress for the movie, Kaplan jokingly said:
The [Caretaker] creatures are made in a different department, with animatronics and they're molded — there's a lot of things that go into the creatures. They're painted, their flesh tones are done, but they do come to me naked and I have to dress them as well. Neil [Scanlan] does this wonderful job creating these creatures, but then I have to figure out a way to dress them all in their very strange shapes and sizes.

Kaplan also revealed that if you look carefully you can spot him among the Canto Bight residents in the photo above. Can you spot him?
For the full interview, where Kaplan also addresses Carries sudden death, make sure to go to ET Online and check out the video with the audio interview below: