UPDATE! New IMAX Display for The Last Jedi Raises Many Questions for Star Wars Fans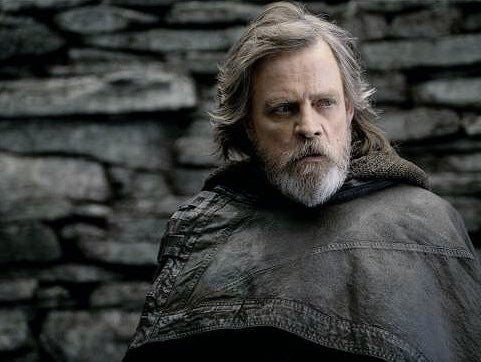 IMAX just dropped an image yesterday of their exclusive display for The Last Jedi and it has raised a few eyebrows to say the least. So much so that we didn't even want to post the picture in our title image as to avoid any potential spoilers. Read on to see for yourself.
October 11, 2017
Light side or the dark? Feel the Force with our exclusive @StarWars #TheLastJedi display in select IMAX theatres! pic.twitter.com/Qs2iMJlyWM

— IMAX (@IMAX) October 10, 2017
My first thought: Oh that looks awesome. I want one…
…wait for it…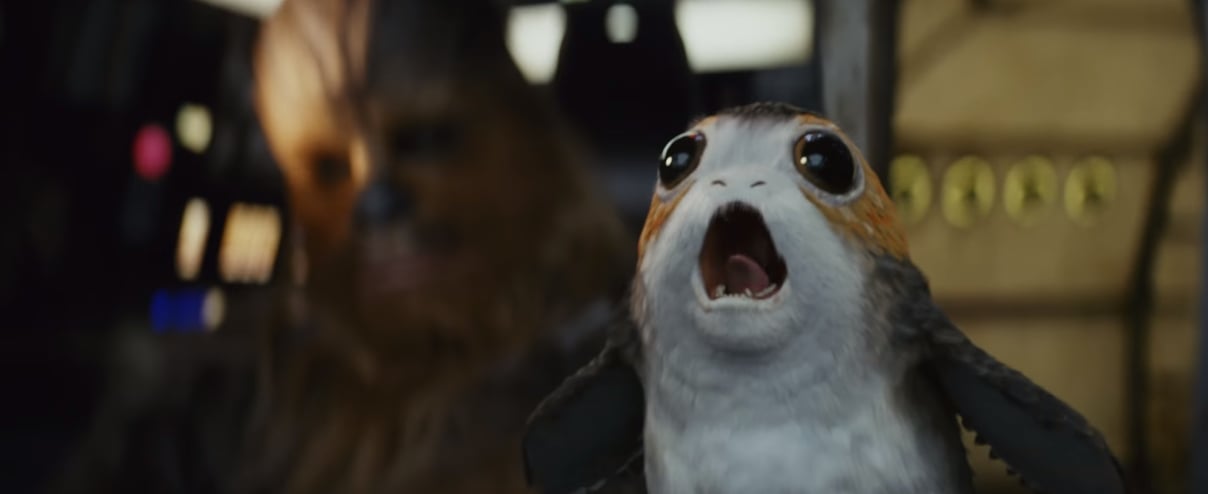 …What the heck IMAX?! Why is Luke on the right instead of Snoke?! 
Okay, before we wade too deep in the ocean of speculation here, let's consider a couple of things…
First off, it's obvious that the marketing for The Last Jedi is deliberately trying to increase fan interest by playing to fan theories and confusing viewers with clever editing. In the recently released official trailer, we see two sequences in particular that are cut in such a way as to cause the viewer to think that Kylo Ren is going to kill his own mother and that Rey will eventually join him. But would they really reveal such things in a trailer?
In a recent interview with Yahoo!, director Rian Johnson spoke about how deliberate Lucasfilm is in their marketing…
"A year ago, maybe even more than that, my producer Ram [Bergman] and I sat down with the folks at Lucasfilm and said, 'OK, this is what we're going to reveal here and there, and this stuff we're never going to reveal until the movie comes out.' We came up with a 'no-fly list' of, under no circumstances is this shown or that shown," says Johnson. "It is a fascinating process. It's something that for me, just having been a fan my whole life, suddenly being behind the curtain and seeing how it works and seeing how deliberate it is, has been really fascinating."
Such thoughts really make me question how much to take at face value at this point, especially considering Luke's own words in the trailer (which Mark Hamill echoed on Twitter when sharing the trailer from his own account):
"This not going to go… the way you think!"-Luke Skywalker #TheLastJedi #WaitForVIII https://t.co/3rdJbpo2oS

— @HamillHimself (@HamillHimself) October 10, 2017
How much is true and how much is all just part of an intentional misinformation campaign by Lucasfilm to throw off our expectations?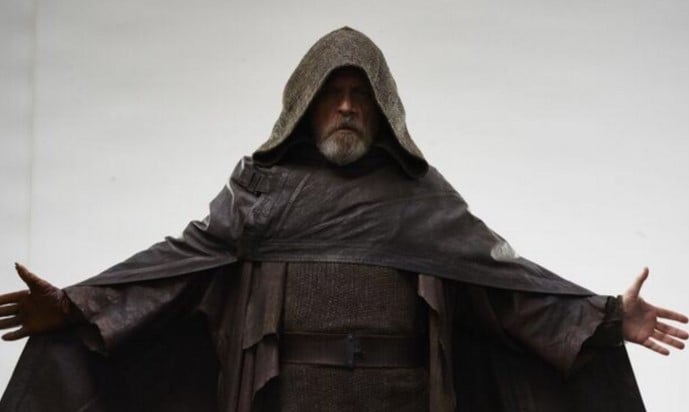 Playing devil's advocate, however, I think it's also important to consider Hamill's own thoughts that he has shared about his character in the recent past:
(from Vanity Fair):
"Likewise, after reading Rian Johnson's script for The Last Jedi, Hamill said, "I at one point had to say to Rian, "I pretty much fundamentally disagree with every choice you've made for this character. Now, having said that, I have gotten it off my chest, and my job now is to take what you've created and do my best to realize your vision.'"
Also just for fun, you probably remember that back in 2005 during an episode of the show Dinner for Five, Mark Hamill revealed how he pitched the idea of evil Luke to George Lucas  for Return of the Jedi. And guess who was on the table then…, yep – Episode VII and Episode IX director J.J. Abrams (watch from 11:50).
https://www.youtube.com/watch?v=W5EU5kM2pX0
Could Luke really have embraced the dark side as some fans have speculated? Is LFL just trying to throw us off the scent? Or is this just a simple mistake by IMAX in the design of the display?
UPDATE!
October 16, 2017
New similar standee for The Last Jedi was found by Reddit member DANgerClose614:
These standees will soon be available in theaters and it's obvious that the publicity campaign for the movie will be depending on such contradictory pieces of information.
It's also interesting to mention that just a day ago Mark Hamill made the following tweet:
The villains are always looming at the back… until they get the chance to loom on the front of a box of #KyloCrunch. 😋 #1stOrderOfBusiness pic.twitter.com/QIKNjW9ps9

— @HamillHimself (@HamillHimself) October 15, 2017
Obviously Mark is making fun with The Last Jedi poster where Luke is featured in the back like all the villains from the previous posters (except for Attack of the Clones). But we have to ask ourselves the question – If Luke is indeed the villain in the movie (as the latest standees suggest) will he be tweeting about it just like that? Definitely not. Especially after the trailer fiasco.
I think one thing is certain – Luke will not be the good guy in the way many of us imagined him in the past. But he surely won't be the villain as well. There will obviously be some struggle and catharsis that the character will go through. Whether this will be fully resolved in The Last Jedi or in Episode IX, remains to be seen.
Jordan Pate is Co-Lead Editor and Senior Writer for Star Wars News Net, of which he is also a member of the book and comic review team. He loves all things Star Wars, but when he's not spending time in the galaxy far far away, he might be found in our own galaxy hanging out in Gotham City or at 1407 Graymalkin Lane, Salem Center, NY.