Live Star Wars Updates at the Disney D23 Expo – The Rise of Skywalker – Now Complete!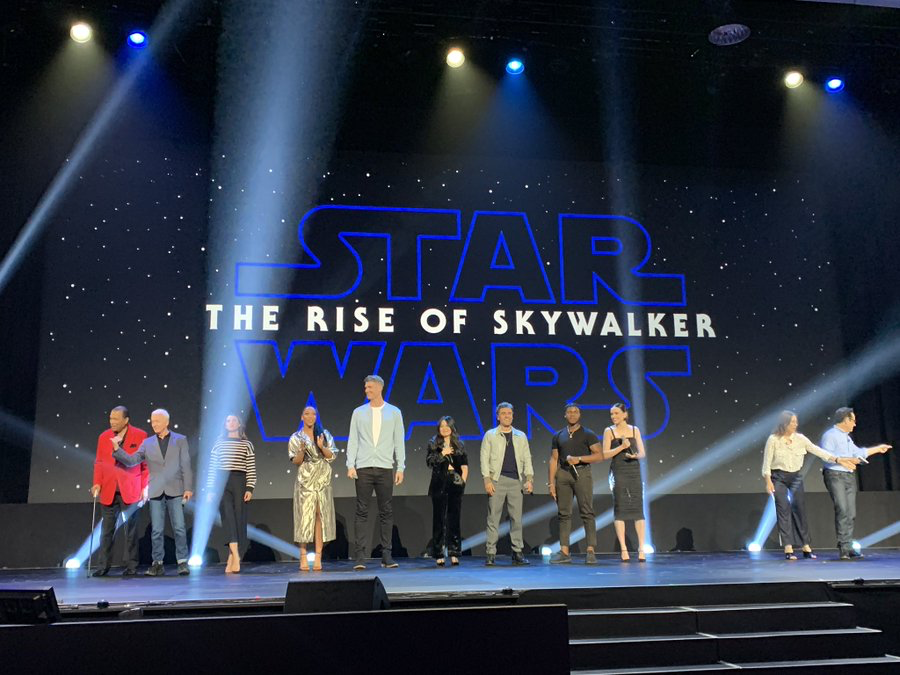 Welcome to our coverage of the big Disney movie slate panel at D23! For this article, we'll be focused on all the Star Wars news that's tied to The Rise of Skywalker, and possibly some other Star Wars movie news if any surprise announcements are made.
Like with last night's Disney+ panel, Disney began discussing a number of topics throughout a two-plus-hour presentation. However, unlike the Disney+ panel, which saved the galaxy far, far away for last, the Star Wars news started very early on at 12:13 PM CST.
Live updates for Star Wars content below:
12:13 – J. J. Abrams and Kathleen Kennedy walk onstage to talk Star Wars: The Rise of Skywalker.
12:14 – Abrams says that it's an honor to complete a story told over 40 years, while Kennedy praises Abrams for making the filming process fun.
12:16 – Daisy Ridley, John Boyega, Oscar Isaac, Kelly Marie Tran, Anthony Daniels, Naomi Ackie, Joonas Suatomo, Keri Russell, and Billy Dee Williams appear onstage, alongside R2-D2 and BB-8.
12:18 – Russell reveals that Zorri is an old friend of Poe's and an outlaw. She suggests that they had a romantic history.
12:19 – Daniels notes that he was very satisfied with the ending and that he can't wait to share the movie with the world.
12:20 – Abrams notes that Carrie Fisher's Leia will have a significant presence in the film and that they wouldn't have made the movie without her being involved in a big way.
12:22 – A new poster is revealed, showing Rey and Kylo Ren fighting on the wreckage of a ship while a faded image of Palpatine overlooks the battle.
Check out the new poster for Star Wars: #TheRiseOfSkywalker that debuted at #D23Expo. See the film in theaters December 20. pic.twitter.com/FUSZaGQZE6

— Star Wars (@starwars) August 24, 2019
12:23 – A sizzle reel of footage drops, described below.
Clip showing montage of past Star Wars films, then shots of an army of ships, Rey & Kylo fighting over water, and ends with Rey in a hooded cloak and holding a red light saber that goes from two side by side savers to two long sabers if that makes sense LOL. #D23Expo @DisneyD23

— Andre (@BlackNerd) August 24, 2019
Some AWESOME imagery, including a swarm of Star Destroyers ominiously in the sky shot from below. #D23Expo #StarWars

— Eric Goldman (@TheEricGoldman) August 24, 2019
And just like that, the Star Wars: The Rise of Skywalker portion of the panel has finished. Stay tuned for potentially more announcements at Disney D23!
Star Wars Episode IX: The Rise of Skywalker serves as the final episodic Star Wars movie, and serves as the conclusion to the Skywalker Saga that encompasses it and the preceding eight movies (Episode I: The Phantom Menace, Episode II: Attack of the Clones, Episode III: Revenge of the Sith, Episode IV: A New Hope, Episode V: The Empire Strikes Back, Episode VI: Return of the Jedi, Episode VII: The Force Awakens, and Episode VIII: The Last Jedi).
The film features the return of Mark Hamill, Billy Dee Williams, Ian McDiarmid, Anthony Daniels, Jimmy Vee, Daisy Ridley, Adam Driver, John Boyega, Oscar Isaac, Lupita Nyong'o, Domhnall Gleeson, Kelly Marie Tran, Joonas Suotamo, Billie Lourd, Greg Grunberg, and Brian Herring as the puppeteer behind BB-8. New cast members include Naomi Ackie, Richard E. Grant, Keri Russell, Dominic Monaghan, and Matt Smith. Archive footage of Carrie Fisher will also be repurposed and utilized. The Rise of Skywalker is directed by J. J. Abrams, produced by Abrams, Kathleen Kennedy, Michelle Rejwan, and written by Abrams and Chris Terrio, with their work being based on characters created by George Lucas. Dan Mindel serves as cinematographer, Maryann Brandon and Stefan Grube as editors, and John Williams as composer of what will be his final Star Wars film.
Star Wars: The Rise of Skywalker will be released on December 20, 2019.
Grant has been a fan of Star Wars for as long as he can remember, having seen every movie on the big screen. When he's not hard at work with his college studies, he keeps himself busy by reporting on all kinds of Star Wars news for SWNN and general movie news on the sister site, Movie News Net. He served as a frequent commentator on SWNN's The Resistance Broadcast.