The Annihilation of Anakin Continues in Darth Vader #4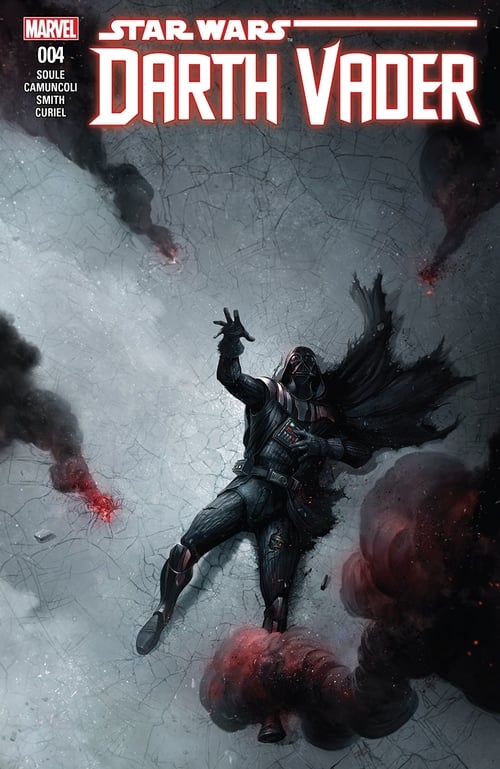 Writer: Charles Soule
Artist: Giuseppe Camuncoli
Vader's first mission isn't going well.
The dark side is the way of power.
But no one said it would be easy.
SPOILERS AHEAD
When we left the Dark Lord of the Sith in the last issue, things didn't go exactly as he hoped and the readers expected. Vader's Sith behind was handed to him by one Jedi Master Infil'a. The tough Jedi Master made a critical error though by not making sure that Vader was truly dead.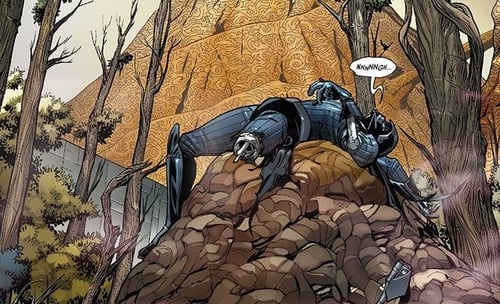 As this issue opens, we get a clear image of just how powerful Vader's rage really is. As he gets lectured by an equally broken droid, Vader dismantles him with the Force and uses his parts to rebuild his suit.
As this is happening, Infil'a visits Am'balaran City and Mareena, a mechanic who stored his ship years ago. He learns from her and her daughter that the Jedi were proclaimed traitors throughout the galaxy. He says he would restore light to the galaxy by finding the master of the Sith who attacked him. Mareena is worried that the Sith would follow Infil'a, but the Jedi believes he is dead.
While Mareena is working on his ship, the Jedi amuses her daughter by demonstrating his Force powers. He believes he would be able to come back and rebuild the Jedi order on the planet. But his demonstration is interrupted when he feels the Dark Side. Vader is back.
As we saw in the previous issue, Kirak Infil'a is more than Vader's match – he manages to strike Vader again in this rematch fight. But, he is not the match for Vader's ruthlessness and rage. Infil'a is a true Jedi, maybe truer and purer than his comrades the Sith destroyed, because he never participated in the Clone Wars. When Vader threatens the lives of city guards, Infil'a manages to save them, but there is no stopping Vader in a fit of rage.
Vader destroys the dam in an act that will kill the entire city. While Infil'a is trying to stop that, Vader takes his lightsaber away and then starts Force-choking him. The Jedi begs for the lives of the people below, but there is no mercy left in Vader. As hundreds or maybe even thousands of people die, Vader has fulfilled the first part of his mission – he has obtained the lightsaber from the Jedi he defeated.
Up to this point in Star Wars continuity, we have seen Vader do some horrible things – including the murder of younglings in the Jedi temple – but there was still ambiguity and conflict in him. By now though, Vader has had some really bad days in recent memory that have fueled his rage beyond any hope of redemption: he was defeated by his friend and burned to crisp, encased in a mechanical suit that keeps him alive, he lost his family, and he was broken yet again during his first fight with Infil'a. This Vader's rage burns like a sun and destroys everything in his path. We see his physical agony, but Camuncoli's expressive art does a pretty good job to show the burning hatred that fuels Vader's will to live and fight.
And he fights dirty, because physically he is no match for Kirak Infil'a. He is vulnerable and now he has learned his first lesson. He uses Kirak's concern for innocent lives against him as he falls further and further away from Anakin Skywalker. He is beginning to embrace the monster he became through his own faults and Palpatine's manipulation.
While this was a pretty straightforward issue, it once again cements that this is a Vader we have never seen before. He is not the wielder of cold, calculated and directed rage we saw in the movies. He cannot be further from the killing machine we saw in Rogue One for example. He is like a wildfire of pain and hatred and it is ironic that his weakness fuels his power. This arc ends in the next issue. While I am hoping that we will get to see the ritual that bleeds the kyber crystal, what I am most eager to see should come after that – Palpatine's teachings that harness and direct Vader's power. But, those lessons are for another day as the story of Vader's first lesson ends in…
THE NEXT ISSUE: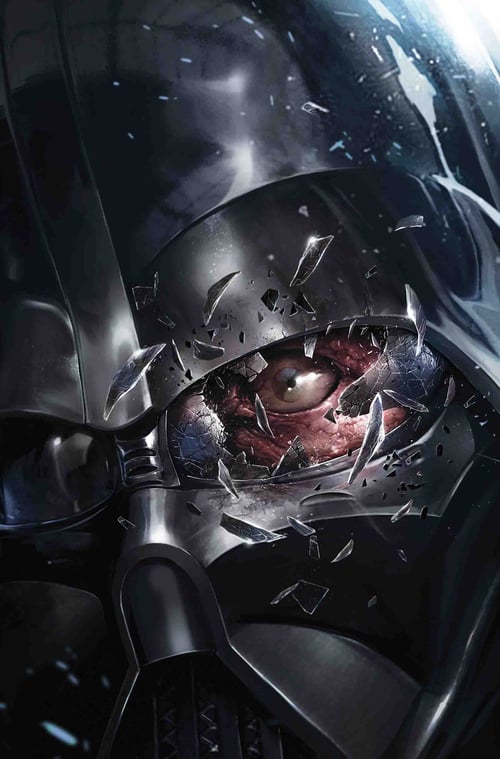 • He began his journey as a Jedi with wonder and hope.
• Now it is time to put away childish things.
• Vader's first and most vital test as a Sith concludes.
THIS ISSUE GETS 7.5/10 STARS.
Staff member, comic and book reviewer. Cheers for the Light Side, but would drink with Grand Admirals.