Written by Charles Soule
Art by Angel Unzueta
Issue #17 opens a new arc of Poe Dameron comic titled War Stories.
Black Squadron is back in action!
And this time they're on the lookout for some new recruits for the Resistance!
Poe Dameron's first encounter? Turns out to be a mysterious person from Jess Pava's past…
SPOILERS AHEAD
When we left Black Squadron in the last issue, they managed to steal the fuel necessary to the Resistance from the First Order. Additionally, we saw the moment when Malarus' temper got the better of her, possibly freeing Terex of his cybernetic servitude.
As this issue opens, we find Suralinda Javos, whom we met back in Poe Dameron #7, cleaning toilets on D'Qar. Clearly, she was taken up on her offer.
Poe informs her that General Organa requested a meeting with her because he reminded her that Suralinda has many other skills.
While Leia isn't enamored with the idea of using Suralinda because of her past actions, she has very little choice. The Resistance needs funding, and to do that, it needs to change the public perception of both the Resistance and the First Order.
Suralinda proposes to show the galaxy what the Resistance is doing, as well as its people, so that the galaxy could identify with them and their goals. They also need to show that the First Order poses a real threat. She intends to use C-3PO's operative network to show the galaxy just how bad they are.
And it seems they will have plenty of opportunities for it, because the First Order isn't taking any breaks. Back on the First Order ship, The Enshado, the first thing we learn is that Malarus is a junkie. Her black eye isn't a product of cybernetic as some of us presumed, but of a stimulant she clearly uses on a regular basis. One can clearly see how the First Order would see benefit from the use of such a drug – it gets quick results from its soldiers. Seeing Malarus' stature and aggression, we can surmise that the effect of the said drug is similar to the combination of steroids and cocaine. As we go deeper into Malarus' story, I wonder if we will learn about the drug's side effects as well.
It is clear though that for the time being, the Commander's wits are intact because she doesn't trust Terex, even with the added cybernetics. She wants to learn all Terex's secrets, especially about Black Squadron and Poe Dameron who humiliated her. She was given Phasma's permission and necessary resources to destroy them.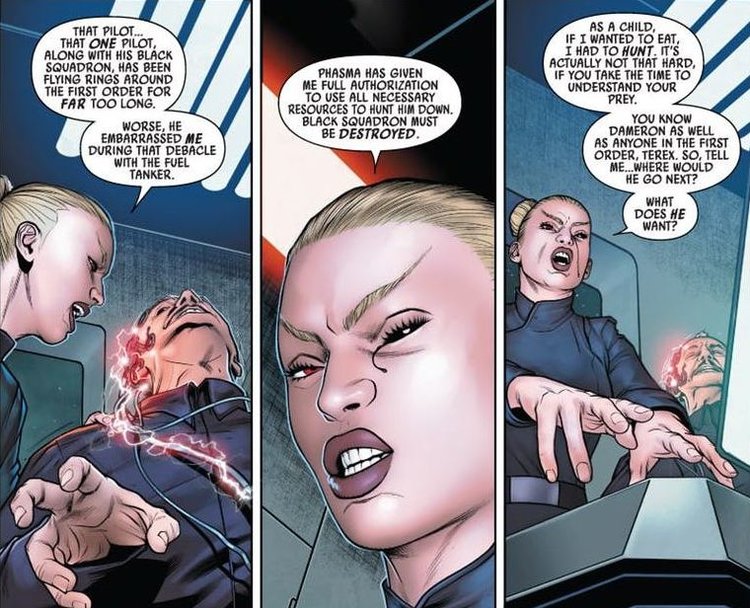 Back on the base, the Black Squadron is splitting up – Jessica Pava will fly a Y-wing with Suralinda while Karé Kun provides cover on what is supposed to be just a reconnaissance mission, and Poe and Snap are going after Oddy Muva who betrayed them.
As they embark on their missions, we get to learn a little bit about both Jessica Pava and Suralinda. I was hoping that we will get to know more about the Black Squadron members, and considering that they are separating, it seems this arc will give us that.
The pilots keenly feel Muva's betrayal because of the trust they gave him, although they have no idea why he did it. Unfortunately, Terex and Malarus manage to get to Abednedo and Muva first, take him and leave a message for Poe Dameron.
The two pilots and Suralinda arrive on the planet indicated by C-3PO's droid agents and set up a camp. They need to discover what the First Order is doing there and get the incriminating evidence. If they do their jobs well, there will be plenty of evidence, because things aren't pretty.
While this is clearly an issue that sets up the entire arc, there is a lot to like about it. I like that Marvel isn't just introducing the characters for the sake of a single story and I was pleased to see Suralinda again (hopefully, she gets to spit venom in someone's face). It is also good to see the state of galaxy in more detail and particularly the relationship between the Resistance and the Republic. The role of propaganda is rarely touched in the main Star Wars stories, so I am glad that we get to see some of that if only on the comic book pages. Never were truer words spoken than when Suralinda said that war is first two stories told side by side and when someone wins only one story remains.
Also, this arc opens the opportunity to learn more about the pilots' individual stories. In this issue, we learned why Pava prefers the ships she modified herself – she needs control because of the losses of her past. And, may I say that I hope the running joke of Pava going through the droids like Jabba through the snacks continues. I hope we learn more about Karé Kun and Snap post-Aftermath as well.
Malarus is shaping up to be a pretty decent villain though I still prefer Terex and cannot wait for the Commander's comeuppance, very likely by Terex's hand. I couldn't help expecting him to show his hand in this issue, but that didn't happen. It also seems that the First Order took the worst from the Empire as they are continuing the genocide of alien species. We obviously don't know their true goal on this planet, but hopefully the Resistance will be able to do something for the imprisoned people and get General Leia what she needs. Say "Cheese", First Order!
So, now our heroes are divided and we get to follow two separate story lines. Where they are taking us, we won't know until…
THE NEXT ISSUE: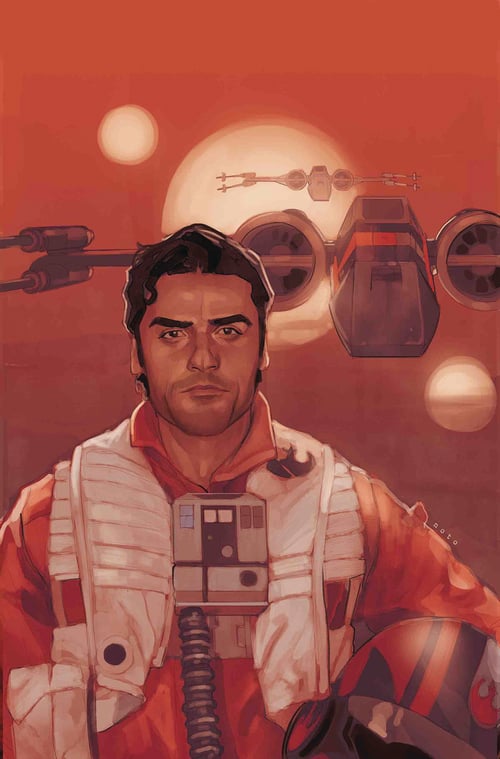 Poe Dameron #18
Written by Charles Soule
Art by Angel Unzueta
Cover Art by Phil Noto
Jess Pava and Kare Kun are on a mission to expose the First Order to the rest of the galaxy!
Meanwhile, Poe Dameron and Snap Wexley are tracking down Oddy Muva – the traitor!
Black Squadron divided!
Issue #17 gets 7.5/10 score.
Staff member, comic and book reviewer. Cheers for the Light Side, but would drink with Grand Admirals.
Click HERE to check out and comment on this topic in our forum The Cantina