Dave Filoni And the Cast Preview Final Season of Star Wars Rebels at SWCO
After two exciting and emotional days at Star Wars Celebration, it is time for animation to take the stage. Everyone who followed Star Wars Rebels and executive producer Dave Filoni over the years know that the team usually deliver entertaining and exciting presentations. Did they do it again and what they have in store for us in season four? Let's find out.
The host of the panel was David Collins who brought Dave Filoni and the cast of Star Wars Rebels – Tiya Sircar, Vanessa Marshal, Taylor Gray, Steven Bloom and Freddie Prinze Jr. on stage. They started by discussing the highlights of the just finished Season 3, including the episodes like Twin Suns and Trials of the Darksaber, confrontation with Grand Admiral Thrawn and individual character arcs.
Discussing the episode Twin Suns, Filoni said that they discussed the confrontation between Maul and Obi-Wan since they brought Maul back in Star Wars The Clone Wars. It didn't feel right for anyone else to take out Maul except Obi-Wan .
"What became clear was that it's a character arc for Maul and a character arc for Obi-Wan from when they have their confrontation in Phantom Menace to the confrontation they have in Clone Wars, because there Maul really tries to make Obi-Wan feel all the things he feels, all the evil things."
When they come together in the end, Obi-Wan pities Maul but has no choice but to destroy him.
"The story arc is always about, what George always said Star Wars is about, the Light and the Dark, selfishness and selflessness, path to enlightenment and the path to oblivion."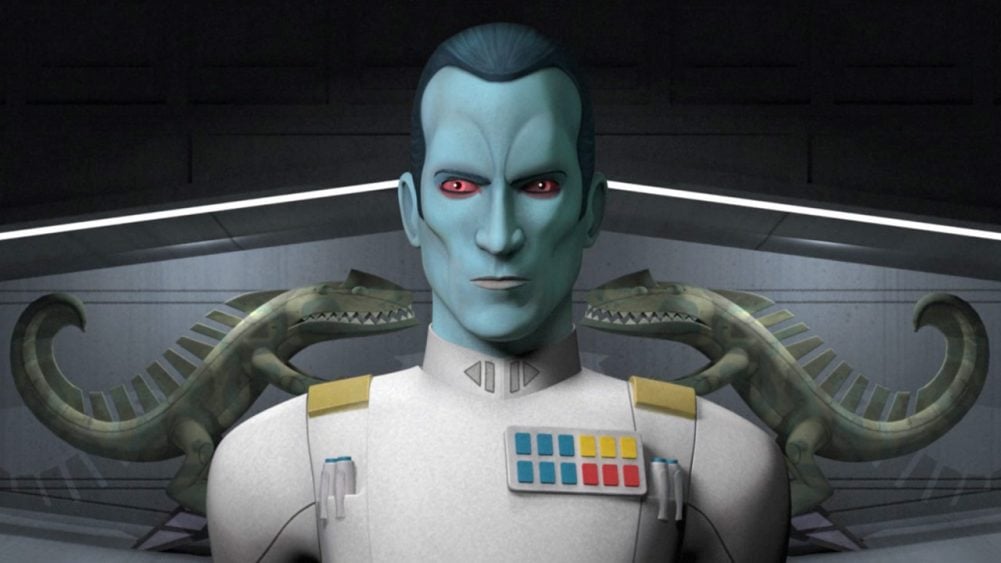 Speaking of Thrawn, Filoni said that his inclusion in the show was discussed since the beginning, but they needed to find the right story point. Seeing that Sabine is the artist, her art gave something for Thrawn to use and exploit. He said that their work on Thrawn was reflective of all the work Timothy Zahn did in his books and he praised voice work of Lars Mikkelsen on the character.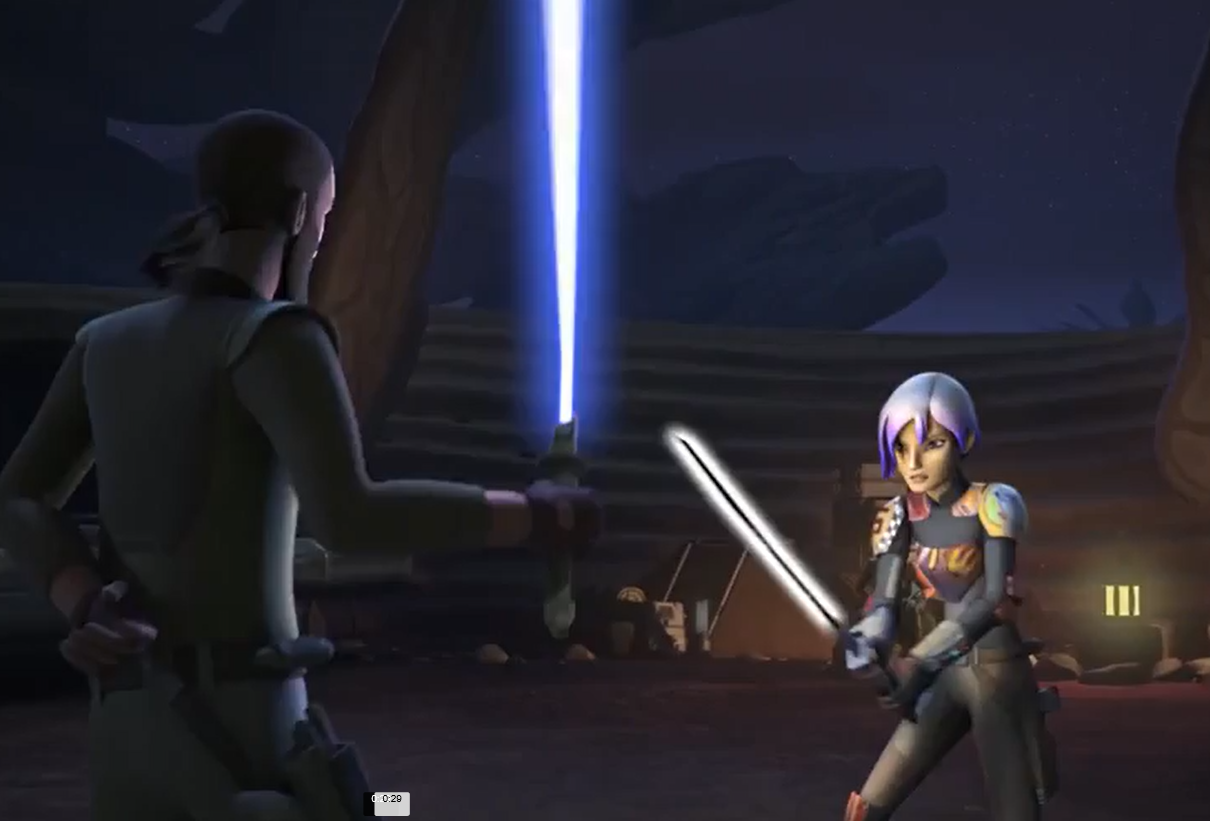 Incredible Sabine's arc and the episode Trials of the Darksaber was discussed as well. Tiya Sircar said this time she got a heads up from Filoni about character's future so she could prepare. They had separate recording sessions with Freddie Prinze Jr., Dave and a production team, which were more intimate. This arc and especially her scenes with Freddie were one of her favorite things to do as an actor. Animation and music were beautiful. Commenting on this episode, Freddie Prinze Jr. said that it represented Kanan's transformation as much as Sabine's. Kanan has to make Sabine remove everything that makes her – her, in order to become who she needs to be, but he has to learn the same lesson – to become a better teacher. In Season 3, Bendu becomes Kanan's "somewhat decent" teacher. Bendu is Freddie's favorite character.
Speaking what we can expect from their character in Season 4, the actors became more cagey under Filoni's watchful eyes. He really taught them well!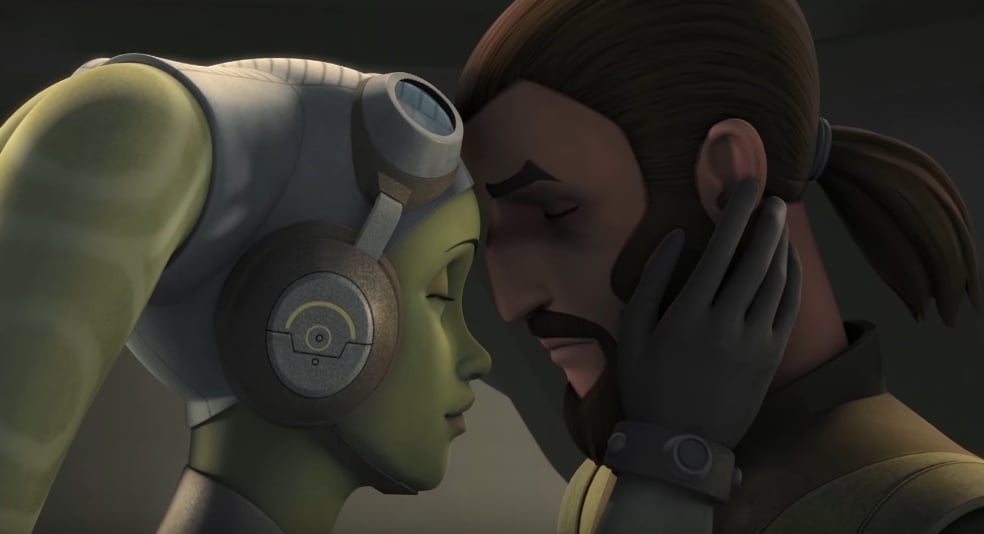 Vanessa Marshal said that Hera is impacted by the losses they suffered in the previous season and that she is now more committed than ever. After joking that Zeb would start a family with Kallus (the entire panel made me believe that the cast lives on Twitter and Tumblr), Steve Bloom said that Zeb would become more responsible and start making smarter choices. Filoni said that we would learn that Chopper has more heart than anyone realized and that he really cares for Ghost crew.
Tiya said that fans of Mandalorians would be very happy and that we would see some faces that we know. We will explore Sabine's issues with her biological family. Freddie said that Season 4 would be very adult season and that Kanan, who although blind sees more than ever before, would go through some very adult things. They'll explore faith between Kanan and Ezra. Taylor Gray said that Ezra has to decide what kind of Jedi and what kind of person he wants to be. He said Ezra makes some great decisions through Season 4.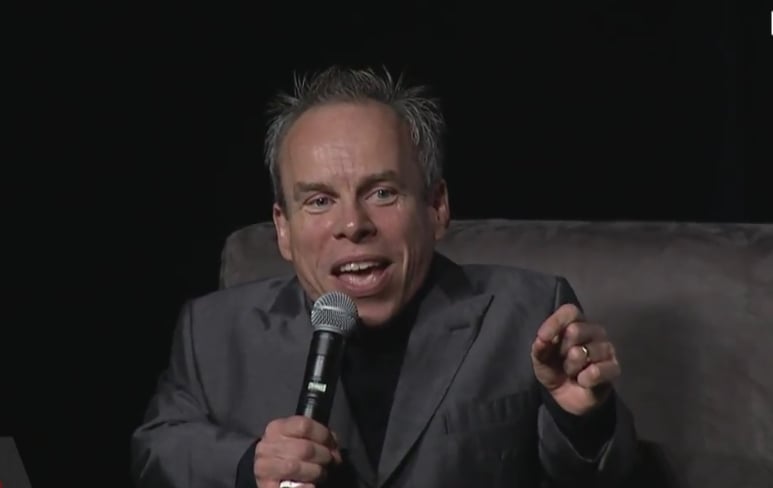 Mon Mothma (Genevieve O'Reilly) and Saw Gerrera (Forest Whitaker) will be back. We will see a fiery side of Mothma and get a little closer to Rogue One with Saw. Then we got the first surprise – Warwick Davis is coming to Rebels! And for the Legends fans, he will voice Rukh, Thrawn's Noghri bodyguard and assassin.
After stating that Rebels was about family, Filoni brought on stage the members of the family who were cosplaying Rebels even before it aired. He then dropped the second bomb on us: Season 4 will be the final season of the show. He said: "Creatively I feel that I can make this story about these characters most meaningful it can be by arcing it to where I need to the end of the season." It is not the end of what they do in animation.
Filoni said that Season 4 is not like anything they ever done. It's going to be "different, little dark, little fun." He finished the panel by presenting the trailer for Season 4, narrated by Hera, perfectly matching the melancholy tone his announcement created.
By the end of the trailer, though, the excitement replaced the sadness and we can now safely say, we can look forward to great new season and the great new projects from Lucasfilm animation.
Staff member, comic and book reviewer. Cheers for the Light Side, but would drink with Grand Admirals.