Hasbro Reveals Galactic Snackin' Grogu Coming Fall 2021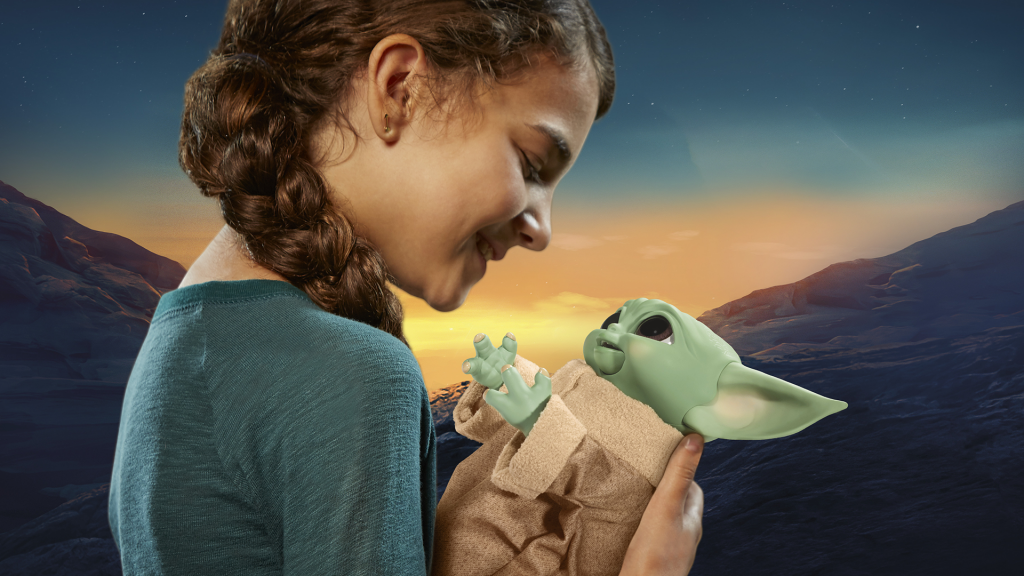 One of the biggest takeaways from The Mandalorian Season 2 it that Grogu is always hungry. From his squid chowder to his blue cookies, he loves a good snack. Well, now you can feed him with Hasbro's Star Wars Galactic Snackin' Grogu. This new animatronic toy features sounds, animated motions, and interaction accessories like his silver knob from the razor crest, blue cookie, spoon, and squid chowder. He'll also react based on what you feed him and will even hold up his arms when he wants to be held! Galactic Snackin' Grogu costs $79.99 and will be released this fall, but you can preorder him today.
For a full description of Galactic Snackin' Grogu with photos and links to the pre-orders, see below!
STAR WARS GALACTIC SNACKIN GROGU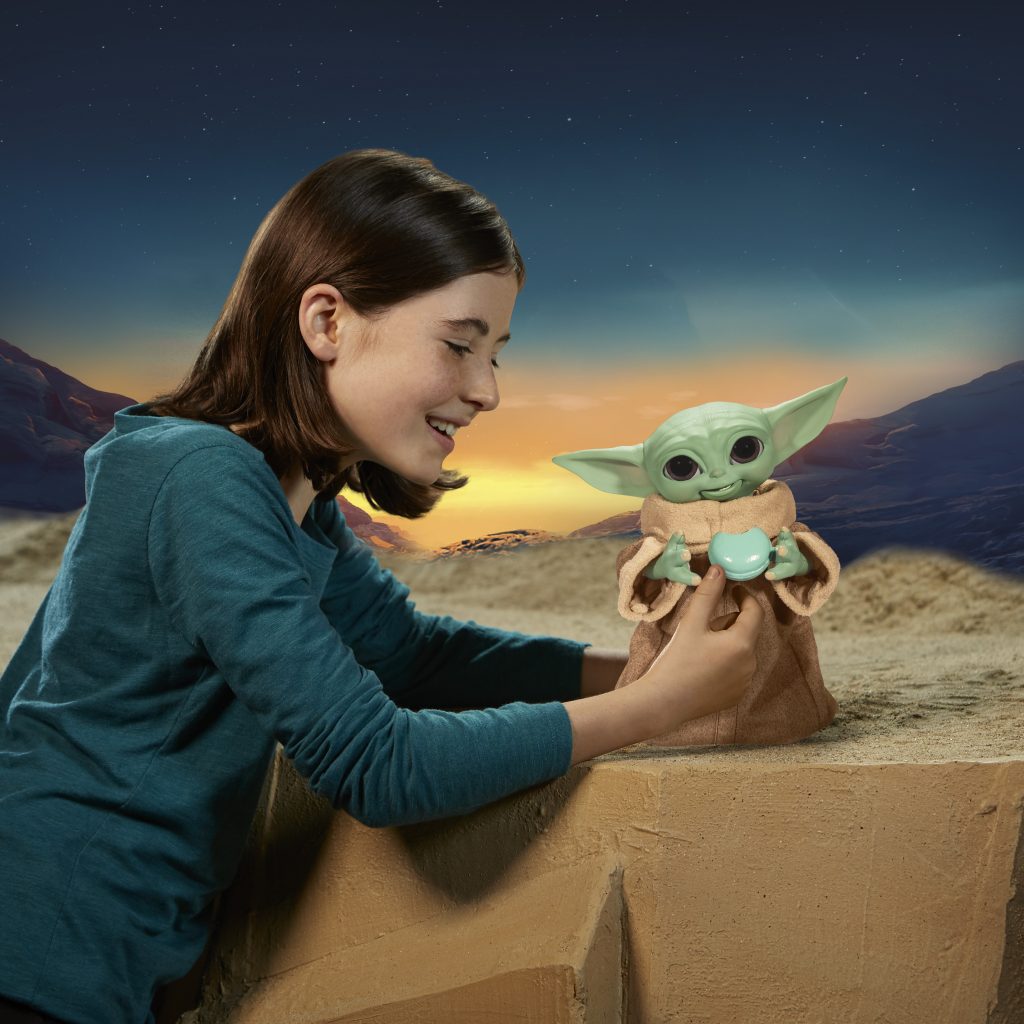 (HASBRO/Age 4 years & up/Approx. Retail Price: $79.99/Available: Fall 2021) 
GROGU (THE CHILD), affectionately referred to by fans as "BABY YODA," is hungry for Force snackin' fun! With a galaxy of features, including adorable sounds, fun animated motions, and interactive accessories, this STAR WARS GALACTIC SNACKIN' GROGU animatronic toy is ready for action and adventure! Place any of the included entertainment-inspired accessories in his hand and he'll react! Put an accessory in his mouth, and he'll make eating sounds that let you know if he thinks it's yummy or yucky! When GROGU (THE CHILD) wants to be picked up and held, he'll reach up with both arms. And with Force activation, GALACTIC SNACKIN' GROGU will perform a 2-handed Force move, inspired by scenes from season 2 of the live-action series THE MANDALORIAN on Disney+! Additional features include series-inspired sound effects, a premium soft goods robe, moving head, ears, arms, and blinking eyes! Includes figure, 4 interactive accessories, and instructions. Requires 4 1.5V AA batteries, not included. Available for pre-order at most major retailers including Hasbro Pulse, Amazon, Walmart, shopDisney, and Target.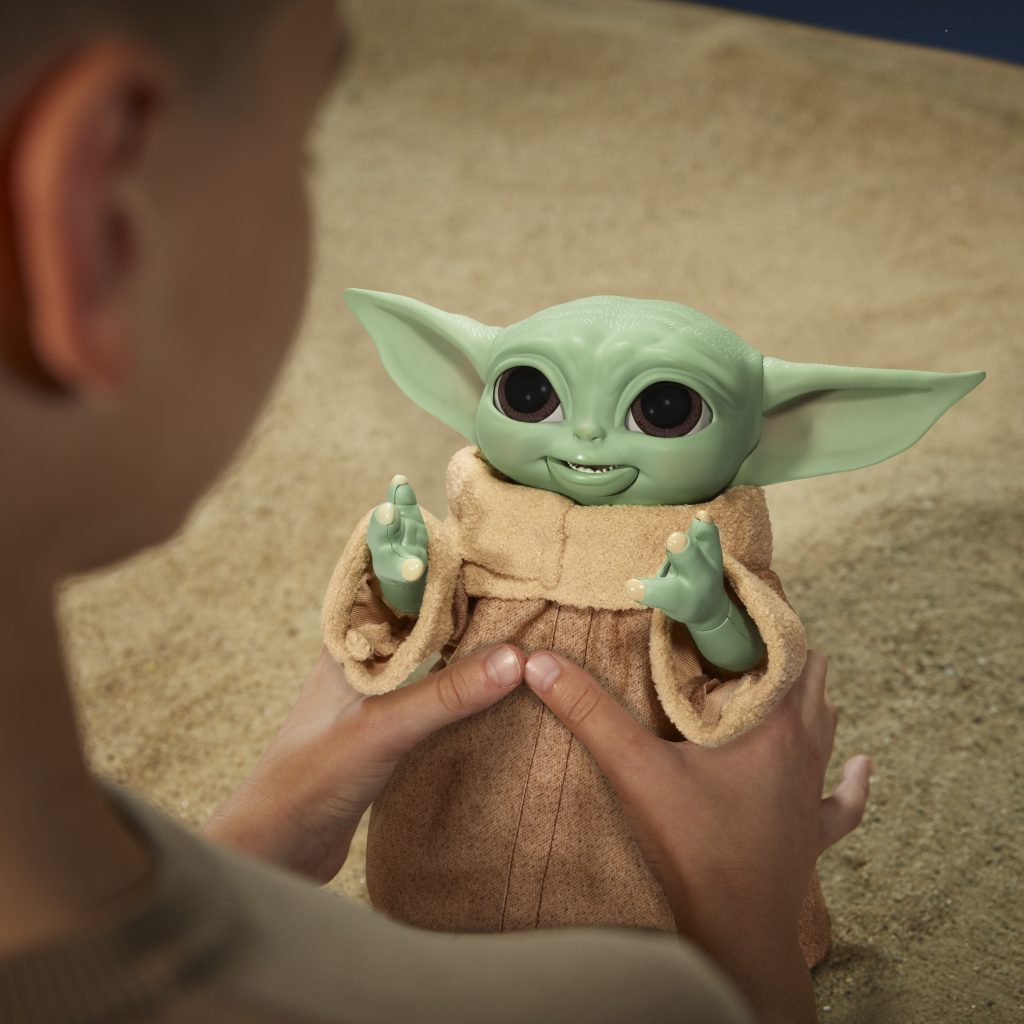 Check in every day with us here at Star Wars News Net for the latest Star Wars news including all Hasbro updates!
Lacey is a co-host on SWNN's official podcast The Resistance Broadcast. You can see and hear her Monday and Thursday recapping the news and having deep discussions with the rest of the TRB crew. When not podcasting, Lacey provides live coverage for events like Star Wars Celebration, New York Comic Con, and more! A Star Wars Fan since 2nd grade, she has always been drawn to the characters and adventures in a galaxy far, far away. You can usually find her either watching The Force Awakens for the 100000th time, or looking for art, toys and collectibles to add to her ever-growing collection. Geek out with Lacey on Twitter and Instagram - @laceygilleran.