Star Wars Comic Crossover to Be Gothic Horror Story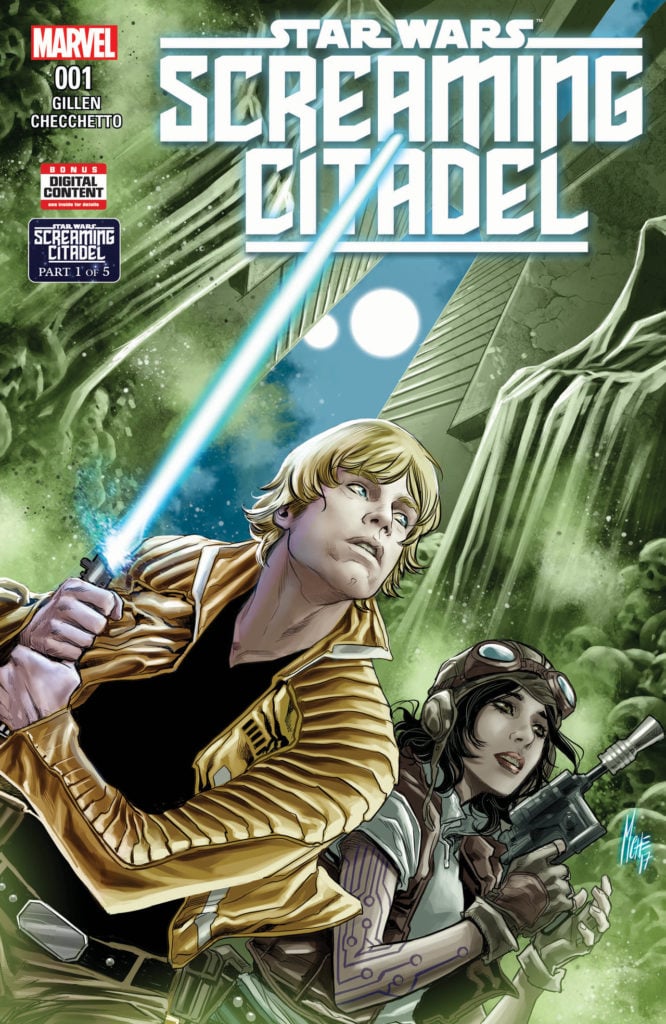 The Official Star Wars website and The Star Wars Show announced Star Wars: The Screaming Citadel, a five-issue crossover that will find in its first issue Luke Skywalker teaming up with Doctor Aphra. The writers of the crossover are Kieron Gillen and Jason Aaron, while the artist for the first issue is Marco Checchetto.
The official site published the interview with Gillen and Aaron in which they describe the upcoming comic.  According to Aaron, the comic spins out of Gillen's Doctor Aphra series and they are playing with different settings and tropes as well as mixing their cast of characters in a different way than in Vader Down. The Screaming Citadel, describing an infamous castle located on the edge of space, is "very much a Star Wars gothic-horror story".
StarWars.com: To take a step back, the idea of pairing Aphra and Luke together is really interesting because they're so opposite. It's hard to image either of them wanting anything to do with the other. Where did that idea come from, and what is it like for you guys getting to write them together?

Jason Aaron: Well, story-wise, it comes from them needing something from the other. Aphra is the one who shows up and gets things rolling. She needs Luke to get what she wants, and Luke has been on a quest since the book began to become a Jedi — to become what he needs to be to win the war, to face Darth Vader. Even the end of the current arc in Star Wars — the arc that's focusing, for the most part, on Yoda — leaves him in another place where he's, again, desperate to become a Jedi to help his friends. That's the path he's on, and Aphra shows up and dangles something in front him that he thinks is gonna help him get there. So they go off together.

But yeah, it's a very different dynamic between the two of them than what we see in Star Wars, even more so, I think, than Luke and Han. Like I said, that's been one of the most fun parts so far, is to put those two characters together and drop them into this situation. Initially on their own, and then the rest of the cast will all come into play as we go forward.

Kieron Gillen: It's like, writing the entirety of the first issue is hilarious. [Laughs] They have such different life experiences. You know, she's a little older than he is, he's still naive and she's a cynical monster. And they go back and forth and they tease each other and, occasionally, they push each other's buttons. But there's an underlying similarity. They've both lost their families. They've both had completely different responses to the horror of the Star Wars universe, the big tragedy, and the push and pull of that is very much the heart of the book. But really, it's just funny. It's just fundamentally funny to see them go at each other. Writing that entire issue was a joy, in terms of how they interacted and went back and forth and how they generally got on each other's nerves. Aphra, to begin with, gets the best of Luke, and it kind of switches up as you go further into it.

Jason Aaron: Kieron, is this the most you've written Luke?

Kieron Gillen: It must be. I wrote him a little bit in Vader Down, but it's only a handful of pages. All I really remember writing in Vader Down is the pages where he just gets ambushed by Triple Zero. He's making his way through that Jedi Temple. So to do an entire issue with him is a completely different kind of beast, especially the first issue. The rest of the cast is in it, but it's really about Luke and Aphra. I felt it was quite important for the book, in that way. It establishes what their relationship is.
While the story starts with Luke and Aphra, Han, Leia and Sana Starros will join the story and we will see different pairings of characters throughout the crossover.
StarWars.com: Jason, you created Sana, and Kieron, you created Aphra. Obviously, you guys are shepherding these new characters that you brought to Star Wars. Is it important to you to keep evolving them even when you have to balance the responsibility of a crossover?

Kieron Gillen: I think definitely. This is such an enormous story for Aphra and Sana. We alluded to their history a little before, and now it's the chance to say, "Okay, we're going to put them together and make them really interact in a more extended way." They're very much part of the emotional arc of the whole thing and how the casts end up coming together is very much linked to Sana and Aphra.

Jason Aaron: Absolutely. I think this'll be a very big arc for both of those characters, separately and together.
Go to the Star Wars site to read the entire interview with Gillen and Aaron in which they talk about the visuals, writing the iconic characters and how the crossover will impact their individual comics.
The crossover will hit the comic book shops, virtual and actual, in May.
Staff member, comic and book reviewer. Cheers for the Light Side, but would drink with Grand Admirals.