UPDATE 2: TLJ: Breakdown of EW's Coverage, New Photos, Hamill and the Falcon, and Rey Versus Kylo Ren (Day 1)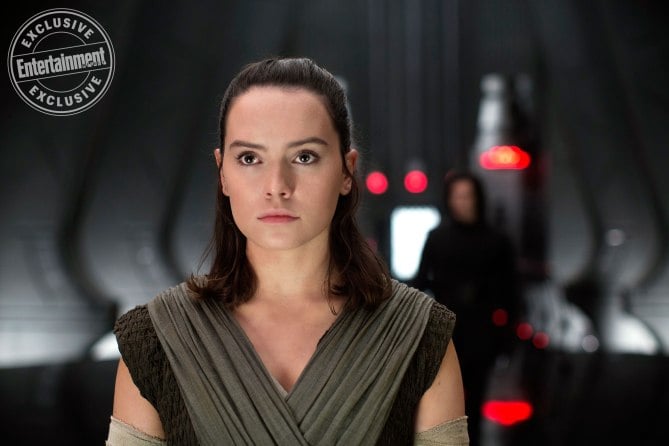 The Last Jedi is almost here! We are just a little over three weeks away, and while that is still an eternity to many of us, Entertainment Weekly's Anthony Breznican has come to the rescue to ease our appetites for a little bit. Here is the introduction to kick off EW's final coverage of the film with our take on it!
Anthony Breznican kicks off his coverage explaining what our characters, new and old, may experience in the second chapter of the trilogy:
Two characters, on different paths. One a path to darkness: Kylo Ren, muddled in confusion after the unsettling and unexpected feelings he took on after killing his father Han Solo. The other, Rey, an orphan, realizing something that was always there inside her is awake, and her quest to find out what it all means, seeking out the last Jedi himself for answers. There is no doubt these two will cross-paths, potentially in more ways than one, and as Breznican explains it is:
"…a story of dualities, of loyalties fractured and new alliances formed. Some partnerships like the ex-Stormtrooper Finn and the Resistance mechanic Rose could inspire valor and bravery, others like the separated siblings Luke Skywalker and Leia Organa may restore hope that is dimming in each other, while the novice Force-wielder Rey and dark side acolyte Kylo Ren could end up pushing each other astray from their chosen paths, depending on who is stronger."
Breznican delves into the comparison's between The Empire Strikes Back and The Last Jedi (no, not in terms of story) but in terms of the characters' lives being turned upside down, even spinning the audience into feelings of uncertainty and unease. Rian Johnson speaks about this, in regards to how it made everyone concerned about Luke's future after Empire:
"There's a history in Star Wars of the attraction between the light and the dark, whether it's the story of Anakin basically turning from this sweet kid and seeing his seduction to the dark side, or even with Luke," Johnson says.
Johnson goes on to explain the change in Luke, once able to look at Vader as evil, separate from himself, something he can choose not to be, until the immediate realization that Vader is a part of him.
"Suddenly he realizes 'No, I come from him. I have quite a bit of him inside me.'"
Johnson aimed to challenge his characters in the same way. Turning their proverbial worlds upside down and seeing how those challenges shape them, and what decisions they make in reaction to those reveals and challenges.
Breznican goes on to ask the question everyone has been asking…will Luke and Leia reunite?
With the death of Han Solo, Breznican points out that the possibility of a reunion of the big-three is now gone, but that doesn't mean we can't see the space-twins together again. Perhaps Holdo taking a command position in the film opens up the opportunity for Leia to branch out beyond the command center we saw her relegated to in The Force Awakens. The cover shows her and Luke with the Falcon as a backdrop. Wouldn't that be a dream come true to see them back aboard the ship that started it all for them?
While The Last Jedi is fit for classic second-act darkness , Breznican shines some hope, revealing that not all of the story lines will "break the heart. Some will fortify it."
That leads us to Finn and Rose. Two unlikely pairings, but a pair that may make sense in the end. Finn, a former stormtrooper, mechanically deficient, thinks impulsively, matched with Rose, a pragmatic thinker, who is a mechanic/tech with the Resistance.
Rose who looks up to Finn as a hero in the Resistance may have sparked enough will in Finn to stop running, to stay and fight, and learn a few things along the way from his new friend.
Breznican proceed to the status of the Resistance and its leaders, which takes us to Poe and Holdo.
"A new leader rises to guide the battle against the First Order, Laura Dern's Vice Admiral Amilyn Holdo, who doesn't quite have Leia's everyman (or everywoman) touch with the troops.

That leads her to conflict with X-wing ace Poe Dameron (Oscar Isaac). His history, training, and loyalty lies with Leia – but what he doesn't realize is, so does Holdo's. Both learned everything they know from the princess turned general."
After the New Republic was left DECIMATED with the destruction of several planet at the hands of the First Order, it would appear there is a shakeup in Resistance command to a certain extent, and it sounds like Poe Dameron might be a little to loyal to bend to the commands of someone other than his mentor and leader General Organa.
There is more to come today as Breznican's tweet shows us:
https://twitter.com/Breznican/status/932297474999332864
Here are  new photos from The Last Jedi:
Finn and Rose, and now confirming BB-8 joins them on their mission to Canto Bight.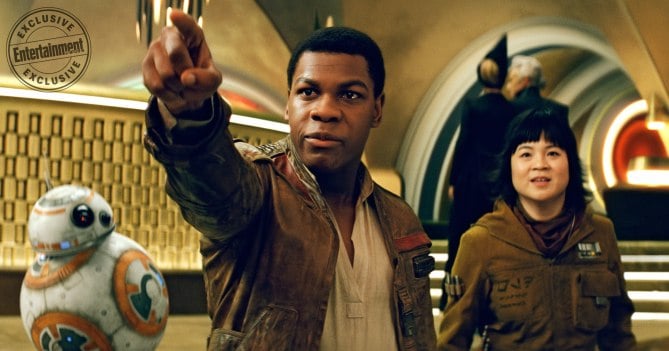 Luke watching Rey from above. We speculate this might be after he turns her away and she proceeds to begin doing exercises on her own in spite of this, which may make him reconsider. But as Breznican writes:
"Luke is a broken warrior. And he sees dread in this young pupil, rather than new hope."
Rey on a First Order ship of some kind, could this be Snoke's throne room? We see Kylo Ren behind her. Perhaps being brought before Supreme Leader Snoke.
"We'll explore the push-and-pull relationship between these two Force-wielders in another story coming soon, but for now here's Daisy Ridley's Jedi hopeful in a dangerous situation, with the looming presence of Adam Driver's Kylo Ren behind her."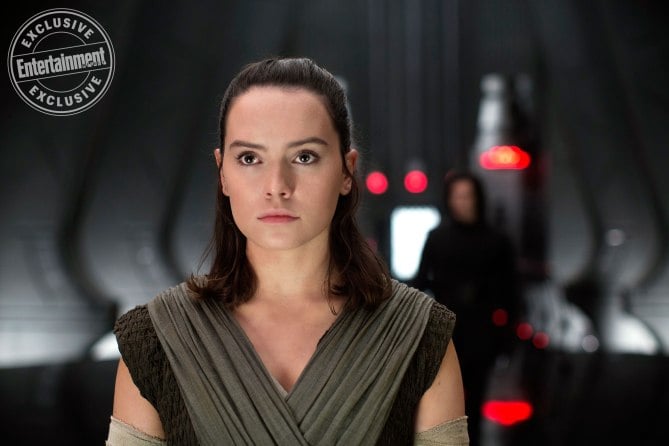 A shot of Leia with Poe Dameron. Perhaps Poe explaining his displeasure for the new leadership in the mix.
Close up of Vice Admiral Amilyn Holdo.
"She steps in to bring new vision to the Resistance but ends up clashing with Poe Dameron, who has different ideas for how the war should be waged."
The Millennium Falcon blasting into hyperspace
Source: EW
UPDATE!
Luke, But Really Mark Hamill's Reunion With the Falcon
Mark Hamill talks with EW about when he walked back on to the Falcon.
It didn't take long for it to overwhelm him. "It was sort of like visiting an old house that you lived in when you were a kid," he says. "I mean, I just welled up with emotion and I said, 'I need to be by myself.'"
The Falcon almost acts as a metaphor for Star Wars itself from my perspective. A film that wasn't supposed to be all that great, a bit clunky, rough around the edges, turned into something beloved by everyone for generations.
Rian Johnson appears to become a kid again, explaining the crew watching Hamill re-enter the cockpit of the Falcon for the first time in decades.
"God, I remember so vividly getting that shot of him turning on the lights in the Falcon cockpit," Johnson says. The cockpit set is an enclosed space, so every crew member on set was huddled around the video monitors to see it unfold. "And we all kind of looked at each other, just like, 'Oh my God."
Hamill was in awe of how they were able to rebuild the Falcon, to every detail. But more importantly, it's about reflection, and for him realizing that Star Wars never went away, and has transcended film, it has become a generational, family based force.
"All of this, happening to me again was… it's hard to put into words," Hamill says. "I figured when the prequels came out, plus a few years, people would forget about us. But it never really went away."

"I feel like, you know, I need to calm things down because it's one of those things that if you start crying, I'll start crying," he says. "So, stop it."
UPDATE 2!
Kylo Ren versus Rey
Breznican explains the clear difference between these two characters, that while intertwined by their shared abilities, have completely different outlooks and frames of mind as we enter The Last Jedi.
Kylo has been seeking accolades, the spotlight, perhaps his whole life. Genetically inheriting a gold-mine of powers, but in the shadow of greatness, in the shadow of his parents focus on the bigger picture more than their focus on him. Snoke sensed this, and as a "predator" as Breznican calls him, knew he could lure him in based on his insecurities and pain.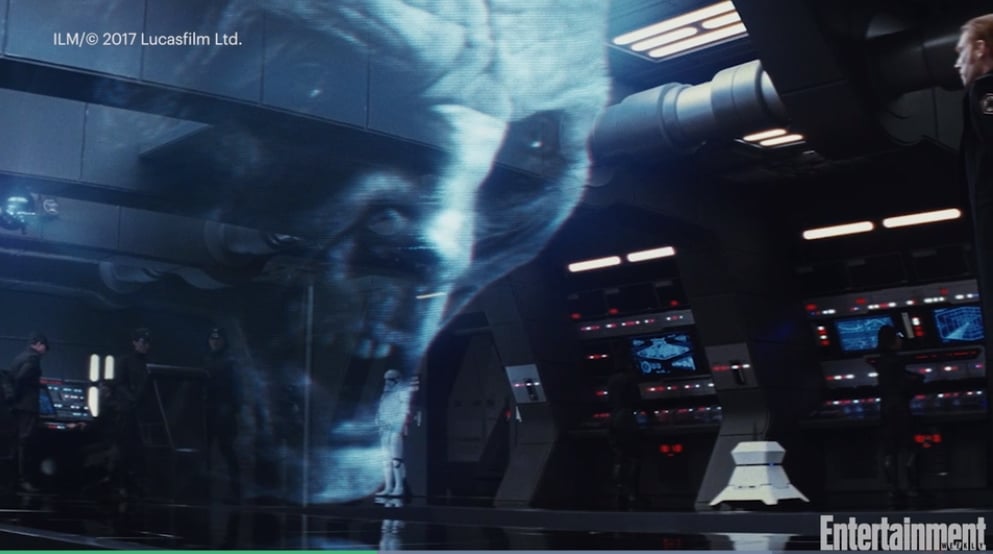 Adam Driver talks about Kylo Ren's perception of his own power, placing it in contrast to his reaction to seeing Rey realize hers so quickly.
"He has been aware of this ability in himself from such a young age, and I don't think there's a lot of people around him who are on the same level," the actor says. "I think that there is something familiar there, as well as something to be feared, or something … that he can't quite place."
The novelization of The Force Awakens told us that Kylo Ren didn't receive the satisfaction or freeing feeling that he thought he'd obtain by killing Han Solo.
"From his perspective, what he's done is hopeful," Driver says. "If anything he has justice. I think he's surprised by how he would feel after Han Solo. He's hoping for hope. He's hoping for clarity."
He is still hoping his action will not end in vain, that it will help him and have a purpose for happening.
Rey and Kylo Ren are clearly different in terms of how they got to where they are. But they have similarities as well. Both dealing with certain levels of abandonment, that while different in circumstance, share very similar feelings. Abandonment comes in many forms, and the reaction to that, regardless of what form, is always the same. Will Luke push Rey too far away, to align herself with someone who can relate to that?
"This is very much about Rey trying to figure out how she fits into all this, much like any of us as we're growing up, as we're transitioning from childhood into adulthood," Johnson says. "You're going meet people who you think are going help who don't. And help is also going come from unexpected places."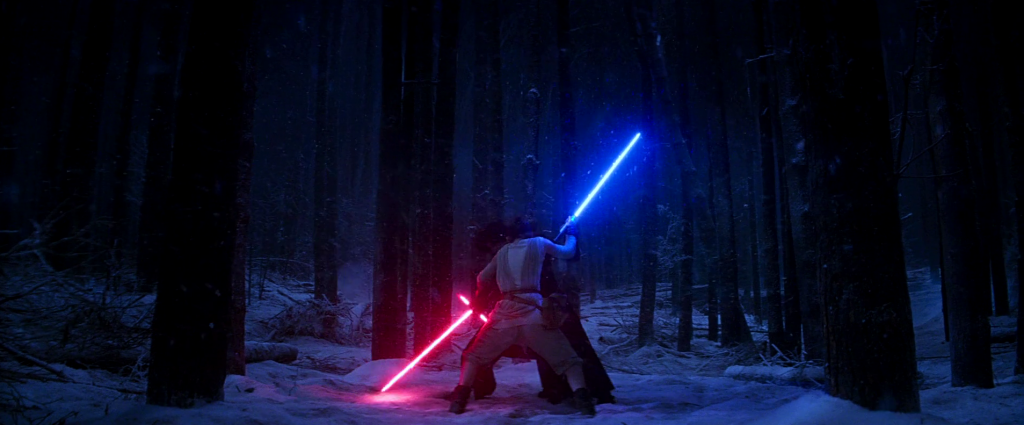 Rey and Ren are both vulnerable characters. While Ren wants power, and wants more, in a reaction to his past, Rey wants to find belonging, find her place. It can steer them in a collision course, where all bets are off. As Breznican puts it, it's almost a tug-of-war, and the lines between darkness and the light may be blurred more than we've ever seen:
Rey and Kylo Ren are reaching toward each other in combat, but each one could also end up pulling the other to his or her side.
In addition to this, there will be more bits and photos from the feature posted every day this week, so while many of us plan to give thanks this week, we can add Anthony Breznican to that list of those we give thanks!
SOURCE: EW via @Breznican
You can find me on Twitter @JohnnyHoey, and you know we'll be breaking all of this down and giving our takes on these photos and quotes on the Resistance Broadcast @RBatSWNN!
"For my ally is the Force, and a powerful ally it is."
John Hoey is the Lead Editor and Senior Writer for Star Wars News Net and the host of The Resistance Broadcast podcast
"For my ally is the Force, and a powerful ally it is."