Gareth Edwards Talks About Jedha With Entertainment Weekly!
EW's Anthony Breznican had the opportunity to talk to Gareth Edwards about the new planet and its importance to the upcoming movie Rogue One. Read on for the details…
Rogue One will be the first movie in the Star Wars timeline that has to deal with a galaxy, that lost its spirituality in the Clone Wars.
"The Force is basically in Star Wars like a religion, and they're losing their faith in the period that we start the movie," says Gareth Edwards

"We were trying to find a physical location we could go to that would speak to the themes of losing your faith and the choice between letting the Empire win, or evil win, and good prevailing," he says. "It got embodied in this place we called Jedha."
Fun fact: in the real world we have a harbor city named Jeddah in the Mecca region that could have influenced the name choice for that planet.
Jedah scenes were filmed in Jordan, to capture that Middle Eastern Vibe for the film.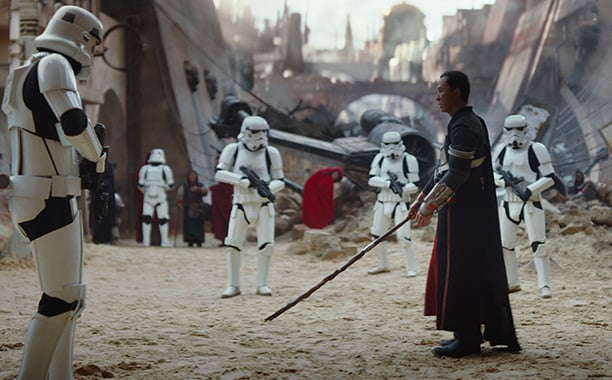 "It's a place where people who believe in the Force would go on a pilgrimage," Edwards says. "It was essentially taken over by the Empire. It's an occupied territory… for reasons we probably can't reveal."
Asked for the reason Gareth Edwards dodged the question, but I think we know already what the Empire is looking for.
"There's something very important in Jedha that serves both the Jedi and the Empire. It felt very much like something we could relate to in the real world."
Donnie Yen gave a brief interview at Celebration Europe regarding that matter:
.@DonnieYenCT reveals connection between planet Jeddah & light sabers! #RogueOne #StarWars #SWCE pic.twitter.com/RhAxe6O3vk

— ExtraTV (@extratv) July 17, 2016
"Within Jedha, even though there's the oppressive foot of the Empire hanging over them, there's a resistance that won't give up and our characters have to go and meet people there to try and secure a person from this group," Edwards says.
And we learned that not only Donnie Yen's character live on Jedha:
It's also the homeworld of Bodhi Rook (Riz Ahmed) a pilot who was formerly conscripted into Imperial service but now serves the growing movement against Emperor Palpatine's regime.
We will hear more from him Tuesday in his own article.
Until then take a look into Anthony Breznican's article on EW.com.