UPDATE 4! New Rogue One Info and Character Details. More on Forest Whitaker's Character and Darth Vader Confirmed!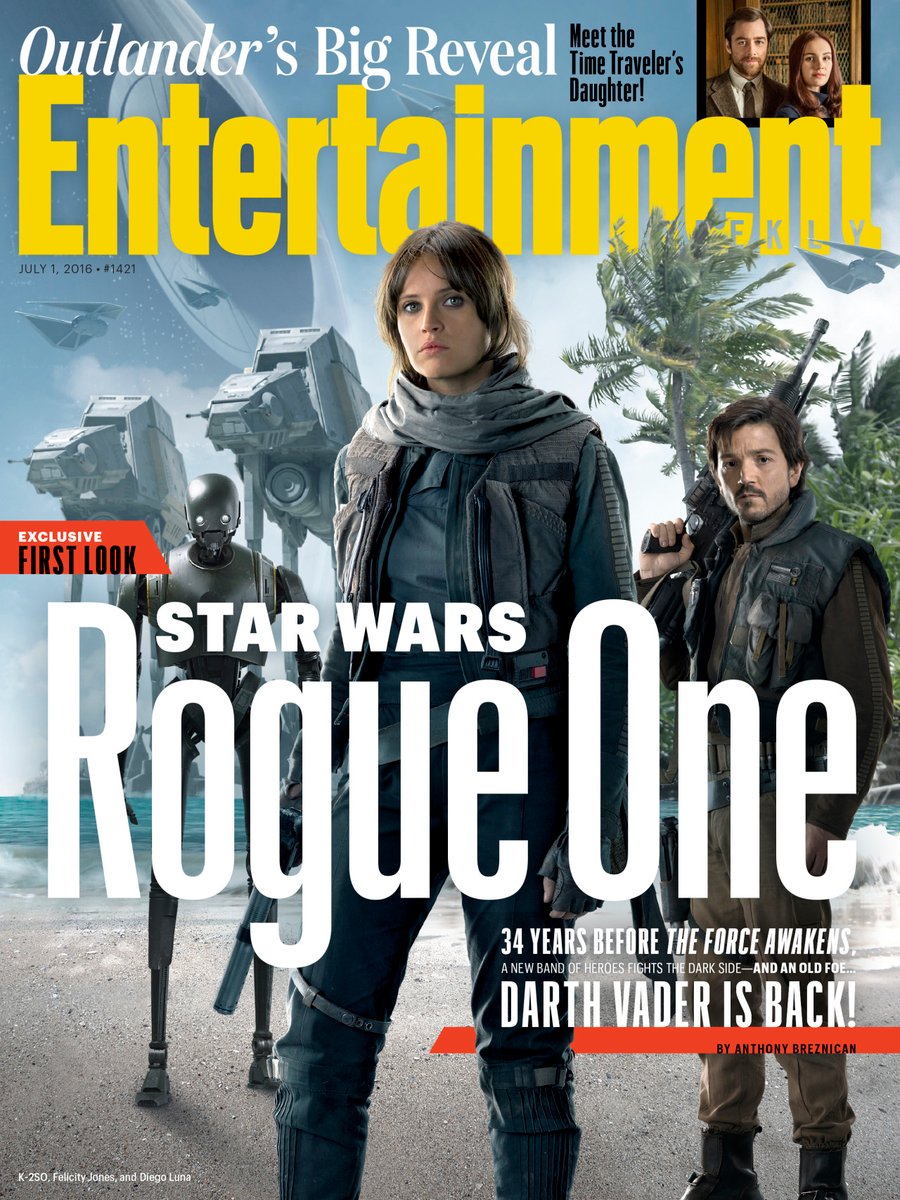 Entertainment Weekly is at it again, bringing us Star Wars news and insider information. In the latest issue which will be released this Friday, Anthony Breznican is giving us peek behind the curtain of Rogue One, including the infamous reshoots.
The cover of this issue reveals something we already suspected. Darth Vader, the boogeyman of the Original Trilogy, will face off with our ragtag group of Rebels as they try to acquire the plans for the Death Star. And it seems that he might have enemies within Imperial ranks as well.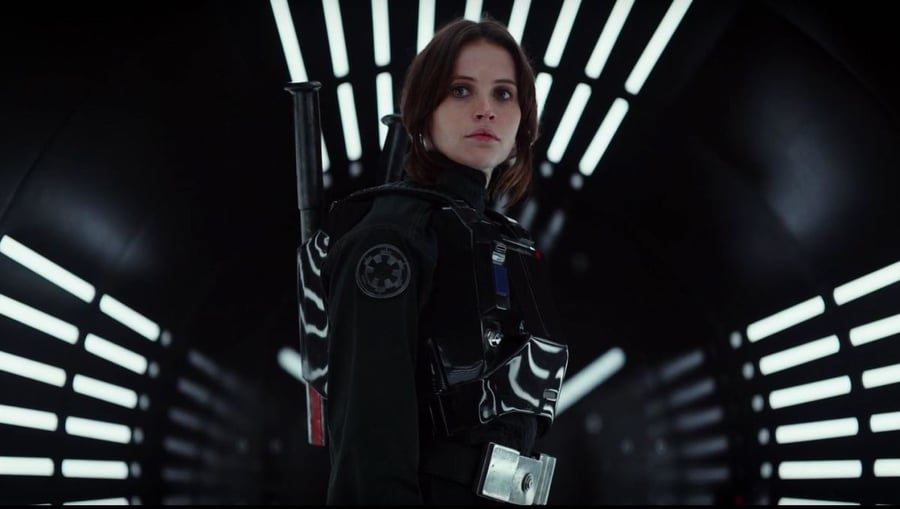 The reveals we are promised include:
The background of our cover showcases new Imperial weaponry being used against the nascent Rebellion: taller, slimmer walkers known as AT-ACTs hauling cargo, and flatter, fang-like interceptors known as TIE Strikers.
New information about Jyn Erso (The Theory of Everything's Felicity Jones), the outlaw who has clashed with both the Rebellion and the Empire, and now has a chance to clear her ledger of past wrongs by leading a mission for the good guys. It's also personal – her  father, played by Mads Mikkelsen, is a scientist whose knowledge is sought by both sides.
Full details of the squad of characters uniting to take on the Empire, played by the most multicultural cast to appear in a Star Wars film yet: Diego Luna, Jiang Wen, Donnie Yen, Riz Ahmed, Forest Whitaker, and Alan Tudyk – as a performance-capture droid. (One of these has been seen before by Star Wars fans.)
A look at the skullduggery inside the Imperial ranks, as seen through the eyes of a new villain: Ben Mendelsohn's ambitious officer, who's eager to earn the favor of the Emperor – and avoid the wrath of his black-masked enforcer.
Candid revelations from the filmmakers about what the current reshoots are adding to the story as the film nears its December release.
Finally, confirmation of what fans have hoped ever since the project was announced: Vader is back. We have a run-down of the Sith lord's first day on set, and what his return means for the larger Star Wars storytelling universe.
Rogue One, A Star Wars Story, is slated for the release on December 16, 2016. With Star Wars Celebration quickly approaching (July 15 – 17), we can expect more reveals including presumably a new trailer.  Rogue One hype train is on the move!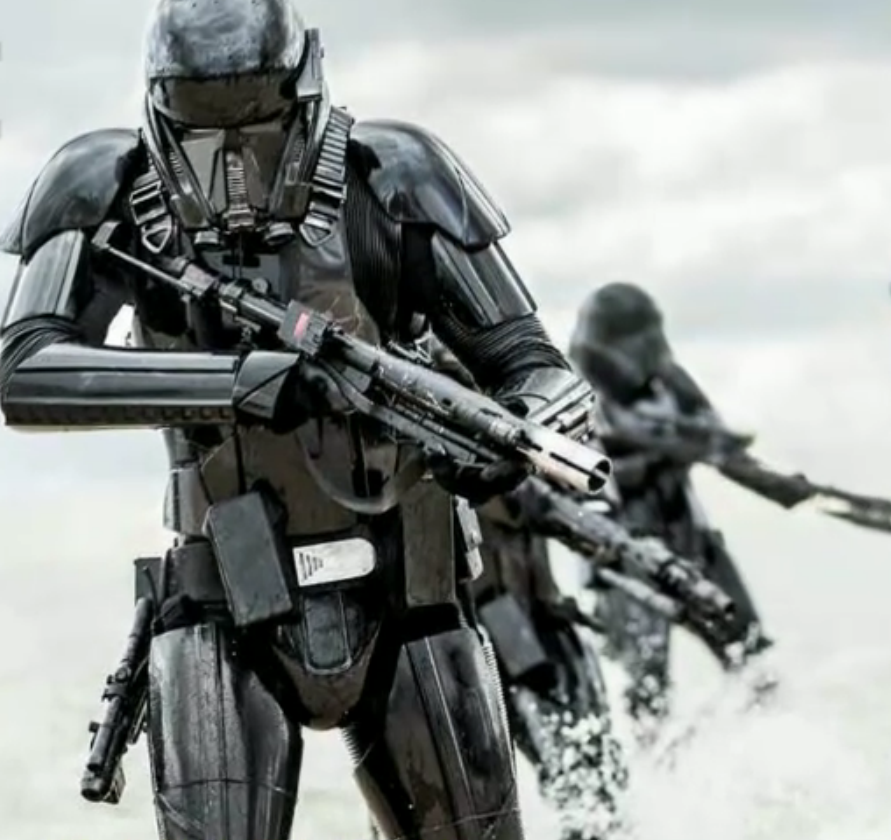 UPDATE!
Good Morning America posted a video with an exclusive look at the EW cover, and also shared a new image of the Death Troopers (above). They also shared an interesting statement by EW's Anthony Breznican regarding the villains in the movie:
"Darth Vader kind of looms large over the plot even when he's not necessarily on screen because the new villain played by Ben Mendleson, Director Krennic … He's trying to fulfill the wishes of the emperor and he's got kinda Vader looming in the background over his shoulder, making sure that he gets the job done."
It's nice to see the name of the Emperor finally being mentioned. But will we see Palpatine in Rogue One? How big is going to be Vader's role in the movie? There are many burning questions, and we hope to get at least some answers during Celebration Europe next month.
UPDATE 2!
Entertainment Weekly posted a second article with some new details on the major players in the movie:
(All Images and Info Courtesy of Lucasfilm and Entertainment Weekly)
Direct Quotes from EW:
Jyn Erso (Felicity Jones)
A streetwise delinquent who has been on her own since 15, she has fighting skills and a knowledge of the galactic underworld that the Rebel Alliance desperately needs. "She's got a checkered past," says Lucasfilm president and Rogue One producer Kathleen Kennedy. "She has been detained [by the Rebellion] and is being given an opportunity to be useful. And by being useful, it may commute her sentence… She's a real survivor. She becomes a kind of Joan of Arc in the story."
Captain Cassian Andor (Diego Luna)
Andor is a by-the-book Rebel intelligence officer, brought in to steady the volatile Erso, but he's no square. He's committed, steady, and practical, and has seen more than his share of combat. "He conveys a fair amount of experience and the reality of what it's like to do this every day, to try to figure out how to resist the Empire effectively and intelligently," says Kiri Hart, Lucasfilm's chief of story development. "It's not easy."
Chirrut Imwe (Donnie Yen)
Pronounced chi-RUT, he's no Jedi, but he's devoted to their ways and has used his spirituality to overcome his blindness and become a formidable warrior. "Chirrut falls into the category of being a warrior monk," says Kennedy. "He very much still believes in everything the Jedi were about." He maintains that belief even though the Jedi are no longer there to protect the galaxy. As director Gareth Edwards puts it: "This idea that magical beings are going to come and save us is going away, and it's up to normal, everyday people to take a stand to stop evil from dominating the world."
Baze Malbus (Jiang Wen)
Heavily armored, Baze prefers a blaster to hokey religions and ancient weapons, but he is devoted to protecting his friend Chirrut at all costs. "He understands Chirrut's spiritual centeredness, but he doesn't necessarily support it," Kennedy says. Baze goes along with this Force business because "it's what his friend deeply believes," she adds. Think of them as a little like the galactic version of Don Quixote and Sancho Panza.
Bodhi Rook (Riz Ahmed)
Bodhi is this Rebel squad's lead pilot. He tends to be hot-headed, but any abrasiveness is overshadowed by his skills in the air — and the void of space. "He flies a lot of cargo, one of his key jobs," Kennedy says. "And he tends to be a little tense, a little volatile, but everybody in the group really relies on his technical skills."
K-2SO (Alan Tudyk)
This towering, powerful security droid is described by Edwards as "the antithesis of C-3PO." In other words, he's tough, confident, not especially interested in "human/cyborg relations," and the complete opposite of a neurotic fussbudget. "Kaytoo is a little bit like Chewbacca's personality in a droid's body," Edwards says. "He doesn't give a s— about what you think. He doesn't fully check himself before he says things and does things. He just speaks the truth." Like Jyn, he's also seeking a bit of redemption for past wrongs. Droids, too, can have regret.
Galen Erso (Mads Mikkelsen)
Jyn's estranged father is like the galactic version of nuclear pioneer J. Robert Oppenheimer, with doomsday knowledge that is sought by both the Empire and the Rebellion. "He's one of those people that has insight into you know specific aspects of just how the universe works," says Hart. Where has Galen been, if Jyn has been on her own for years? "The circumstances of how the family got to the state that it's in is something that we probably don't want to share right now," Hart says. (Lucasfilm isn't revealing his image yet, so this is file picture. Don't worry — the button-down isn't retro galactic fashion.)
Director Orson Krennic (Ben Mendelsohn)
On the opposing side, this villain is an ambitious Imperial apparatchik who intends to use his squad of Deathtroopers to pulverize the Rebel uprising and ascend into the Emperor's graces – while hopefully avoiding the wrath of his enforcer, Darth Vader. "The bad guy is a lot more terrifying when he's really smart, and really effective," says Knoll. "There is a lot of palace intrigue going on in the Empire, with people conspiring to move up the ranks and sabotaging each other. There's not a lot of loyalty there."
???? (Forest Whitaker)
This character has a past that Star Wars completists will recognize immediately when they see his name, even if he looks very different than the way they've seen him elsewhere. (He even looks different from when we saw him in the teaser trailer.) There's so much to say about this character, we're going to save his revelation for later today.
UPDATE 3!
Entertainment Weekly's just revealed the Forest Whitaker characters name: Saw Gerrera
Who is he?
From Starwars.wikia.com
Saw Gerrera was a human male rebel who was active during the Clone Wars. With his sister, Steela Gerrera, he was one of the leaders of the Onderon rebels and helped lead the resistance movement to victory over the Confederacy of Independent Systems on Onderon. He later led a rebel cell on Onderon in the resistance movement against the Galactic Empire. He was involved in the mission to steal the plans to the Death Star.
TFN's Daniel Brown actually called the character earlier than EW.com reveal. Good call!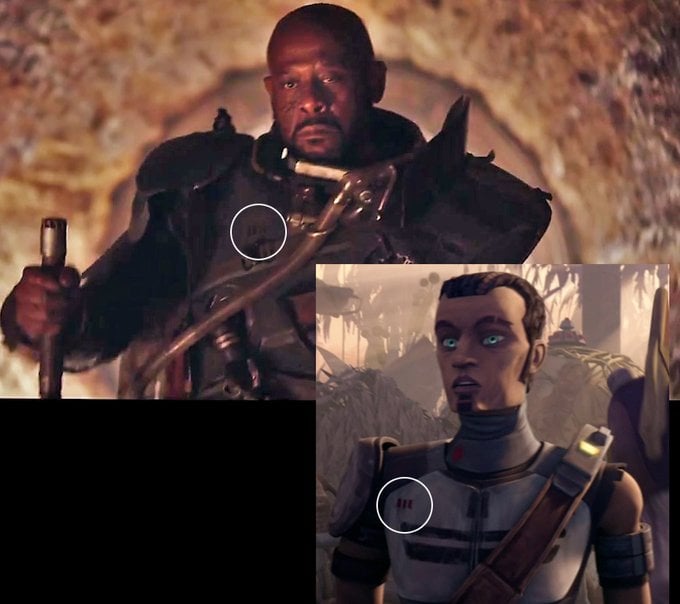 Also Pablo Hidalgo reminded us that:
Reminder that Saw plays an unseen role in Kallus' backstory.

— Pablo Hidalgo (@pablohidalgo) June 22, 2016
History. pic.twitter.com/so22qCFsZS

— Pablo Hidalgo (@pablohidalgo) June 22, 2016
This is really great news! It is nice that they're bringing character's from the cartoons into live action.
Stay tuned for even more on Whitaker later today:
If you're into the Forest Whitaker Rogue One news, watch The Star Wars Show today at 3 eastern, noon pacific: https://t.co/4tkXXun5NV

— Anthony Breznican (@Breznican) June 22, 2016
And more from EW on Vader tomorrow!
No, but lots tomorrow – including more on Vader's return. https://t.co/TeFJ5FqJIv

— Anthony Breznican (@Breznican) June 22, 2016
UPDATE 4!
Apart from The Star Wars Show where Pablo Hidalgo was guest, and revealed some interesting bits about Saw Gerrera, he also posted several very interesting tweets about him.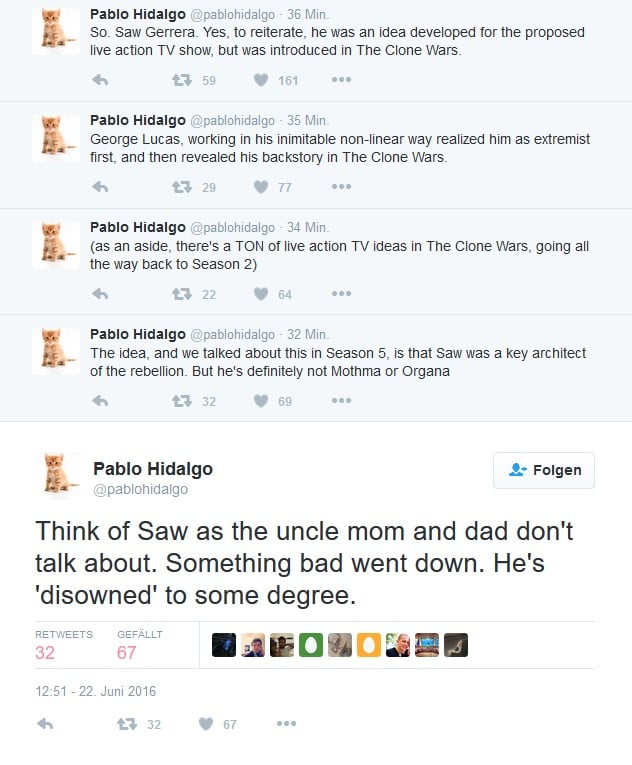 Anyway, this stems from George's interest in history and current events and how art reflects it.

— Pablo Hidalgo (@pablohidalgo) June 22, 2016
Saw was militarized by the Republic to fight a proxy war against their worst enemy. A generation later, he becomes their worst enemy.

— Pablo Hidalgo (@pablohidalgo) June 22, 2016
Also here's the excerpt from Claudia Gray's "Bloodline" novel, where Saw is mentioned:
"Casterfo stopped mid-pace; the two of them now stood in the heart of one of the long, dark tunnels, the wind rippling their robes and chilling Leia to the bone. He said, "Destroying the Death Stars, for a death toll of nearly one and a half million people, the vast majority of whom were low-level Imperial officers or even civilian workers? The slaughter on Noult after the rebels had left, and the planet was discovered to have housed a secret base? Or what about the rebel assault on Vivonah? Or the campaigns of Saw Gerrera's Partisans? Can you condone that?"
It's really strange, that after months of no news on Rogue One, now we know so much about a certain character. This was a welcomed breath of fresh air after the multiple fake reports that are currently making the rounds on the web.
Star Wars: Celebration can't come quick enough. And don't forget that EW will have more for you tomorrow. 
Staff member, comic and book reviewer. Cheers for the Light Side, but would drink with Grand Admirals.