Carrie Fisher Has Left Us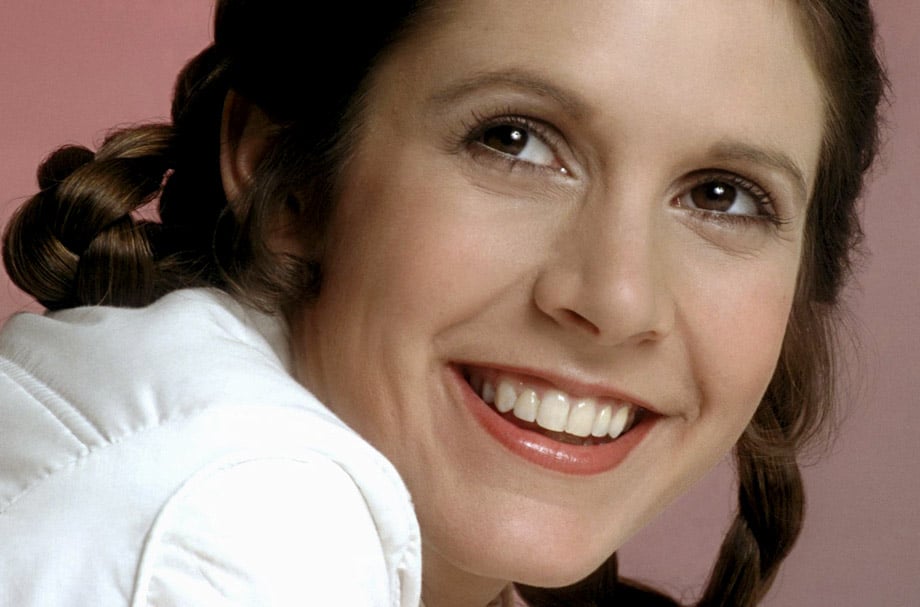 As we've all heard by now, Carrie Fisher passed away this morning. I'm at a complete (and rare) loss for words right now. I honestly just can't fathom a world without Carrie in it – even though like most of us I only know her from her films, and the brilliantly funny interviews that she loved to give.
Obviously, all of us here at SWNN send our most heartfelt condolences to her family. As much as we can't imagine a Carrie-less world, this sudden, brutal void in her family's lives goes so much deeper for them. Oddly enough, though, as awfully as I feel for Debbie and Billie and Todd and everyone, all I can really think of right now is poor little Gary, Carrie's French bulldog and constant little buddy. But then, the shock of loss has always done strange things to this old brain of mine.
This is a profoundly sad loss for all of us. I think it's safe to say that many of us (most of us?) have been fans of Carrie and her work since we were children. I was nine when the original Star Wars film came out in 1977, and although it's her portrayal of Princess Leia with which I'm the most familiar, I've always enjoyed seeing her in other roles: John Belushi's jilted, bazooka-wielding fiancee in The Blues Brothers; Tom Hanks' firmly grounded, eminently patient wife in The Burbs; Phoebe Cates' long-suffering (and now houseboat-less) friend in Drop Dead Fred; and Herself in guest spots on so many TV shows.
It occurs to me now that, after being forever imprinted on our cultural psyche as Princess Leia, Carrie seemed to gravitate toward memorable "second banana" comedy roles where she was free to react to the madness of the lead character, often heightening that madness in delightfully unexpected ways. I've never been sure how much her focus on these smaller roles were Carries own choice or the result of her having been wedged into a typecasting pigeonhole after Star Wars – I suspect it may have been a little of both. But between Carrie's irreverent sense of humor and her penchant for witty self deprecation, her performances in even the tiniest of roles were almost always fun and memorable.
Then, last year, in a twist of fate that seemed nigh-on impossible not so many years ago, Princess Leia returned to the big screen in a brand new Star Wars movie. The passing years had, of course, done what passing years will do, not just to Carrie, but also to Harrison and Mark. And yet, there was Her Worshipfulness, older and a bit time-worn, but with the same royal fire that she'd always had. And those eyes – the same ones we all fell in love with as children.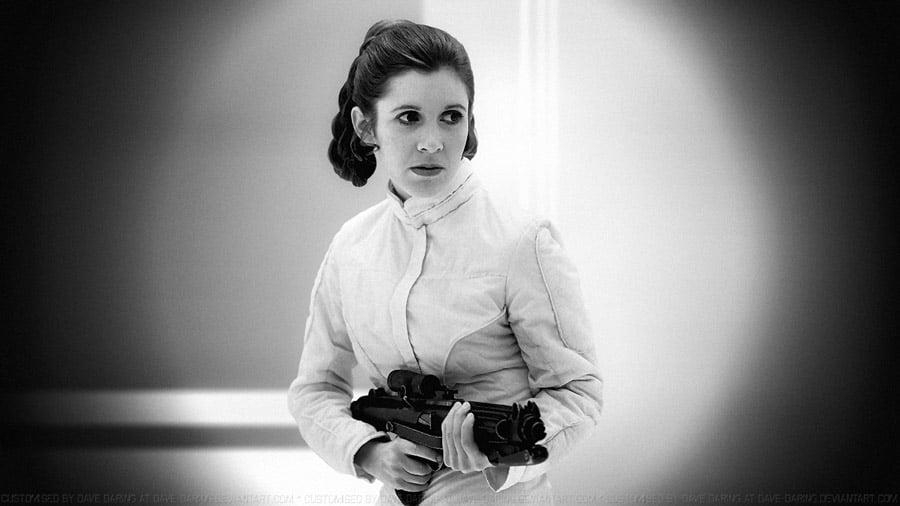 Whatever the future may bring for Star Wars now that Carrie has left us, I feel like The Force Awakens is now even more of a special gift than it was when we went to sleep last night.
And with that, I don't know what else to say. I'm still in shock, and rather than just babbling endlessly in hopes of stumbling across something meaningful, I think I'll just close by saying… thank you, Carrie. One of the rarest and most precious gifts in the world is the ability to make people laugh, and you not only had that gift but shared it generously with the entire world. That you also brought Princess Leia to life for us all is icing on a mighty wonderful cake.
Clear skies to you, Carrie. We'll all miss you very, very much.
And so, of course, will so many of your friends and colleagues:
Kathleen Kennedy (Lucasfilm President):
Carrie holds such special place in the hearts of everyone at Lucasfilm it is difficult to think of a world without her. She was Princess Leia to the world but a very special friend to all of us. She had an indomitable spirit, incredible wit, and a loving heart. Carrie also defined the female hero of our age over a generation ago. Her groundbreaking role as Princess Leia served as an inspiration of power and confidence for young girls everywhere. We will miss her dearly.
Bob Iger (Disney CEO):
Carrie Fisher was one-of-a-kind, a true character who shared her talent and her truth with us all with her trademark wit and irreverence. Millions fell in love with her as the indomitable Princess Leia; she will always have a special place in the hearts of Star Wars fans as well as all of us who were lucky enough to know her personally. She will be sorely missed, and we join millions of fans and friends around the world who mourn her loss today.
Alan Horn (Disney Chairman):
My heart goes out to the members of Carrie¹s family, friends, and legions of fans. She was an extraordinary woman, highly intelligent, and just plain funny. She will be missed
Steven Spielberg:
I have always stood in awe of Carrie. Her observations always made me laugh and gasp at the same time. She didn't need The Force. She was a force of nature, of loyalty and of friendship. I will miss her very much.
Harrison Ford:
Carrie was one-of-a-kind…brilliant, original. Funny and emotionally fearless," Ford said. "She lived her life, bravely…My thoughts are with her daughter Billie, her Mother Debbie, her brother Todd, and her many friends. We will all miss her.
George Lucas on Carrie Fisher: pic.twitter.com/ehR0cBE2lX

— Anthony Breznican (@Breznican) December 27, 2016
— Bad Robot (@bad_robot) December 27, 2016
Carrie was an incredible person. I feel lucky I got to know her, and heartbroken.

— Rian Johnson (@rianjohnson) December 27, 2016
no words #Devastated pic.twitter.com/R9Xo7IBKmh

— Mark Hamill (@HamillHimself) December 27, 2016
#AFewWords pic.twitter.com/rOKiPr7gP9

— Mark Hamill (@HamillHimself) December 28, 2016
My heart is heavy but I'm grateful that I got to know her. I'll cherish the memories, conversations and her consistent support. Rest well ❤️ pic.twitter.com/SkPiRgGf03

— John Boyega (@JohnBoyega) December 28, 2016
— Dave Filoni (@dave_filoni) December 27, 2016
There are no words for this loss. Carrie was the brightest light in every room she entered. I will miss her dearly. pic.twitter.com/GgIeYGeMt9

— Peter Mayhew (@TheWookieeRoars) December 27, 2016
It's been an honour to share memories of #CarrieFisher… Here's a special, personal photo from the wrap party of #StarWars #ReturnOfTheJedi pic.twitter.com/U4jMu6qByM

— Warwick Davis (@WarwickADavis) December 28, 2016
I'm deeply saddened at the news of Carrie's passing. She was a dear friend, whom I greatly respected and admired. The force is dark today!

— Billy Dee Williams (@realbdw) December 27, 2016
I am extremely sad to learn of Carrie's passing. She was wonderful to work with. Condolences to her friends, family & fans around the world. pic.twitter.com/DGRYQYPZgO

— DARTH VADER (@isDARTHVADER) December 27, 2016
I thought I had got what I wanted under the tree. I didn't. In spite of so many thoughts and prayers from so many. I am very, very sad.

— Anthony Daniels (@ADaniels3PO) December 27, 2016
We've lost our Princess. pic.twitter.com/N9xMYe6jLT

— Gwendoline Christie (@lovegwendoline) December 27, 2016
Always. pic.twitter.com/DvRhYCSHeV

— Colin Trevorrow (@colintrevorrow) December 27, 2016
The light in The Galaxy is dimmed by the loss of our Princess Leia. May The Force Be With Her!! RIP

— Samuel L. Jackson (@SamuelLJackson) December 27, 2016
No words. We love you @carrieffisher forever our Princess. May God bless you as richly as you blessed us #CarrieFisher pic.twitter.com/1UNsWOEKuW

— James Arnold Taylor (@JATactor) December 27, 2016
Our Star War family has lost a beloved member. Carrie will always be in our hearts. Her amazing spirit has touched our hearts. Very sad day. pic.twitter.com/M78FfhbCZj

— Daniel Logan (@Daniel_Logan) December 27, 2016
Dearest Carrie, so incredibly sad to say farewell so soon to such a beautifully honest and unique human being- see you in the multiverse.

— Andy Serkis (@andyserkis) December 27, 2016