Three New Interviews with John Boyega and Daisy Ridley!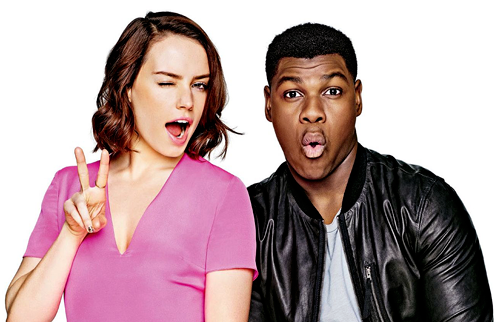 We have a few new interviews today with the next generation of Star Wars actors. The publicity machine has been released from its holding pattern and we have lots of new material coming out daily now.
First up is The Hollywood Reporter featuring some excellent interviews with John Boyega and Daisy Ridley. There's a lot of good stuff to read in this interview, but here are some highlights.
Boyega on What drew him to the part of Finn:
I think I'm always interested in characters that start off one way and end another. I find it very boring to have to read a script where the character always knows what to do, knows who they are, has a blueprint for their lives. I just feel that sort of character is painted for a perfect story. What has always interested me, and what has interested a lot of people, are the characters that are unlikely. The characters that don't necessarily fit or match the status quo. Finn isn't a guy you would expect to be involved in this story. The fact that he's a Stormtrooper. We don't [usually] go into [Stormtroopers'] pasts or lives much: how the dynamics work for them, how they were recruited — we don't ever really see much about the past there. It was interesting to me to have that kind of character.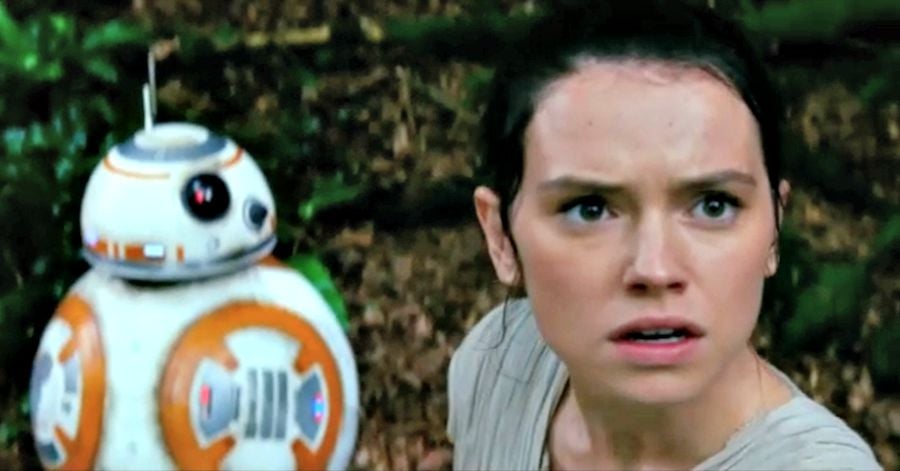 Daisy Ridley on here similarities with her character:
The main difference is that she didn't have a family and I have a family that I'm close to. Otherwise I'd say the way we deal with things is similar. She faces a lot of challenges throughout the film, and the way she reacts to things I think is kind of the way anyone would. That's why I think she's so universal and brilliant: She's frightened but she faces up to what she needs to. And she's brave and smart, and you see an entire emotional spectrum of her throughout the film. She's not a superhero. She's a normal girl thrust into extraordinary circumstances, so it's very relatable. It's an emotional story about a girl on a journey, but the story is a lot more than that.
And Daisy addressing the elephant in the room that is her parentage:
THR: Everyone wants to know who Rey's parents are. Do you know?

DR: Yeah.

THR: Will the viewer know after the first episode or not necessarily?

DR: Questions will be answered, absolutely. The main question will be answered.
Next up we have Boyega doing another great interview with CNET. Again, these interviews are definitely must reads if you want to learn about the actors and their experiences in making The Force Awakens, but here are a few highlights.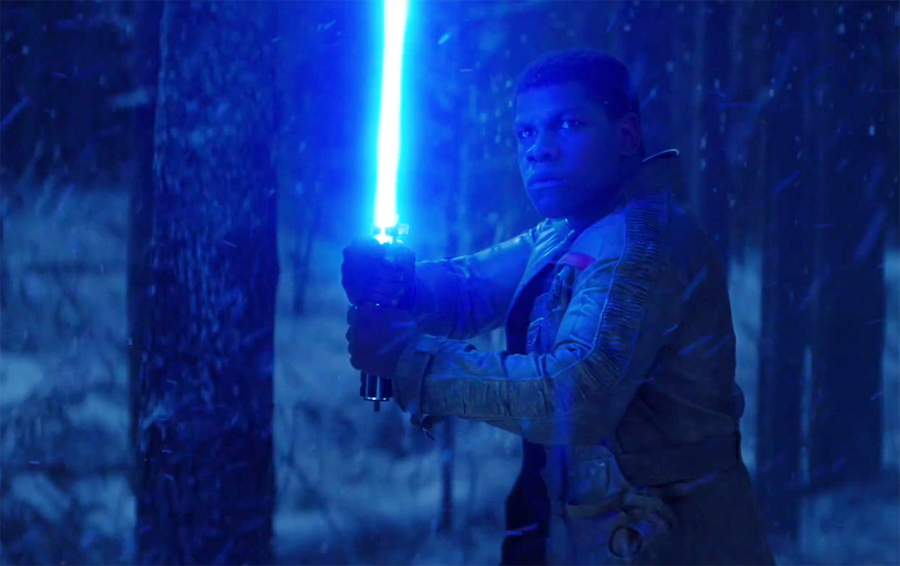 Boyega on his first Star Wars experience:
I saw "The Phantom Menace" first, which is pretty cool. I watched it at home and the only thing I was obsessed about was [the character] we now know as Darth Maul. Black and red, his face used to creep me out.

I remember watching the prequels and just not being as intrigued. But then I watched the original, and I was like, "ohhh."
Boyega on his Favorite Star Wars Scene:
The scene where Han Solo and Luke have gone to rescue Princess Leia and they're in the control room [on the Death Star]. There's a moment where Harrison is talking into the intercom. There's a little exchange [with a Stormtrooper] and he shoots the intercom. I love that moment. It's just hilarious and funny.
And Finally, some illuminating details on what Boyega brought to the character of Finn:
Charisma is a big thing about Finn that I had to tap into. Finn has an inner confidence that is really, really mine.

For the first few auditions that I did for "Star Wars," I had to acquire a dramatic approach because of the content on the page. But then after a while I thought to myself, "Wait, this is 'Star Wars.' 'Star Wars' is different from any other project. 'Star Wars' has its own culture. It has its own energy."

I said, "You know what? I'm going to go to YouTube, and I'm going to watch Mark Hamill and Harrison Ford's audition for the original 'Star Wars' movie."

And I watched their audition, and there was this casual approach to danger and to being a hero that I drew some inspiration from. If you see Harrison in his audition and Mark, there's this, "The ship's about to blow up, but, woo hoo! Switch to light speed!" I love that. No other movie does that. In another movie they'd be crying and calling their parents, but in "Star Wars" it's like, "woo!"

It's all fun. So I'm just like, "I'm going to go in and have a whale of a time."
Last, but not least, here's a very interesting interview with John Boyega that was first published in the latest issue of the French magazine Premiere (via Google translate):

You said in an interview that the history of the The Force Awakens echoed in the first film of 1977. Especially the arc of Luke Skywalker and Han Solo. What did you mean ?


It is mainly a question of tone and rhythm of the film, how the characters speak. The dialogues are really funny, very energetic, very dramatic – in the sense that they advance the plot … What is squarely in the spirit of the original.

We will talk about the jacket of your character. It's really cool.


Are you kidding? It is super cool. I love it.

Great movie heroes have cool jackets. Mad Max, Ryan Gosling in Drive …


Mine is a true miracle of design. I hope it will become the fashion symbol of the new Star Wars generation. But this jacket also plays an important role in history.

What do you mean ?


Mmm. (silence) This jacket has secrets. We see Poe Dameron (Oscar Isaac) also wearing it in the trailer.

Then it is to whom? To you or Oscar?


I can not tell you. Lord! It could reveal the entire plot of the film!

Judging by the trailers, the film looks quite gloomily.


There are pretty intense scenes, sure. But it is also fun, as joyful and as inspiring as previous. The original movies (note: the first trilogy) really served as a model to achieve balance between humor, action, drama.

You know that legend has it that Samuel L. Jackson had the right to choose its color lightsaber blade? He wanted a color that no one else had. He chose a purple blade. You had the right to choose your color too?


Seriously? The chance. I did not choose. J.J. Abrams chose. Blue, simply. You should have asked me I would not have been blue. I would have chosen black. A black blade with a consistency like smoke … A black-lightsaber. I do not know how they can do this visually but I'm sure it could be empty.

We heard about your character from Star Wars for the first time in September with the Finn toy. Who speaks with an American accent.


I actually auditioned with an English accent and an American accent – the accent of standard Tatooine, as I call it. It's funny because I feel more comfortable speaking with an American accent than my native accent.

What did you do in your audition?


Speak with Daisy Ridley. It was pretty simple. Much has raced together. There is a lot of racing scenes in the film. Especially for me. 

It seems that you cried reading the script.


Oh, yeah, absolutely. Well, it was not tears but rather eyes moist from the beginning to the end. The script is awesome. See the name of his character so often quoted in a film destined to become legendary, it is mainly this that moved me. (laughs)

You responded rather well to racist attacks, to those who say that a Stormtrooper can not be Black. But how did you react early on?


No anger, no sadness. I especially liked that lots of fans have supported me. You hang yourself with positive feedback, and you think carefully about how you can respond to hate. The best ways was to them that they would enjoy the movie anyway.

Is Kylo the new Darth Vader?


He is a bad guy like Vader. But the are different levels of evil they may vary. With Phasma, Snoke played by Andy Serkis. … They play an important role. 

How you discovered Star Wars?


VHS. I was eight years old when The Phantom Menace came out but I have not seen in theaters. In fact, I have seen NO Star Wars on the big screen in a movie theater. I'm not even gone to Secret Cinema (note: a London happening where we project a cult film in a special setting: this year it was The Empire Strikes Back). The Force Awakens will be the first Star Wars movie I see in theater.
I think its safe to say that Disney and Lucasfilm has begun the push to introduce us to our new generation of heroes. Check out THR, CNET and Premiere respectively to read the entire piece.