Happy 3rd Birthday SWNN! Featuring a Countdown, Contest and Staff Picks!
My how time flies. It was three years ago today that Disney bought Lucasfilm and kicked off this new era of Star Wars.  But that day also holds special importance here at SWNN as it was also the day that Star Wars News Net was born.
For those of you with strong enough mental skills to recall back all those many minutes ago, you will likely remember that we were then Star Wars 7 News. But with the ever increasing flow of new Star Wars content that is now a (not so) distant memory and it is Star Wars News Net that stands today sharing its birthday with the rebirth of everyone's favorite Space Opera. Its been a fun three years of Cyborg Jedi, Sith tombs filled to the brim with Kyber Crystals, and floating extra-orbital robot hands. But now, here we stand just 7 weeks out from Episode 7.  And in honor of that 7 from 7, we are launching this series to count down the remaining weeks until release day.
So, what can you expect from our countdown in the coming weeks? Well there will be great conversation as the SWNN staff will each take turns recounting our favorite action sequences from the previous 6 Star Wars movies. We invite you to make this fun by giving us your own picks and reasoning in the comments. Nothing kills the time before release day quite like a lively debate over which Death Star Assault is better, or whether Ewoks could truly overpower an Imperial garrison.
Sounds like fun right? Oh that's not enough? Well, not to worry. There's also free stuff! And we know how much everyone likes free stuff.  Each week we'll have a contest themed to the day's movie selection for fun giveaways.
Today's Contest:
Tell us what is your favorite action sequence from Star Wars: The Phantom Menace in the comments bellow. SWNN's staff and 1030th members will pick the best 4 of them, who will win one of the following prizes:
The winners will be announced next Friday (6 weeks before The Force Awakens premiere) when we will post our part 2 of the countdown with the best action sequences from Attack of the Clones. Stay tuned.
And finally without further ado, we'll kick off our Staff Picks with Star Wars Episode 1: The Phantom Menace. So what are your favorite action sequences from the film? Droid Invasions, Planet Cores, Podracing, or "Now THIS is Podracing"? There are plenty of sequences to choose from.  So let us know what you think. To start us off, here are Darth Lexor Kai and Kyle with their picks for favorite action sequences from The Phantom Menace…
Darth Lexor Kai – Pod Racing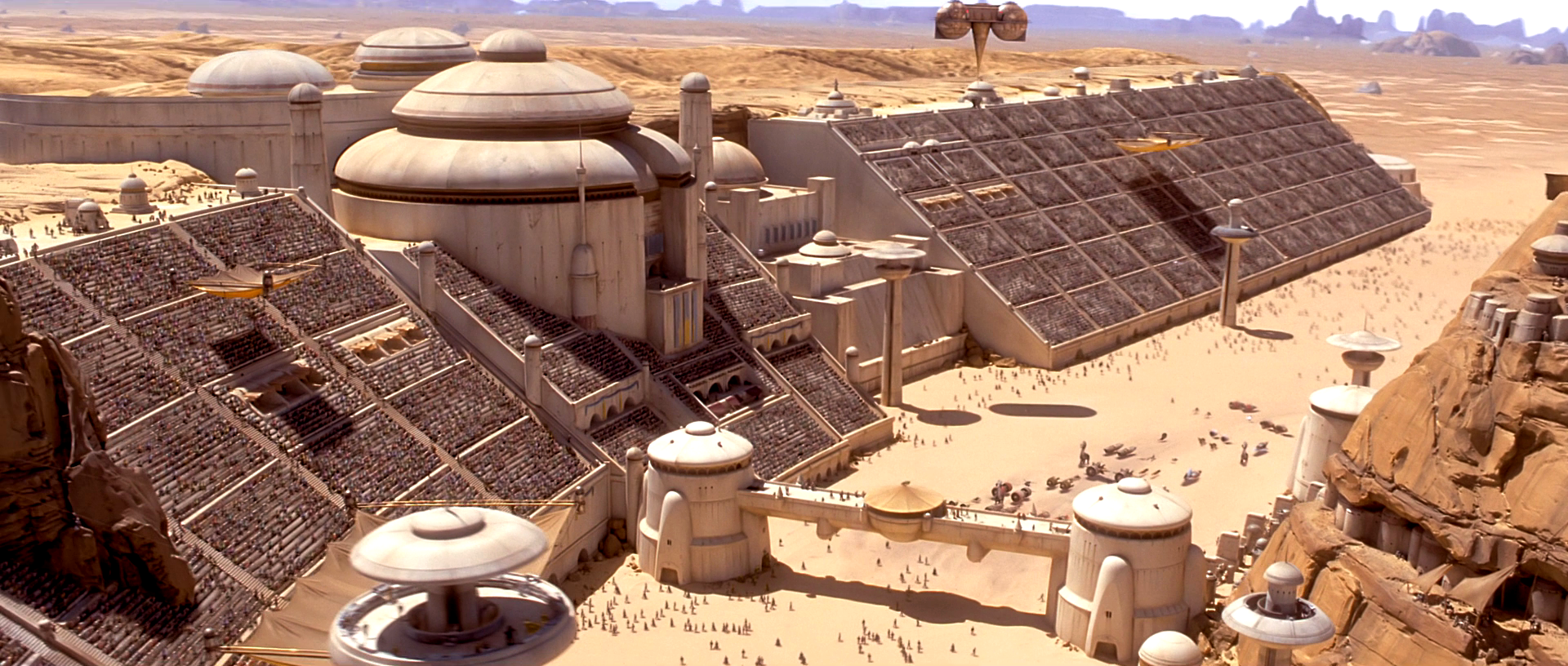 I can still remember the first time I saw Episode I. My uncle was working as a Physician's Assistant in Oklahoma, and his team had reserved a theater a few days after opening for a conference. The 10 year old me still remembers the excitement I felt watching the young Anakin Skywalker, who was nearly the same age as I was, fly his Pod Racer over the rocky landscape of Tattooine.

Qui-Gon was played perfectly, thanks to Liam Neeson. He was calm, mindful of the future, and wise. When he said that Anakin was able to race because of his natural Jedi abilities it gave us the audience reassurance that Anakin would in fact win the race. Of course he would though, after all he is one of the main characters of the film, but the younger version of myself didn't understand that, and so it was very exciting! If Anakin won the race, then he would be free. Being free means that he could pursue his dream, of becoming a Jedi.

All the racers lined up accordingly and there was a small bit of ceremony and parading before the race began, and we got to see all of the amazing characters created for this world. I was a Nascar and Funny-Car fan as well as a Star Wars fan. The blending of these two things felt very real for me.The race began and even though Anakin had some difficulty getting started he prevailed, when all of his competitors were torn apart by each other. Yes it the race and the victory in retrospect deliciously cheesy though, but the moment stuck with me.
That year for Halloween I wanted nothing more than to be Anakin Skywalker-Jedi Apprentice. My aunt made my Jedi costume out of an old burlap sack. It was very itchy and didn't do much to keep me warm but I was proud to wear it. Star Wars Podracing for Nintendo 64 became my favorite game of that year, and some of my most treasured childhood memories was going over to my friend's house to play it after school.
Kyle – Qui-Gon Jinn and Obi-Wan Kenobi vs. Darth MaulI was pretty let down by TPM, but this fight kept my faith in the franchise. It was like nothing Star Wars fans had ever seen. We were used to slower paced and gangly fighting, one-on-one. This fight had a trio of participants. Nick Gilliard, the films stunt director, did a fantastic job coordinating this fight. It highlights Darth Maul's skills to adapt to Qui-Gonn's methodical pace and Obi-Wan's rage. This fight was a game changer and let everyone know SW was back, even if it wasn't what folks expected. We were seeing the Jedi in their golden age. It blew me away and was the reason I went to see TPM in the theaters three more times.

John Williams' score was stuck in my head for days after that. The Jedi were shown as formidable warriors coupled with their mysticism. The Sith were also introduced as sort of ninja assassins, sent in to solve precise problems and take out anyone who stood in their way. If Lucas made one fatal mistake, I think it was killing Darth Maul. I would love to have seen that character grow as the antagonist throughout the trilogy. I know we got more via The Clone Wars, but it was a very damaged version of the character.

This fight is the crown jewel of the prequel trilogy, in my opinion. Anakin vs Obi-Wan was great, but this was my favorite of the fights.
So, what is your favorite sequence from The Phantom Menace? Tell us below.
Special thanks to all SWNN staff members and 1030th Resistance (named after this memorable date). Thank you all for your efforts of watching over the Cantina and SWNN!