UPDATE! Details on the Forthcoming Star Wars Skellig Michael Shoot.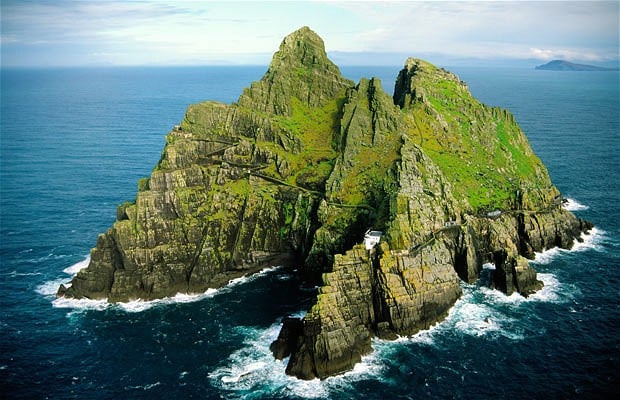 Skellig Michael has been the subject of a good degree of controversy, as some environmentalists opposed using the heritage site as a filming location for the new Star Wars movies. Now, new rumors about the filming on the island have recently come to light, indicating what's in store for both The Force Awakens and Episode VIII.
Spoilers ahead.
As it has been established already, Lucasfilm is going back to Skellig Michael Island to shoot footage this September. While the bulk of the filming will be for Episode VIII, there is still a chance that they could squeeze a few reshoot shots for The Force Awakens in the filming (though there's next to no chance that the shoot will have anything to with Rogue One). One thing that has come up about The Force Awakens is a recent rumor about the last shot of the movie.
#Spoiler #Rumor: Final shot of #StarWars #TheForceAwakens to be a slow zoom-out of Skellig Michael Island #MovieNews pic.twitter.com/phg9VNysck

— MoovieNews (@MoovieNewsTweet) August 23, 2015
Skellig Michael has long been believed to be the site of some of the last shots of the movie, including what is quite possibly the last shot. I would personally imagine that such a zoom-out scene would involve Luke training Rey, since Mark Hamill and Daisy Ridley were the only cast members present – it would also explain why their stunt doubles were brought along, as they could be shot from a distance. If the rumor is true and the scene zooms out, that would be a bit of a departure from the previous six Star Wars films, which have all ended with group shots (unless BB-8 happens to be there or something).
There are also rumors that they will film in Kerry – and by extension, on Skellig Michael – for six weeks straight. I do not think it is likely that Skellig Michael will be the site of all of the Kerry filming – while filming on the island for Episode VIII will be considerably more extensive, the rocky terrain there does not seem to lend itself too well to filming for a long period of time, and Lucasfilm got a lot of flak from locals for filming there just for three days. Still, it's worth remembering that the initial shoot was said to have been scaled down significantly, and that the local wildlife will not be present at the time they plan on shooting, so you never know. Filming on the part of Kerry that is on "mainland" Ireland (as opposed to an island off of Ireland's shore) could very well happen.
UPDATE!
Irish Examiner chipped in on this situation, explaining that they have learned that the shoot on Skellig Michael Island will only last about a week.
James Hickey, the chief executive of the Irish Film Board, said its policy in assisting local and international producers who shoot here was similar to other film agencies around the world who operate on the same basis.

The IFB had come in for criticism from heritage group An Taisce, among others, ahead of a week-long shoot expected to take place on Skellig Michael next month.

Mr. Hickey did not refer explicitly to Star Wars but said: "The producers expect that any of our dealings with them are kept confidential until they are ready to make the announcements they want to make in relation to their projects. The only basis on which they will share their plans with us is where there is trust that the IFB will not reveal the plans to third parties, including the media. If we were to reveal such plans without the permission of the producers, no producer would trust us with their plans. We would not then be able to help these producers to locate their productions in Ireland."
So it's sounding way more likely that they'll be shooting at Kerry as a whole, if the assertion that they will be filming there for six weeks is true.
Grant has been a fan of Star Wars for as long as he can remember, having seen every movie on the big screen. When he's not hard at work with his college studies, he keeps himself busy by reporting on all kinds of Star Wars news for SWNN and general movie news on the sister site, Movie News Net. He served as a frequent commentator on SWNN's The Resistance Broadcast.