UPDATE 3! Is Daisy Ridley the Other Cast Member who is on Skellig Michael? It's a Wrap. More Photos of Hamill and Ridley!
Today is the last day of filming on the Irish Skellig Michael Island. J.J. Abrams and crew are on set for a 3 day shoot of the upcoming Star Wars: Episode VII. For the full coverage of the shooting process click here. For now J.J. Abrams and Mark Hamill are the only stars spotted on the island. There are several indications showing that the actors involved with the shoot will be two. Could the second cast member be Daisy Ridley? Hit the jump to find out…
In the first day of filming (before any register tags photos were revealed) one of our sources told us that only 2 actors will be involved with the Skellig filming. Later a confirmation of that info was found on the board with registered tags of every member allowed to visit the island.
When zoomed you could see the words DIRector, Cast, Production, Camera, Costume etc. Under cast there are only 2 missing tags K and OW (illegible from the photo but reported by several local news sites).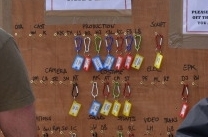 So we know for sure that Mark Hamill is one of those initials. Obviously they don't match with his initials so most likely they are production names. Now if you remember few weeks ago we reported about a supposedly leaked image with the character name KIRA. The guy who posted it said that this is Daisy Ridley's character name. One of our sources confirmed to us that Kira is a production name and won't be seen in the actual movie. Still our source didn't confirm that Kira is Ridley's character name.
So could this K on the board stand for Kira? Could be. On the day the Skellig Michael shoot begun Daisy Ridley posted this on twitter:
5 AM… We meet again, old friend

— Daisy Ridley (@ridley_daisy) July 28, 2014
Certainly it's not much but it could suggest that she was not going to Pinewood but to another more distant place. Let's say a flight from England to Ireland? Also on some of the set images there's a woman that really looks like Daisy. Here you can see Abrams, Hamill and that mysterious woman.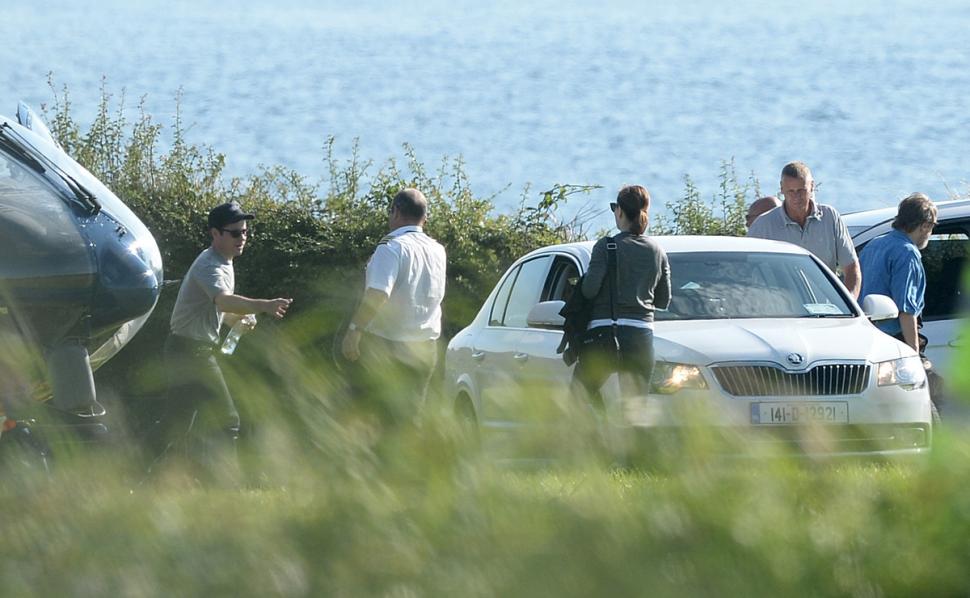 Here's another closer look:
She definitely looks like Daisy. Or maybe that's Abrams' assistant? You decide. By the way here's amother interesting rumor about the shoot (via thejournal.ie):
An Irish industry source working at the location has hinted that the final scenes of the film could be shot on the island.
Also from some time now there are rumors that Ridley will be using a lightsaber. Here's another rumor posted by Owen O'Shea, journalist at Radio Kerry:
Still on #starwars watch in sunny Portmagee. No sign of Harrison Ford yet but rumours that light-sabres have been seen on Skellig Michael — Owen O'Shea (@OwenOShea) July 28, 2014
And if you live in Waterville go straight to Butler Arm Hotel and let us know if Daisy Ridley or Kira is staying there 🙂
Mark Hamill pictured outside the Butler Arms Hotel in Waterville, Kerry while filming Star Wars on Skellig Michael pic.twitter.com/KuUgPeP9Vh

— Mark Dunphy (@Mark_Dunphy) July 30, 2014
By the way here's one crazy speculation that just occurred to me based on these rumors:
So we have Hamill and Ridley, we have rumors about lightsabers, we have rumors about a final scene and we have stunt members on set (from the tag board). So what if one of those two is a bad guy!?! (temporary or not)
We all assume that Ridley is fighting on the side of the good guys. But what if there's a huge plot twist and actually she's playing a villain?
Or what if Luke is going through some hard times and is tempted by the Dark Side as his father was?
Or maybe they're just practising there…
The best thing is that everything is possible and that's why we all love Star Wars.
Again the last paragraph is a speculation that just occurred to me so don't take it too seriously.
Another interesting thing is that if indeed K stands for Kira this means that Luke Skywalker's production name is OW (other sites report that it's OW, not DW) .
What do you think OW stands for? Apart from the obvious Obi-Wan. 🙂
UPDATE 2!
According to the latest update by the themoviebit, Daisy Ridley was indeed on the set:
UPDATE 30 7 14 1922 Production has now stopped and the crew have wrapped. Daisy Ridley confirmed on location! She shared a scene with Mark Hamill on Skellig Michael
UPDATE 3!
A better quality image with the two and a few new ones: (via kerryseye)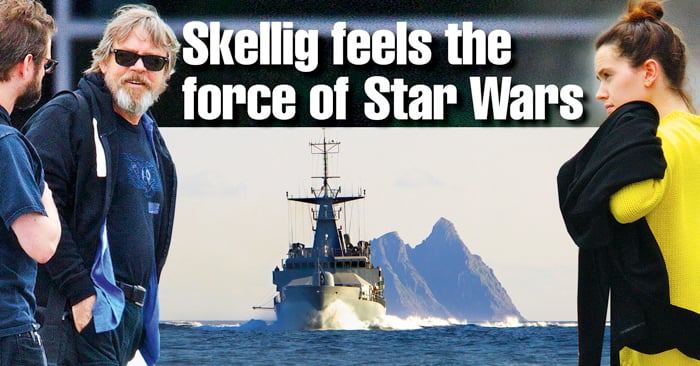 It's strange that article says that Ridley is a Solo kid like it's a fact. But most likely they are just speculating.
Also there's a story on the web that professional wrestler Sheamus O'Shaunessy was part of the shoot. Actually 2 days ago I was about to write a story on it. He tweeted that he was on his way to Skellig and in the past he was used as Darth Vader in a promotion tour for Episode I. I didn't post it because I got a firm confirmation that the Skellig shoot will include 2 actors and Sheamus is not one of them. Probably he is just trying to get attention.