Star Wars Launch Bay Headed to US Disney Theme Parks?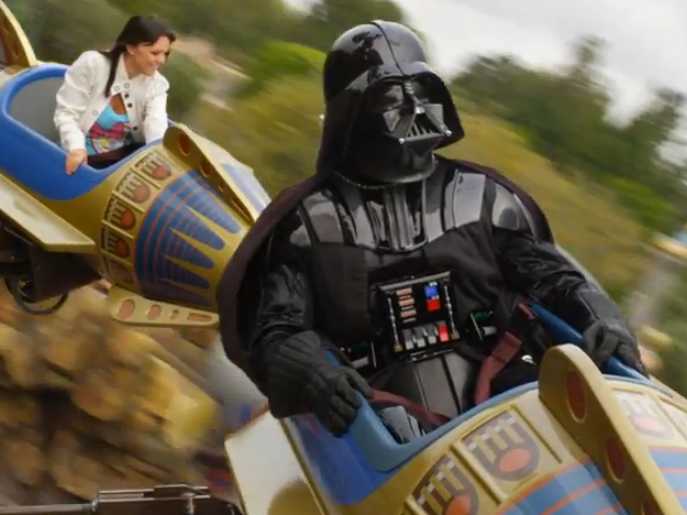 Last week we told you about the new developments coming out of Shanghai Disneyland. One of the planned Star Wars attractions heading over to Disney's first park in mainland China will be the Star Wars Launch Bay. An exposition of sorts of all things Star Wars. The Launch Bay is expected to be part store, part museum, and part interactive experience with places to buy Star Wars merchandise, see Star Wars props and concepts, and interact with Star Wars characters.
Screamscape is now reporting that the Launch Bay may be making its way to the US well ahead of Shanghai Disneyland's 2016 opening. The site is stating that the Launch Bay could be on track to replace the Innoventions (a similar expo-style attraction) pavilion in Disneyland's Tomorrowland before The Force Awakens opens. While this would be a very quick turnaround for Disney Theme Park construction, it does stand to reason that Disney will want to increase US parks presence ahead of the release of the first Star Wars trilogy to aid in the mass marketing campaign expected this fall.
Additional rumors have the Launch Bay possibly going into the recently shuttered Disney Animation Building in Disney Hollywood Studios at the Walt Disney World resort in Orlando. While Hollywood studios has historically been a place where Disney likes to promote upcoming films and is the home of Walt Disney World's only current Star Wars attraction as well as the site of their hugely popular Star Wars weekends, there are contradictory reports out there as to the future purpose of this location. The site WDWMagic, a Disney Theme Park fansite, is reporting that the Orlando location will become a "Blue Sky Cellar" an attraction that details upcoming rides and attractions coming to the theme park in the future.
With what is rumored for the US parks, the Blue Sky Cellar idea makes sense. It was recently reported that Disneyland has approved a $1 Billion budget for Disneyland in California aimed at increasing Star Wars and Marvel presence. And there are heavily credible and numerous rumors online that Walt Disney World has approved $3.5 Billion for future improvement, $2.8B of which is slated for a Hollywood Studios overhaul focusing on Star Wars and Pixar properties as well as massive infrastructure improvements (Anyone who has ever visited for Star Wars Weekends knows the issues this park has with massive crowds and parking).
At the same time, Disney does have a history of "cloning" rides from its other theme parks to save money on research, development, and design by building the same ride in multiple parks. So, if something is being built in Shanghai, there is every reason to believe it could find its way stateside. At this point, I would not be surprised at all to see Launch Bay in one or both parks before The Force Awakens hits theaters.