UPDATE! The Force Awakens Celebration Panel to be Screened Live in 23 Countries. Regal Confirms New Trailer With Avengers: AOU.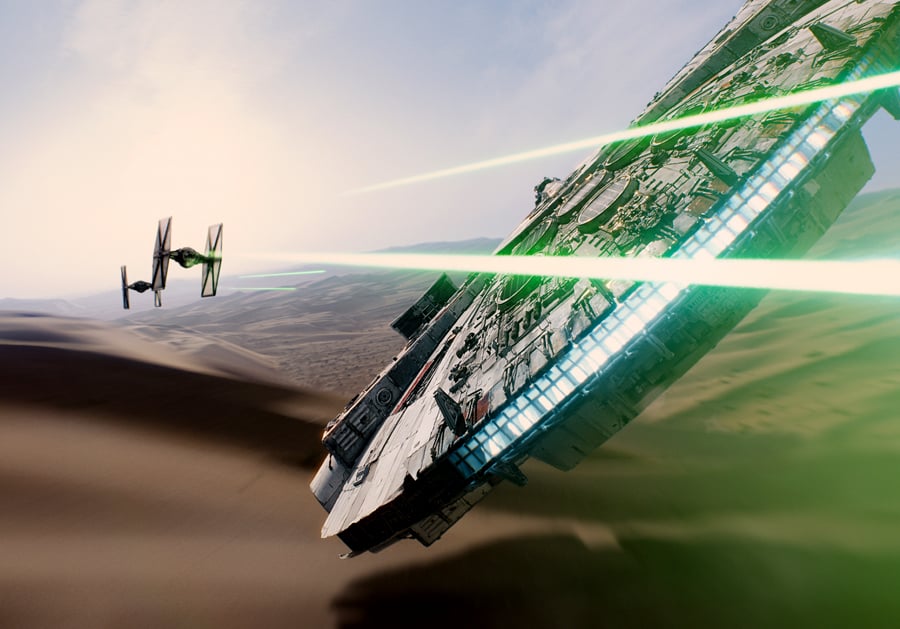 Earlier today, a report from Collider backed up rumors that we'd been hearing for some time about when the new trailer for Star Wars: The Force Awakens might appear. Now, we have additional information that strongly suggests  that this report is correct and that we may very well see the new TFA trailer this month. More after the jump.
Much the same as what we went through back in November with the first teaser, Star Wars fans everywhere are currently wondering when they will see the second trailer for The Force Awakens. With the release of The Avengers: Age of Ultron scheduled for May 1st of this year, it's been an almost universal assumption that Disney will attach a new TFA trailer to the film.
And this morning, Regal Theatres  tweeted what appears to amount to confirmation of this. Remember, it was Regal who, back in November, first broke the news that the first TFA teaser would be shown on the Friday after Thanksgiving. Now, they bring us equally good tidings:
https://twitter.com/RegalMovies/status/582904049307090945
(Note: the tweet has been just removed. Exactly the same thing happened back in November with the first teaser. Looks like someone jumped the gun again. Still they were right before, so they are probably right again)
No big shocker there, of course. I can't imagine Disney NOT promoting their upcoming Star Wars movie along with the first big blockbuster of the summer – especially when that first big summer blockbuster is also one of theirs.
But then, of course, there's also Star Wars Celebration in Anaheim, CA in mid-April. And with J.J. Abrams and Kathleen Kennedy opening the proceedings with a panel discussion about TFA on April 16th, many fans are speculating that the new trailer will actually premiere at that time.
This also makes a lot of sense, although we haven't yet had absolute confirmation that J.J. and Kathleen will be showing the new TFA trailer as part of their panel discussion. Still, the more we hear about the plans for that TFA panel, the more likely it seems that this is where we will first see the new trailer.
Latest word is that there will be some sort of simulcast of the TFA panel discussion in London. From Star Wars UK, just this morning:
Watch the #TheForceAwakens panel LIVE from @SW_Celebration at the Empire, Leicester Square. Stay tuned for details… pic.twitter.com/KxrAD0Fufu

— Star Wars UK (@StarWarsUK) March 31, 2015
Now, of course this isn't confirmation that the new trailer will be shown at this time. However, the fact that the TFA panel is getting a cinema simulcast in at least one other country would seem to add fuel to the increasing speculation that this is when we will get our first look at the new trailer.
Also, please bear in mind that although we have been referring to it as a "trailer", we do not know as of yet whether this will be a full-length movie trailer, or another teaser comparable in length to the first one back in November. Given the fact that this is likely what will serve as the main TFA advertisement throughout the summer moviegoing season, one might assume that this would indeed be a longer trailer. But again, we cannot yet say for sure one way or the other.
As always, we'll keep you posted!
UPDATE!
The Force Awakens panel will be screened live in 35 cinemas in 23 countries, including 6 IMAX theaters. Thanks to some of our readers, we now have more confirmed locations:
London – Leicester Square (UK)
Paris – Gaumont Champs Elysées cinema (France)
Marseille – Pathé Plan de Campagne cinema (France)
Lyon – UGC Ciné Cité Confluence cinema (France)
Lille – Kinepolis de Lomme cinema (France)
Bordeaux – CGR Le Français Bordeaux cinema (France)
Strasbourg – UGC Ciné Cité Strasbourg cinema (France)
Barcelona – Cinesa Diagonal (Spain)
Amsterdam – Pathe Arena (Netherlands)
Brussels – Kine Polis (Belgium)
CINEPLEXX cinemas (Slovenia)
CINEPLEXX cinemas (Austria)
Berlin – Imax Berlin (Germany)
Copenhagen – CinemaxX (Denmark)
Helsinki – Tennispalatsi (Finland)
Stay tuned for more locations.