Updated With Video! Star Wars Celebration – Ahsoka's Untold Tales Panel Highlights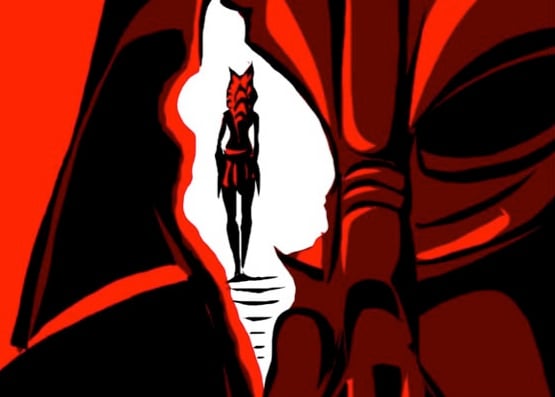 In the first panel of the day hosted by David Collins, Clone Wars and Rebels director Dave Filoni, the Lucasfilm story group's Pablo Hidalgo, and Ahsoka herself, Ashley Eckstein, talk about the untold tales of Ahsoka Tano's past. The panel was just streamed on the Star Wars Show, but actually took place earlier this morning. Thankfully, the official Star Wars website kept us in the loop with their live blog on the panel. Read on to catch some of the highlights.
From starwars.com:
Filoni: Where Ahsoka grew up, they recognized she was a potential Jedi, but also knew that could be dangerous.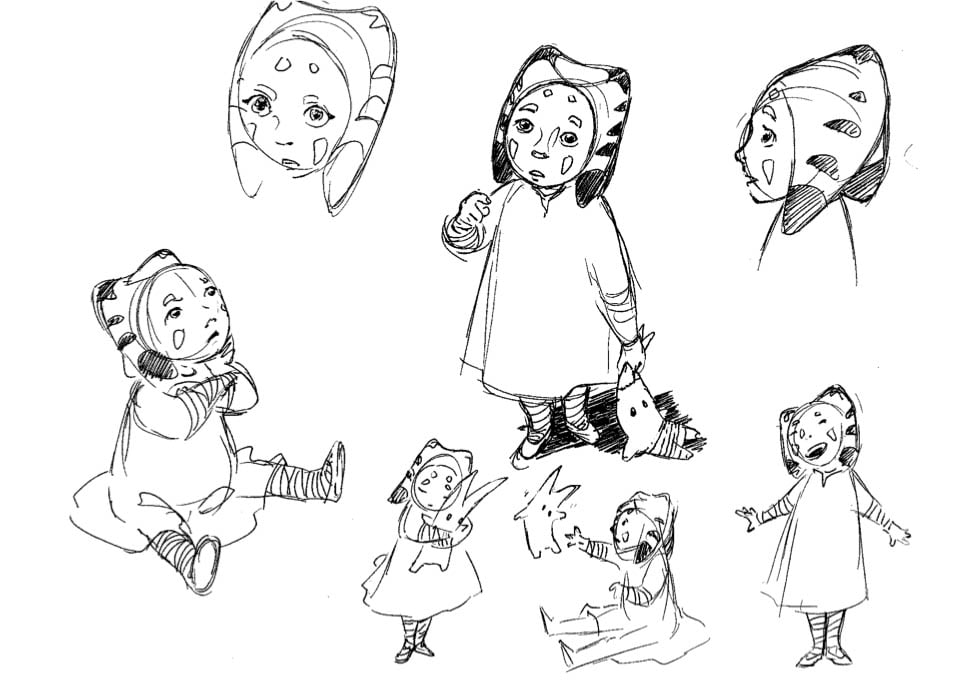 Hidalgo: When The Clone Wars ended production, there were 3 untold Ahsoka arcs. The first is "Ahsoka's Walkabout."

The picture below takes place after Ahsoka left the Jedi Order. The bike would be reused as Kanan's bike. "She has a heavy burden now, trying to live as a normal person on Coruscant," Filoni says.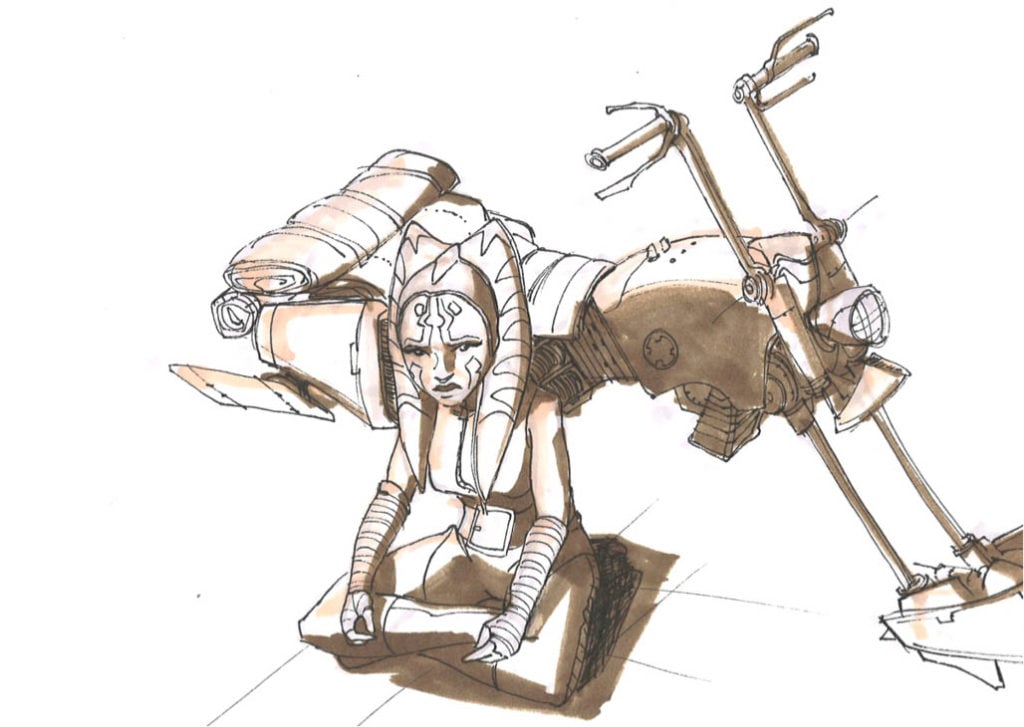 They also did lots of outfit exploration. Something Jedi-like but not. Filoni wanted to put an animal on Ahsoka's boot: a monkey. "It's more of a lemur," Filoni concedes.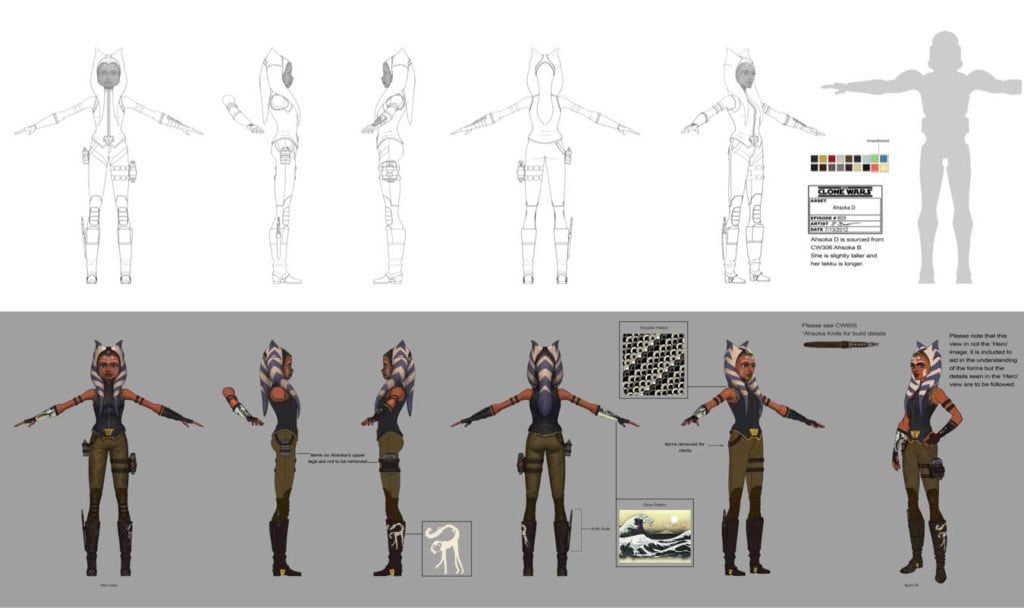 Eckstein: "In between from when she walks away and when she comes back in Rebels, Sam Witwer and I know an important part…But there's so much we don't know."
The untold Clone Wars arcs:
In Ahsoka's Walkabout, Hidalgo explains, Ahsoka meets a scoundrel in level 1313 of Coruscant.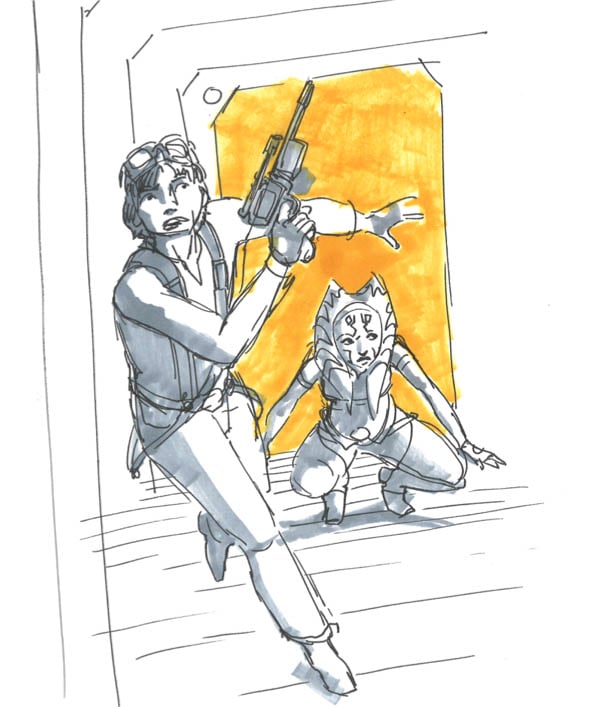 The scoundrel is called Nix. He was going to be an Asian male lead.

In the arc, she'd get mixed up with all characters in the underworld. "It's a big challenge for her to be around these other characters." Nix might have been her boyfriend in the arc…!

Hidalgo: "She keeps the fact that she was a Jedi a secret from Nix."

As Nix comes from a lower level of Coruscant, he doesn't like Jedi.
According to Hidalgo and Filoni, one of these untold arcs was originally intended to reveal the ancient Sith Temple below the Jedi Temple in the lower levels of Coruscant that would later be revealed in the Tarkin novel by James Luceno.
Another arc! Ahsoka heads back to the surface of Coruscant. Outfit designs were reminiscent of Ventress and The Sister from Mortis.

The third arc was called "Return to the Jedi," as Ahsoka goes back to the surface when an unmentioned enemy puts Yoda danger.

In the arc, Ahsoka would reach the core level of Coruscant before going back, and also come close to fighting Dooku.

She doesn't go back to being a Jedi or in the Order, "but she still trusts Anakin, she still trusts Obi-Wan," Filoni says.
One of the final arcs of the series would have reunited Ahsoka with Anakin.

Filoni explains that Ahsoka was working with Bo-Katan.

They realize Maul is back on Mandalore.

Ahsoka meets with Obi-Wan and Anakin in person to help them, but Yoda interrupts them, recalling Obi-Wan and Anakin to Coruscant — the city was attacked and the Chancellor was abducted.

Anakin tells Ahsoka how proud he was of her.

It was leading right into Revenge of the Sith.

And Anakin leaves a battalion of clones –including Rex — with Ahsoka for the fight on Mandalore. "That's why Rex isn't in the movie."

And Anakin leaves a battalion of clones –including Rex — with Ahsoka for the fight on Mandalore. "That's why Rex isn't in the movie."
And apparently the LFL storygroup considers the events of the untold Clone Wars episodes canon…
"We consider it to have happened," Hidalgo says. It informs the writing on Star Wars Rebels.
In the final Ahsoka arc, as Ahsoka led a group of clones in battle against Maul and his Mandalorians (which takes place simultaneously with ROTS), Filoni had the idea to have the clones turn on Ahsoka during the execution of Order 66.  As the clones approached a meditating Ahsoka, she reaches out through the Force to these giant wolves (yeah, Filoni has a thing for wolves) who come to her rescue.  The clones had mistaken the wolves' legs for trees on their approach and were caught by surprise.  Filoni showed a pretty cool sketch of Ahsoka riding a giant wolf (below).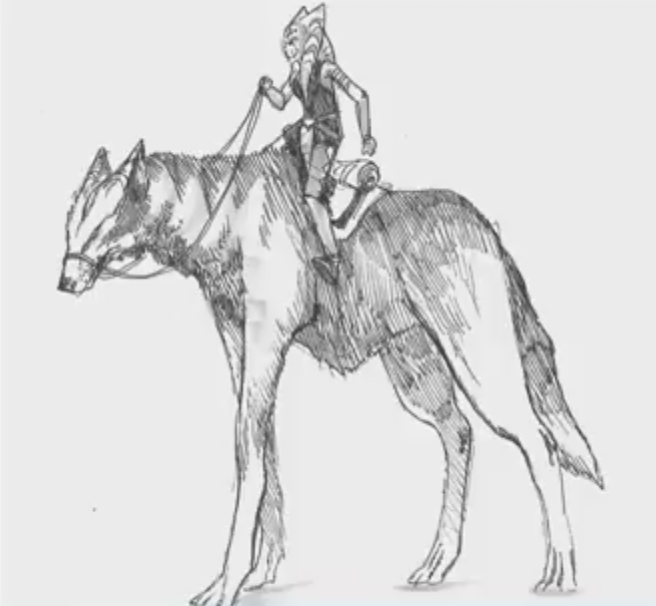 The Ahsoka young adult novel: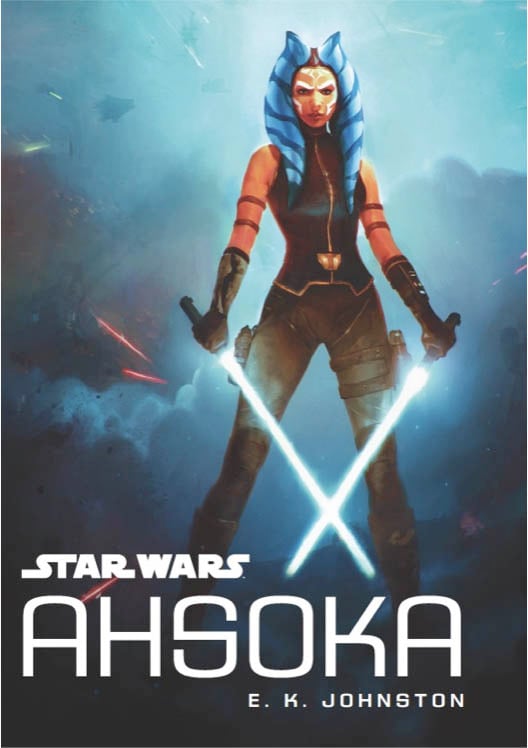 The author worked with Filoni on the story. "The more I can get exposure for her, it makes her even stronger as a character." It's a part of her saga.

"It's going to be an exciting addition to the story of this character," Filoni says.
Ahsoka in Rebels:
Filoni sketches Ahsoka during the early creation of Rebels, but didn't want Rebels to just be a sequel of Clone Wars.

Now showing various concept art — Filoni found photos of samurai women, and that influenced the design.

"I always wanted white lightsabers…It was more indicative of the fact that she's not chosen a side. She's not a Jedi and she's not a Sith."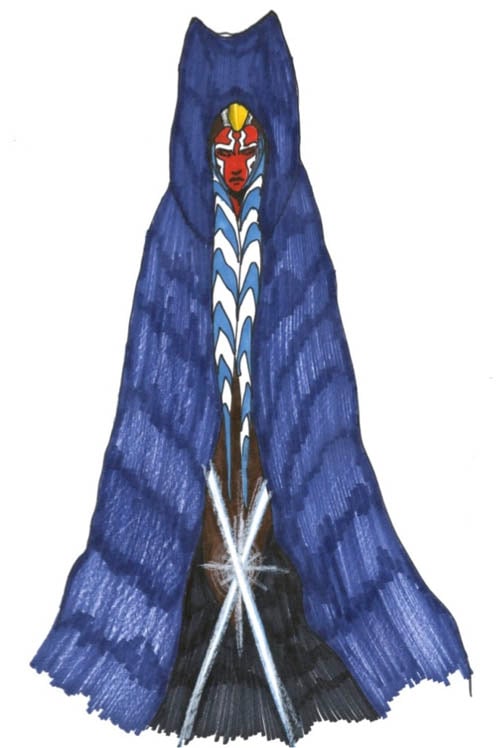 Interesting Note: Kyber Crystals are actually clear according to Filoni.  Based on a discussion he had with George Lucas on the subject, the Jedi actually gives the crystal its color through his or her allegience and personality in the Force.
Leading into the end of Rebels Season Two. Whiteboard illustrations!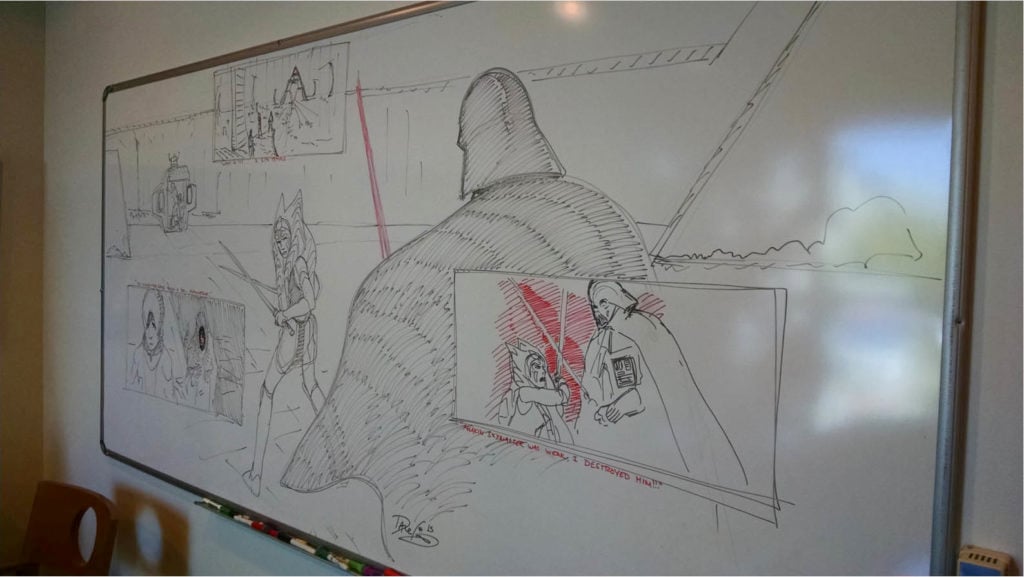 "This was on the whiteboard. Everyone was too afraid to erase it."

They had an Episode VIII meeting with Rian Johnson, who sent countless emails. "Are you SURE I can erase it??"
Now the big question…Did Ahsoka survive the Season 2 Finale?…followed by a cryptic answer from Filoni…
Filoni has done a series of images for Topps! You can collect these digitally now. "These explore visually, metaphorically, what the ending is about."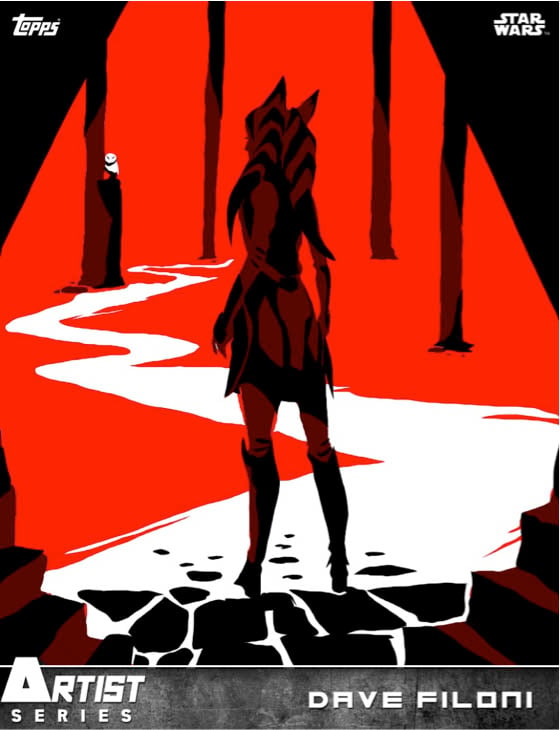 Exclusive Reveal of the Funko POP! Ahsoka!
After this, they showed a short clip of an animatic from the Nix arc and moved on to fan questions…
Q: Throughout Star Wars we see Force users have a connection between the two of them. Did Anakin and Ahsoka?

"Yeah, I would definitely think so," Filoni says.

He mentions how in the real-world, you can get a feeling if something has happened to someone you love. Around the time of Order 66, Ahsoka cannot see Anakin in the Force. That's why she doesn't think he could be Darth Vader.

This is explored in the new book coming out.
Q: In the moments after Ahsoka hits Vader, who is calling her name?

Filoni: "It's my feeling that it's not a ruse. It's an extension of the concept 'Let me look on you with my own eyes.' … Nothing can change Vader until Luke. There's no way Ahsoka can bring Anakin back. … I wanted a suspended moment where she has to deal with the reality and he has to resolve that he's going to destroy her."

As the panel draws to a close, Filoni thanks the fans for their support and their unbridled love for the character of Ahsoka.  Here's what he said in closing:

"I was very adamant after the Season Two finale that that was it for Ahsoka on Rebels…but after the reaction…I dunno. It just might be possible to see her again." Huge applause.
Stay tuned to Star Wars News Net all weekend as we work to keep you updated on the events of Star Wars Celebration!
Update!
Here's the video of the panel released on the official Star Wars Youtube Channel:
Jordan Pate is Co-Lead Editor and Senior Writer for Star Wars News Net, of which he is also a member of the book and comic review team. He loves all things Star Wars, but when he's not spending time in the galaxy far far away, he might be found in our own galaxy hanging out in Gotham City or at 1407 Graymalkin Lane, Salem Center, NY.