Mark Hamill At Star Wars Celebration Europe III!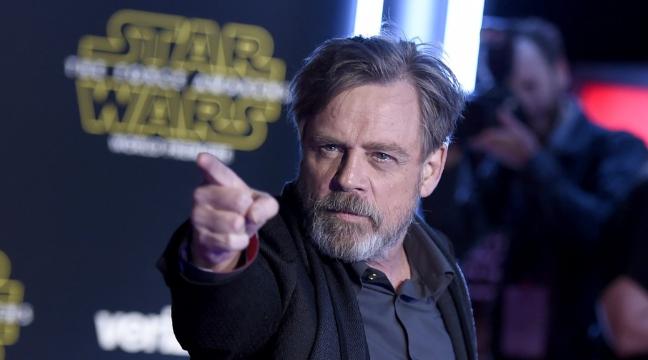 The Jedi Master himself, Mark Hamill, has just stepped onto the Star Wars Celebration Europe III show floor to answer the burning questions of fans.
5:32 AM CST – Mark Hamill opens up with explaining that getting to talk with fans as his favorite thing to do, since he gets to hold a conversation with thousands of people he considers to be friends.
5:34 – Hamill jokes about not being able to talk about Episode VIII in spite of loving to talk about Star Wars.
5:36 – Hamill talks about his real-life relationship with his space-sister, Carrie Fisher.
5:38 – Hamill answers his first question – about the Skellig Michael shoot. He emphasized that they were lucky with the weather, which changes through a huge range of climates.
5:39 – Hamill is asked for an ideal photoshoot and who he'd like to take it with. He says he doesn't know!
5:40 – Hamill says that his Star Wars toy collection habit is something that spiralled out of control, akin to the "Sorcerer's Apprentice" sequence of Fantastia.
5:43 – Hamill says that the secrecy surrounding Star Wars projects is to save the surprise for the audience.
5:45 – Hamill's first reaction to his limited role in The Force Awakens was a great surprise that he wasn't prepared for, and that he wanted to know in advance that he was only needed for a smaller role.
5:48 – Hamill's favorite offscreen moment in the Original Trilogy was the death of Obi-Wan Kenobi, which on-set seemed so surreal that he found it funny.
5:50 – Hamill's favorite moment to film in the Original Trilogy was to film the Death Star swing sequence in A New Hope, which was done in one take. He also loved the Mos Eisley Cantina scene.
5:53 – When asked, Hamill feels so lucky to be gifted with voice talent. In high school and college, Hamill was no athlete, so he used humor as a weapon. He described his role in detail as "a sidekick". A fan takes a moment to plug his role in the upcoming direct-to-video movie Batman: The Killing Joke (which he recited a monologue for later into the panel), which he also takes a moment to talk about his second-most-famous role of The Joker, along with his involvement with the upcoming cartoon Justice League Action.
6:00 – A fan asks if he's worried about being typecast as Luke Skywalker. He says he doesn't worry about it due to his extensive theater career and his voicework on cartoons and games, including Star Citizen.
6:03 – His favorite Batman: The Animated Series Joker quote was the eulogy he gave in "The Man Who Killed Batman". He took a moment praise Rian Johnson's writing for Episode VIII.
6:07 – The Adventures Of Superman was Mark Hamill's first favorite show.
6:08 – Hamill reveals that he did not get to read Michael Ardnt's drafts, but he did see concept art for ideas that were not used. He is nearly tricked into revealing Rey's last name.
6:10 – Hamill's role in Comic Book: The Movie came after a failed pitch for a film based on a personal project (Black Pearl) led to work on a documentary with his friends in voice acting.
6:14 – Hamill's closest favorite Star Wars character is Han Solo, but he considers them to be like kids in that he has to love them all. He also describes having to work with early dialogue and being surprised to learn that Luke – and not Han – was actually the main character.
6:23 – Hamill has been informed of a good amount of Luke's backstory between Return Of The Jedi and The Force Awakens. He emphasizes that the focus on the story is on the new generation of characters, but that Luke still has an important role that we'll learn a lot more about. He also (briefly) thought that Luke would have a big entrance in the final battle, and that he would be the one to grab the lightsaber with the Force and not Rey.
6:26 – If Hamill could play a Sequel Trilogy character in addition to his role as Luke Skywalker, then he said that he had an interest in playing a character like Poe Dameron.
6:30 – Hamill notes that he meets up with his cast whenever he can, and that he relishes every moment he shares with them.
6:32 – Hamill closes up and tells the fans that he can't wait to see new information about Rogue One and everything else at Celebration. He praises the initiative for the Star Wars Anthology movies.
That's all, folks! We'll be sure to add a video of the panel when it is uploaded on its own in its entirety.
Here's one video before we get the official one.
Grant has been a fan of Star Wars for as long as he can remember, having seen every movie on the big screen. When he's not hard at work with his college studies, he keeps himself busy by reporting on all kinds of Star Wars news for SWNN and general movie news on the sister site, Movie News Net. He served as a frequent commentator on SWNN's The Resistance Broadcast.