UPDATE 2! Harrison Ford Injured in Crashed Plane – Currently in a Stable Condition.
Last year, Harrison Ford infamously broke an ankle during the production of The Force Awakens – and while the injury itself was fairly moderate in the grand scheme of things, many hoped that this would be the last of the many injuries he's sustained. Unfortunately, news has just broken out that the 72-year-old actor has just crash-landed unexpectedly, and is in a serious (though not critical) condition.
From Screen Crush:
This is absolutely harrowing news: iconic actor and living legend Harrison Ford has been critically injured in a plane crash. The plane crash-landed in Venice, California today and Ford was subsequently rushed to the hospital where his condition is currently critical. Ford, who's been reprising his role in the new series of Star Wars films and recently signed on for the long-gestating Blade Runner sequel, is 72 years old—making his enduring dedication to these franchises even more remarkable.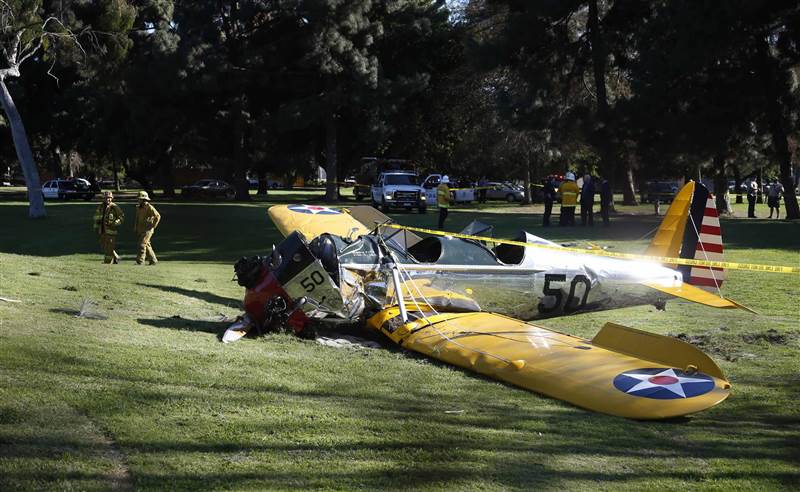 Ford had been flying a plane by himself when it malfunctioned, leading him to crash on a golf course. After the crash, Ford walked away from the wreckage with several head injuries. Though this comes at a shock, as Ford is an experienced pilot and has survived a few crashes before, there is a silver lining to it in that the actual injury itself wasn't as severe as initially reported.
UPDATE: NBC News is reporting that Ford's condition has been downgraded to "fair to moderate." According to NBC Los Angeles, "Ford's injuries were originally described as 'critical,' but sources emphasized that they are better characterized as serious, including lacerations to the head and possible fractures."
It currently sounds as though Harrison Ford will survive his injuries, but he is still in an unstable state at this point in time. After the recent death of Leonard Nimoy, it would be a tragedy to potentially lose another great actor to unforeseen dangers. From the team at Star Wars 7 News, our hearts and prayers go toward Harrison Ford and his family.
UPDATE!
According to Ford's son, Ben, Harrison is most likely going to be all right. Let's hope that he has a quick recovery.
At the hospital. Dad is ok. Battered, but ok! He is every bit the man you would think he is. He is an incredibly strong man.

— Chef Ben Ford (@ChefBenFord) March 6, 2015
Thank you all for your thoughts and good vibes for my dad. — Chef Ben Ford (@ChefBenFord) March 6, 2015
UPDATE 2!
And some words from his Star Wars co-stars:
Glad to hear Harrison is doing well. Get well soon. May all his future flights be green-screen! — Mark Hamill (@HamillHimself) March 6, 2015
From Critical > Severe > Moderate > Fair in the span of an hour. Is #HarrisonFord Han Solo or Wolverine? #NeverTellMeTheOdds — Peter Mayhew (@TheWookieeRoars) March 6, 2015
Harrison Ford's condition continues to improve. Yet another miraculous comeback form the scruffy looking nerf herder.
Carrie Fisher and Billy Dee Williams joined the others and sent a message to Ford:
  "I know you have incredible bounce back, please take a bounce break for awhile. Can I drive next time?" Fisher told PEOPLE  
Wishing a complete and restful recovery to #HarrisonFord

— Billy Dee Williams (@realbdw) March 6, 2015
Also despite the crash Ford's flying skills were lauded by flying experts.
(via WestSideToday):
"He did an excellent job," veteran flight instructor Liz Destaffany told the Los Angeles Times. "You try to do a controlled descent, maintain airspeed and look for a safe place to land."

"I would say that this is an absolutely beautifully executed – what we would call – a forced or emergency landing, by an unbelievably well-trained pilot."
Grant has been a fan of Star Wars for as long as he can remember, having seen every movie on the big screen. When he's not hard at work with his college studies, he keeps himself busy by reporting on all kinds of Star Wars news for SWNN and general movie news on the sister site, Movie News Net. He served as a frequent commentator on SWNN's The Resistance Broadcast.