Empire Reveals New Rogue One Photo + Exclusive Cover With K-2SO!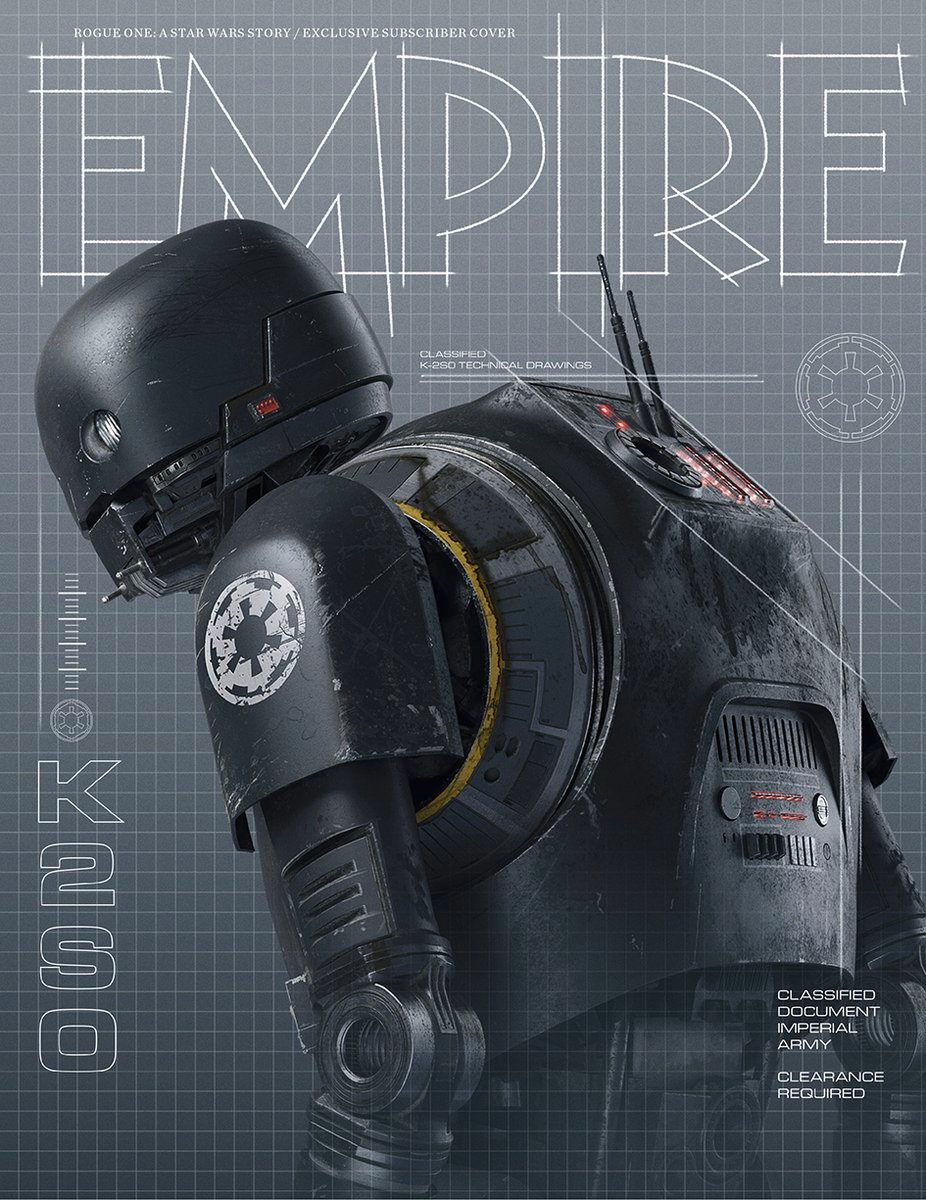 Last week, Empire revealed their two Rogue One covers for their upcoming issue available in newsagents from Thursday August 25. Today, they revealed new photo from the production, and actor Alan Tudyk revealed the exclusive Empire cover featuring K-2SO, available only for subscribers. Check them out.
From Empire:
Empire's newest cover star is the latest kickass Star Wars heroine, Jyn Erso. The cover story boasts incredible access to the movie, accompanied by plenty of exclusive images, including this one of Felicity Jones' rogue trooper on the desert moon of Jedha. To paraphrase Bogie, of all the Jyn joints in all the worlds, the Empire chose this one to unleash AT-ATs on…
Alongside her in the still are tough-nut droid K-2SO (performance-captured by Alan Tudyk) – and Captain Cassian Andor (Diego Luna), a combat-hardened Rebel intel officer. As Jones explains in Empire, the first anthology movie in the canon promises to deviate a little from the established visual grammar of the franchise. "It's very much a boots-on-the-ground perspective of the Star Wars universe," she says. "The idea is that it feels as though you're actually there. You're in amongst it."

"It is mucky, it is grimy, you're in the trenches," adds her co-star Riz Ahmed of the look and feel Monsters and Godzilla director Gareth Edwards has gone for. "To bring that kind of vérité feel to this world, that kind of documentary realism, is really exciting." It's shaping up to be Star Wars by way of The Battle Of Algiers – and is all the more thrilling a prospect for that.
And here's the exclusive cover revealed by Alan Tudyk himself. As you know he plays droid K-2SO in the movie, performed via motion capture technology:
This is the new cover of @empiremagazine New art for K2SO, my bestie. This is some never before released 1's and 0's pic.twitter.com/IC5e8xusg5

— alan tudyk (@AlanTudyk) August 22, 2016