UPDATE! Potential Description of Star Wars: The Force Awakens Teaser Trailer 2!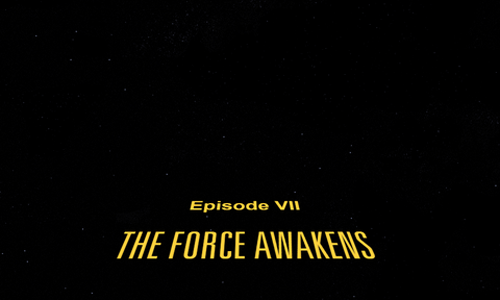 Yesterday I received two separate reports with similar descriptions of the second The Force Awakens teaser trailer that is supposed to be released at Star Wars Celebration Anaheim next month.
If you don't want to be spoiled stop reading now.
POTENTIAL SPOILERS AHEAD
It's worth mentioning that 2 weeks ago I received a report saying that certain Disney employees saw footage from the movie (February 20). The source actually expected that the footage will be leaked, but it never happened. Now I received 2 reports backing each other up with a possible description of the trailer.
Keep in mind that I can't guarantee the legitimacy of this source. The description does sound legit but I would advise you to treat this with a grain of salt for now.
Direct quote from the source:
The footage was a very rough cut of the new Star Wars trailer that JJ Abrams and Kathleen Kennedy will show off next month at Celebration. It'll then probably be with Avengers. The trailer was just completed in the last couple weeks and it runs about a minute and a half. The music I'm told was all temporary using existing score from the previous Star Wars movies, but I understand that Williams composed a new piece last November that'll be used in the final trailer.

The first portion of it is rather slow:

Like the first teaser it opens with a shot of the desert planet. Although it's not dunes. It's a destroyed AT-AT on its side.

Voice over (sounds like Lupita Nyong'o): "I shall show you the story…"

Forest location with a very large structure (like a castle or something) with an opening in the base of a large tree. I believe this is the Puzzlewood location.

VO continues "of who you seek…"

A large city in a tropical location. Looks like it's on the water.

VO continues "the one who taught me…"

Cloaked figure (maybe Luke?) standing at the top of stone steps on a high green hill with mountain stones behind him. This is definitely Skellig Michael.

VO continues "I know why the weapon came to you."

John Boyega (Finn), Daisy Ridley (Rey), and a small blue alien with a CG face in a dark (underground?) cave. Finn takes a lightsaber, and turns it on revealing a green blade. Rey is in the background and looks disturbed.

Things pick up from here. Lots of quick shots.

Han Solo wearing a brown duster and looking past the camera.

A black TIE Fighter attacking the forest location we saw earlier.

Kylo Ren in a POV shot approaching someone on the ground. His mask is dark with silver accents. The cross-guard saber is ignited.

People running in the city seen earlier in the trailer.

R2-D2 making a forlorn beep.

C-3PO and Princess Leia in what looks like a base command center.

New Voice Over (sounds like Andy Serkis from the first trailer) "Don't get too sentimental".

As that VO is playing we see Han looking at Leia and then walking away from her towards the Falcon with Chewie.

The snowy forest from the first trailer. Slow shot of Finn holding the saber, looks like he's protecting Rey from someone as we hear Han say "You can do this kid, I believe in you."

Final shot of the trailer is a close-up of a hooded head looking up to reveal Luke.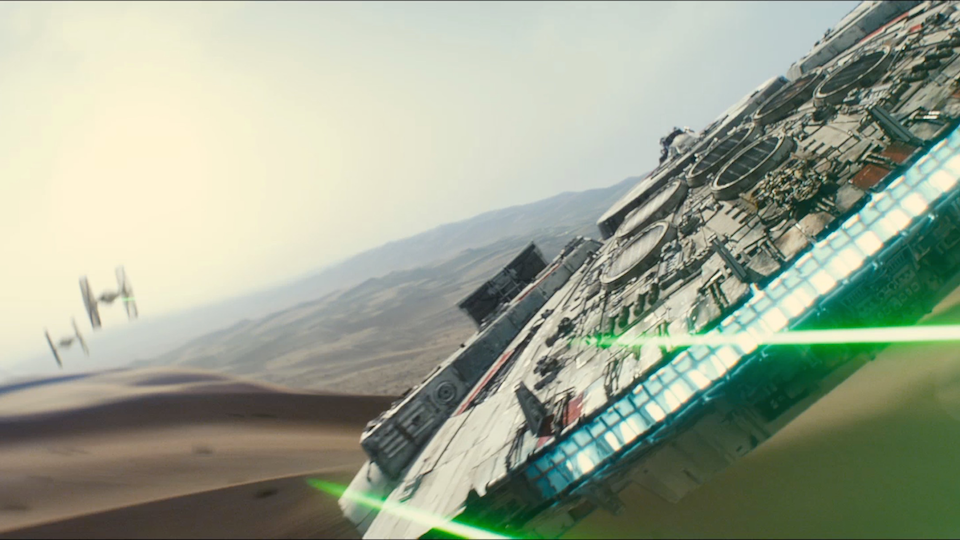 While very conveniently some of the stuff match perfectly with some of the leaked concept art, there are also lots of new things. Still I find it weird that the source remembered the exact quotes from the trailer. But as I said I received a separate report from a different person backing up that report but it was more vague. Here it is:
I can't believe this. It's AWESOME. It's longer than the last trailer. It has dialog and it's Lupita Nyong'o talking about the one who trained her and the lightsaber. THEY SHOW LUKE! He looks badass! Han and Leia are in it more than once and you even hear Andy Serkis say "don't get sentimental" or something like that. The saber is GREEN (not blue like in the concept art) and it looks like Finn is the new Jedi because he's the only one using in it the trailer. He has it in the forest at the end of the trailer while Han is saying something about believing in him before they SHOW LUKE'S FACE. He looks crazy badass! Oh yea they show Kylo Ren's face too and it kinda looks like Revan but different. There's also this kick ass looking black TIE Fighter wrecking shit. It's so fucking cool.
The source said that there were others during the screening of the footage, so that could explain why two identical reports came at the same time. Still, nothing is confirmed. And as many people noticed, most of the bits described here directly match with MakingStarWars' recent reports. So it's possible that this is just a fan speculation. Stay tuned for more…
What do you think?
UPDATE!
It appears that other sites have also received one of the descriptions above:
HOT RUMOR! Received multiple emails describing latest #STARWARS trailer! The following is unconfirmed… https://t.co/MR2KAHAA5L

— Umberto Gonzalez (@elmayimbe) March 6, 2015
And now several sites are reporting that this description is fake. And that's probably what it is. Whether it's 100% fake we will find out in 40 days.  
Newest trailer report is fake. Confirmed with my sources as a fraudulent exercise in spoiler reading.

— Jason Ward (@MakingStarWars) March 6, 2015
Hearing that that Force Awakens trailer description floating around isn't real. Sounded pretty good though.

— Jay – Indie Revolver (@IndieRevolver) March 6, 2015