Sideshow Collectibles Review: Shadow Trooper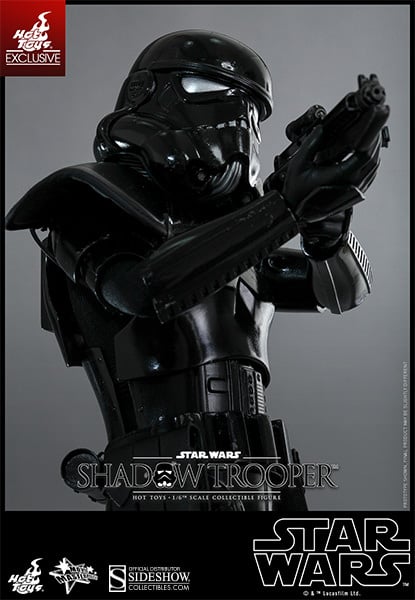 If you're like me you were probably introduced to the magical myth of Star Wars as a young kid. I mean, who can forget first seeing Darth Vader march onto the Tantive IV shrouded in the still wafting fog of war, flanked by his menacing stormtroopers. But one of the odd little enigmas that plagued my then childish mind was: Why weren't the stormtroopers all black and evil-looking like Darth Vader? I wanted black stormtroopers. Well, thanks to Hot Toys and Sideshow Collectibles this quirky wish has been fulfilled in spades!
Last month Sideshow Collectibles provided us with an awesome Sixth Scale figure of Captain Rex in Phase II armor for review. If you didn't see it you can read my full review here. This month Sideshow has graced my doorstep with another Sixth Scale selection this time from their epic Hot Toys "Movie Masterpiece Series" — the Shadow Trooper.
First a little backstory: The Shadow stormtrooper, or also known as the "Black Hole stormtrooper,"  is an invention of the Expanded Universe material produced when George Lucas still owned Lucasfilm Ltd. Since Disney acquired Lucasfilm the old EU has been relegated to "legends" status. However, these elite of the elite — and by "elite" I mean these Shadow Troopers can actually hit targets with their blaster bolts — thankfully live on in Sixth Scale glory!
The figure finally arrived and I tore into the box like a kid on Christmas, albeit belated. The first thing I noticed is that the box is different from the Captain Rex or other Sideshow figures I have in that it is bigger in all dimensions — wider, taller, and deeper — and just plain bulkier. This is a drawback to me as it takes up more space in my collection. Aside from the bulkiness of the box the major flaw I discovered is that this box doesn't come with the extremely cool magnetic flap which opens to reveal your figure behind a plastic pane. In fact, no plastic pane either. The box cover slips off, more akin to a shoe box, to reveal the goodies inside. For collectors like me who like to display their collections in the original box this is a bit of a disappointment. I'm not sure if this is because this is a Hot Toys exclusive or not, but brings to mind the old adage, "If it ain't broke don't fix it." Those nit-picks aside the graphics on the box are typically Sideshow cool, this time displaying the Shadow Trooper as a ghostly silver image emerging from the black penumbra that is the box. Awesome!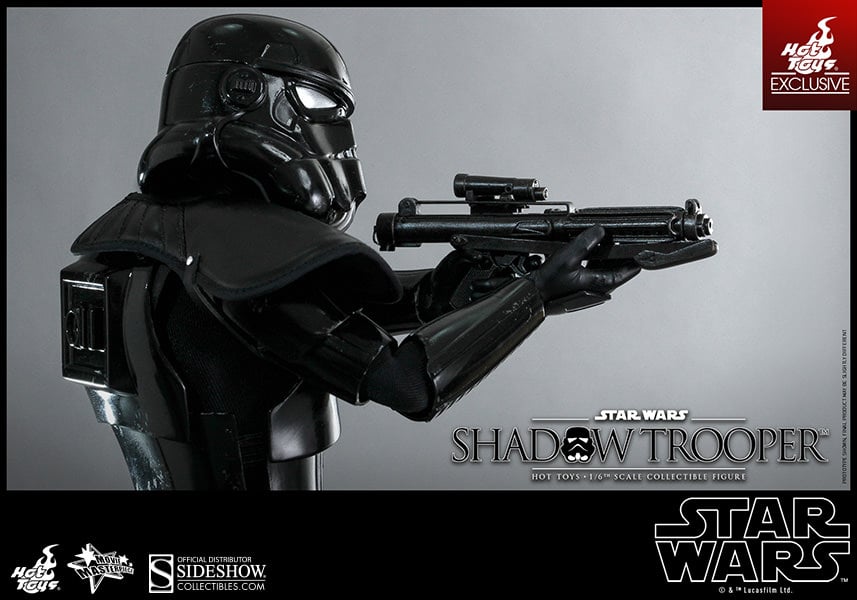 Since most of us don't collect Star Wars for the boxes, let's talk about the main attraction. The Shadow Trooper, the more sinsister shadow aspect of the Imperial footsoldier, features the classic Original Trilogy design aesthetics only in negative which is apropos since these guys are made of nothing but bad intentions. Of course their armor is not "negative" in the strictest sense as only their helmets are a reverse of the standard helmet and the rest of their armor is finished in glossy black with mild weathering affect. (In lore this armor is designed for stealth and includes a limited cloaking device.)
Just like every creation that Sideshow releases the detail is immense — every bit of armor is accounted for, at least fourteen different pieces, and fully removable. The detail and craftsmanship is so intricate he even comes with a leather pauldron for his shoulder and a leather holster for his blaster rifle, a finely detailed blaster rifle with moving parts. Other cool accessories include a pair of leather ammo pouches as well as two explosive charges.
Like Captian Rex, the Shadow Trooper comes with extra removable hands (five) for varied gestures. With over thirty points of articulation and removable accessories this is my least favorite. The hands have a very thin peg at the wrist which I fear could be worn down after many changes over the years. This would deter me from changing them very often, but I just inserted his blaster-holding hands and called it good.
Lastly, I need to mention that the display stand is a pretty nifty, if not understated, feature. It's designed in the fashion of deck plating such that you would find in an Imperial Star Destroyer or some other Imperial base. It also includes a name plate identifying the figure as "Shadow Trooper" in metallic silver.
Two of the reasons why I am particularly excited about this figure is it's rarity; in the roughly thirty eight years since Star Wars was first released many of the characters have been produced countless times. However, this Shadow Trooper has been produced very few times over the years for the collecting community and none in more glorious or painstaking detail as this Sideshow Collectibles Sixth Scale badass.
Secondly, and I have no inside knowledge, the fact that Disney is still allowing certain Expanded Universe "legends" characters to continue to be produced suggests that there are plans for said characters to be incorporated into the canon at some point in the future, whether by film or through animated series. But canon or not you'll want to get in on these exclusive figures quickly as they are a waitlisted product. Fair warning: there will be no army building a Shadow Squad, unfortunately — these are limited to one per customer. For now, you can go to Sideshow Collectibles to get on the wait list with an expected delivery of February or March. Whether you collect Sixth Scale figures or just troopers this is one must-have figure for you collection!

Be sure to share your thoughts about this and other Sideshow Collectibles products in The Cantina's Sideshow Collectibles thread.