Sideshow Collectibles Review: Captain Rex.
Roughly a year before the colossal release of Disney's The Force Awakens the Star Wars galaxy is primed to spring all kinds of surprises at you left and right like Han Solo maneuvering the Millennium Falcon through an asteroid field. One such surprise we're very proud to Officially unveil is that StarWars7News is beginning a new series of Blog articles wherein I get to review select items from Sideshow Collectibles' exciting Star Wars line. Make the hyperspace jump to read more…
Collecting and Star Wars have gone hand-in-hand since Kenner offered rabid fanatics its "Early Bird Certificate Package" back in 1977. I was too young to get in on the Early Bird Special but my personal collection, albeit even at a very young age, was simply a Han & Chewie poster on my bedroom door. That was until 1978 when the action figures finally arrived on shelves and peghooks in stores everywhere. I still remember that summer when my mom took me and my kid brother to a local department store and let us each pick a couple of the figures out — mine Han & Chewie, of course — and my brother's Luke & Leia, which I always seemed to play with more than he did. Go figure. I have been an avid collector ever since.
After 1985, when Kenner's "Power of the Force" line petered-out and interest in Star Wars waned, we collectors had to move onto to other interests. That was until about 1995 when Kenner (and eventually Hasbro) re-launched Star Wars action figures with their "Power of the Force 2" line. But, little did we know then, a small company had started up in 1994 in order to produce toy prototypes for major toy companies. That small company soon started to produce their own line of collectibles and specialty products. That company — Sideshow Collectibles. However, Sideshow Collectibles didn't produce the small 3 3/4″ scale figures that Kenner and Hasbro did, they went larger, we're talking Sixth Scale. In case you're unfamiliar, that is basically the 12″ figure scale. As an example check out the difference between the limited edition Han & Luke in Stormtrooper disguise below: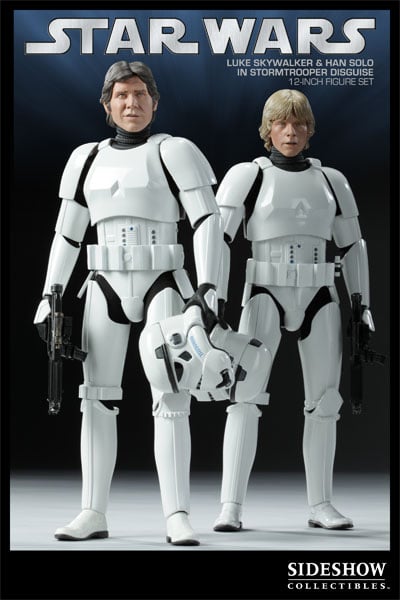 Collecting today has evolved into a much more sophisticated hobby and this is in large part thanks to Sideshow, the industry leader in Sixth Scale figures. So when I learned that we had partnered with them I was one very excited Blogger. When I learned we were going to be reviewing products I was one very excited collector! In the interest of full-disclosure I am definitely a collector and Sideshow fanboy, having several of their pieces in my own collection before we even partnered with them.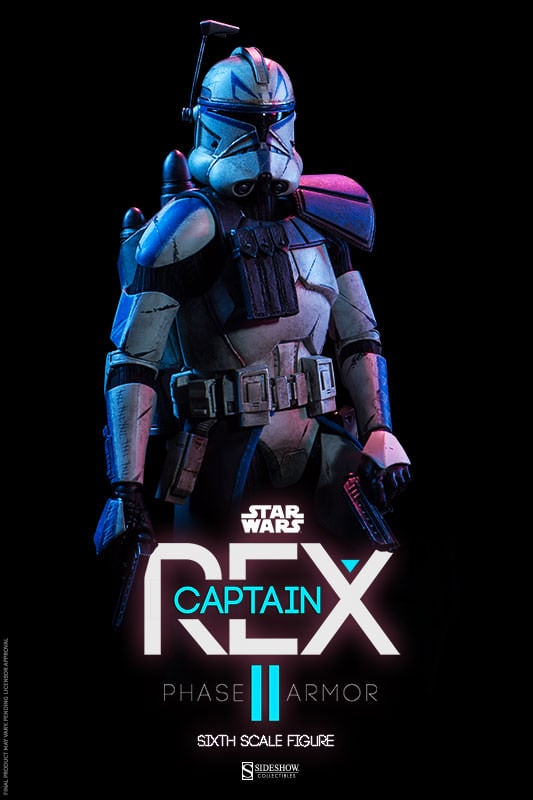 The first item Sideshow Collectibles provided for me to review for you is the soon to be released CT-7567, better known as "CAPTAIN REX." Captain Rex is one of the very distinguished clone leaders we came to know during The Clone Wars animated series while fighting side by side with Jedi General Anakin Skywalker. Sideshow's newest addition is represented in his "Phase II Armor" as seen in Episode III: Revenge of the Sith.
When my package finally arrived I couldn't wait to open it. But I can't lie, I really didn't want to. The box is designed to act as the perfect display case for the persnickety collector like me who never opens; very durable with simple yet vibrant graphics, including the fine Disney name, and a magnetic panel that can be opened to view the figure through the plastic display pane. But I couldn't resist and opened the box anyway. However, the box is designed to be able to open and close at will without causing damage, a small but nice feature.
My initial reaction to Captain Rex was awe at the meticulous attention to detail the designers and sculptors at Sideshow Collectibles invest in their figures. To me, these are far more than "collectibles" as they are as close to movie ready "puppets" the average fan has access to. I can easily envision Ray Harryhausen, were he alive today, manipulating these figures for his stop-motion animation process. The detail in Captain Rex's armor is simply amazing, everything from battle damage scars accrued over the years that entailed "The Clone Wars" campaigns, to the many, many marks he notched on the various parts of his armor and helmet to tally "clanker" kills — I counted 102 before I lost track.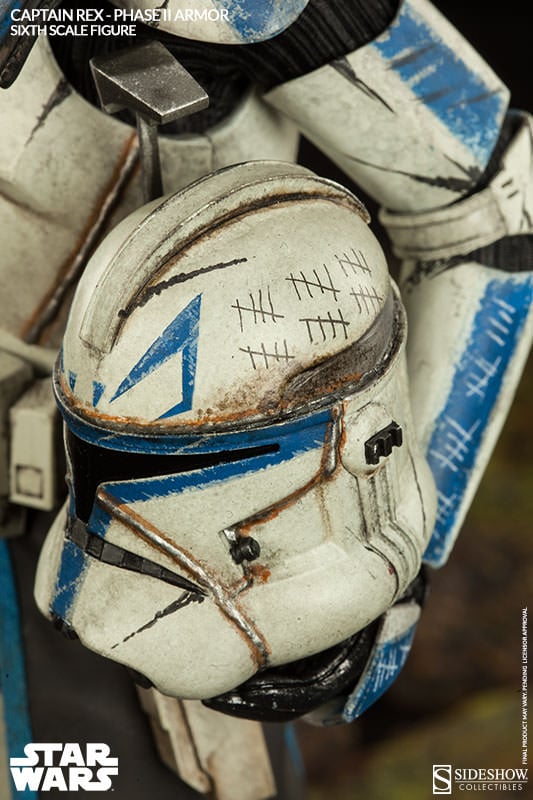 Every bit of his armor is modular for full articulation up to 12 points. In fact, every single piece of equipment is individual — no solid plastic sculpt here — and even includes a cloth bodysuit underneath. Everything can be removed and replaced at will.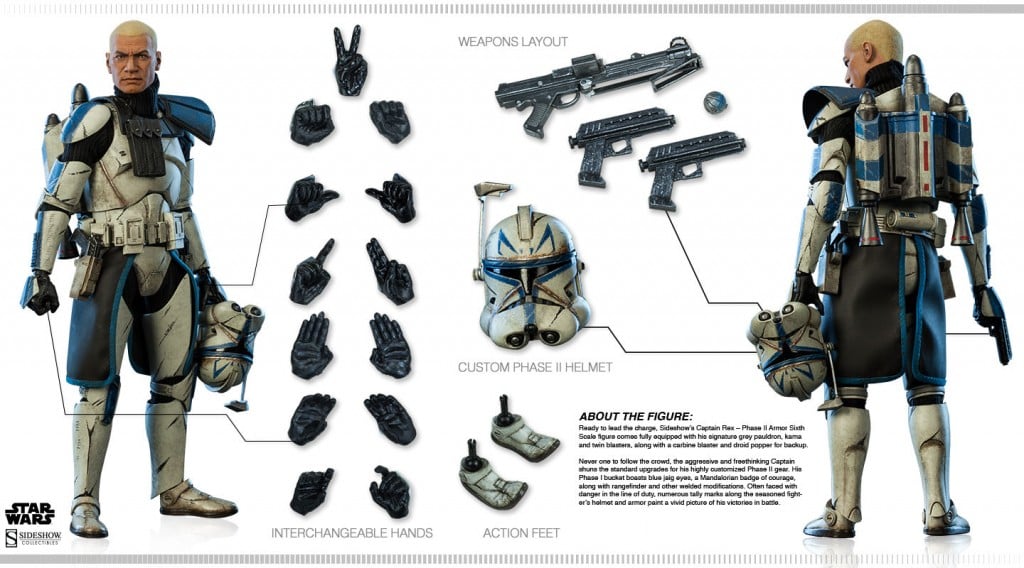 Now, lets talk accessories. Captain Rex is famous for gunslinging double-fisted blasters and, of course, each nicely detailed handgun is accounted for as well as a heavy blaster with moveable parts. Rex's holsters are capable of holding his sidearms. Rex also comes with a pair of "droid poppers" as well as a Boba Fett-esque jetpack to round-out his arsenal. And if that wasn't enough Rex also has an assortment of "pose-ability" accessories, interchangeable parts for varying poses and looks, to include a second, bare head, five pair of additional hands for silent hand signals, and an extra set of "action" feet for digging into battle. All of these accessories are easily interchanged thanks to a clever ball and socket design which easily allows you to display Captain Rex in any action pose you can think of. And speaking of action poses, Captain Rex comes with a nice display stand that will secure him wherever you deem fit. I'm thinking he'll look great defending my home theater, although I suspect I'll have to start sleeping with one eye open. However, my display base is simple, black with a silver Star Wars logo on it and not the one with the exclusive art that is ultimately pictured on the website. It's a minor detail that may be due to the fact that I have an advanced release of this figure.

All in all, I am thrilled to be able to add this piece to my Star Wars, especially Sixth Scale, collection! To read more details about this exciting new figure, view even more pictures, and of course order one for yourself, jump on over to the Sideshow Collectibles pre-order page. And, please note, this is for PRE-ORDER only right now with delivery currently slated for January 2015. But be sure to order yours soon since once these babies are sold out they're sold out and can only be had on the secondary market. Also, while you're there, don't forget to enter our exclusive giveaway so that you can score a pair — yes, a set of two — Geonosis Battle Droids so that Captain Rex can add some more tallies and scars to his armor.