Blonde Carrie Fisher Honored with the Golden Heart Award.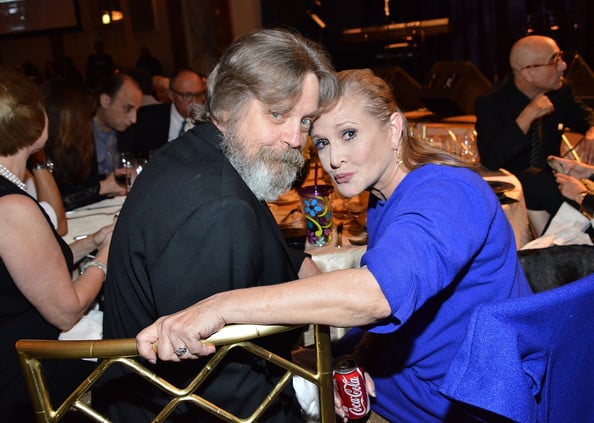 Star Wars: Episode VII's Carrie Fisher was honored last night in a ceremony in Los Angeles for her understated and charitable contributions to the Midnight Mission. Read more after the jump.
The Midnight Mission celebrated 100 years of charitable work in the greater Los Angeles area with a gala honoring Arlene Van Dyke, Denise Salazar, and our very own Carrie Fisher. For many years these folks have been working with the Midnight Mission through charitable donations and great acts of love and kindness. The Midnight Mission provides a valuable resource for people who battle addiction and homelessness and helps provide them with the services needed to walk the path to recovery. Ms. Fisher has been very candid in the past about her own battles with addiction so it is only apropos that she return the same kindness that she surely received when she made her own walk to recovery.
The gala was thrown at the Beverly Wilshire Hotel in Beverly Hills, California last night. Some of the celebrities in attendance included past honoree Dick Van Dyke, Alan Ruck, Ed Begley Jr., Beverly De Angelo and our very own Mark Hamill. Yes, Mark Hamill attended the gala in a show of support for his long-time friend and Star Wars co-star. In fact an Instagram(er) calling herself sabbathegossip was also in attendance and provided the pictures below:
Then we were treated to a couple more pics from another Instagram(er) called team_chavvo who was lucky enough to have taken a picture with each of the Episode VII luminaries!
The tint of Ms. Fisher's hair looks rather on the blonde side. In the past few weeks fisher posted several images with her new look so it would appear that we will be seeing a blonde-ish Leia Organa-Skywalker-Solo in next year's EPIC release.
Princess Leia and #BridgetJones walk into a bar… Best completed sentence receives personalized VM message from me. pic.twitter.com/5Hkmlzrma5

— Carrie Fisher (@carrieffisher) July 6, 2014
Me painting the town well READ at Tracey Emin's 50th. Lost dance contest, discovered long-lost cheek bones! pic.twitter.com/GHEXaDU50f

— Carrie Fisher (@carrieffisher) July 7, 2014
What you see is what I don't get…….. pic.twitter.com/687jNttq5m

— Carrie Fisher (@carrieffisher) September 21, 2014

I don't know about you but Fisher looks absolutely fabulous in those pics. And finally a picture with brother and sister together.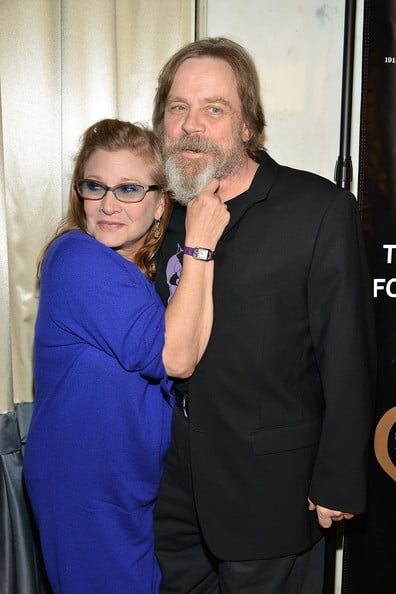 Oh, and by the way, anyone else notice his long, scraggly Gandalf beard? Sure, Mark's in civilian clothing trying to live his life in some quasi state of normalcy, but does anyone else get excited at the thought of seeing Jedi Master Luke Skywalker return to the Big Screen soon?!
As always share your comments below or inside The Cantina over a cyber mug of Corellian ale and stay tuned for more news, rumors, speculation and updates as we get them!
Pictures via Zimbio
P.S. The picture where it looks like Hamill is holding a walking cane is actually just a metal rail from the event.