UPDATE 2! RUMOR: Details on Gwendoline Christie's Character in Star Wars: Episode 7? Plus the Actress Talks Star Wars.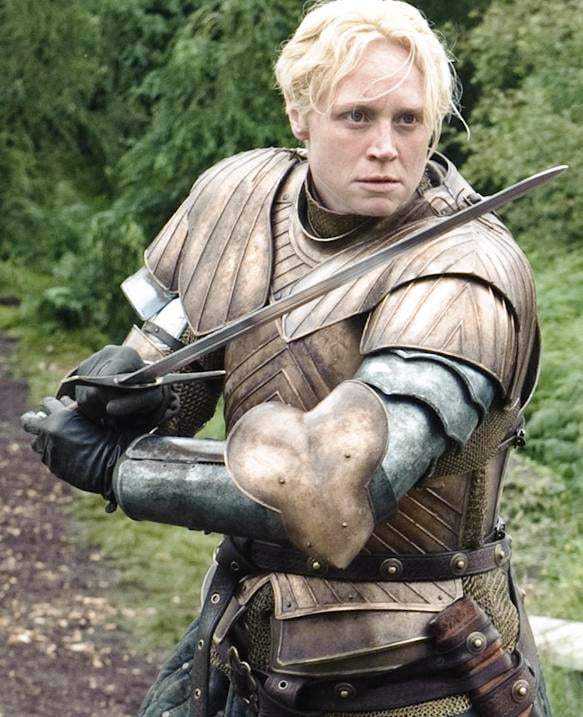 Back on June 2nd it was announced that Game of Thrones favorite Gwendoline Christie had officially joined the Star Wars: Episode VII cast. Shortly thereafter rumors started to break that she was playing a Stormtrooper. Now, rumors are flying that she's actually playing a slightly different character. WARNING potential SPOILERS ahead, after the jump!
The rumors started flying immediately after the June announcement that Gwendoline Christie was playing a Stormtrooper with "silver armor" according to MakingStarWars.net:
They said Stormtroopers play a major role, the empire still very much exists and that Gwendoline Christie plays a rogue stormtrooper who wears silver armour.
Well, thanks to Viral's reporting of the recent Kevin Smith set tour and subsequent Q & A he confirmed that the Empire and Stormtroopers are indeed in the mix:
Due to the non-disclosure agreement, Smith couldn't say much more but he gave his co-host Ralph Garman a pad with some words to read out which he then nodded to in agreement. When asked, "did you see Stormtroopers?", Smith nodded his head with the biggest smile on his face.
So it is plausible that Christie could be playing a Stormtrooper. That would be a very daring and ingenious way to go for her character. However, now we're hearing more rumors from Badass Digest that Christie isn't playing a Stormtrooper, but rather an Imperial Officer royally pissed-off that one of her legion, apparently Jon Boyega's character, has deserted:
According to my sources Gwendoline Christie is playing John Boyega's commanding officer in Star Wars Episode VII, and she's mad that he deserted. She's looking for him. She's an antagonist.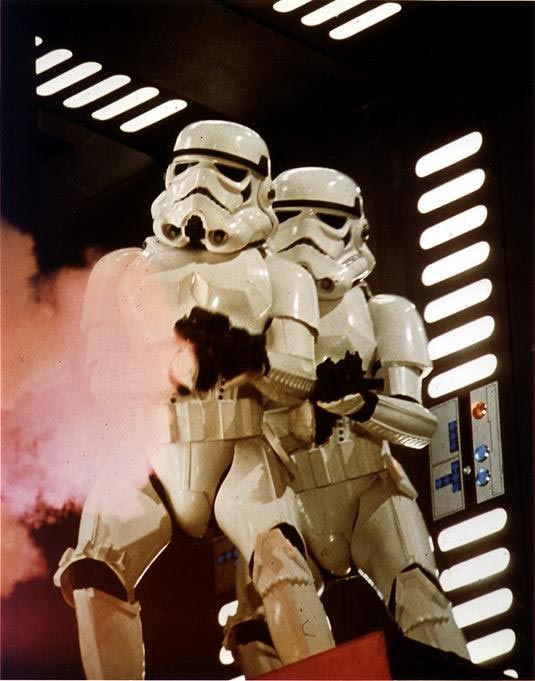 According to Faraci's sources, Christie's role was the role that Benedict Cumberbatch was considered for, perhaps even the Sith Lord Latino Review rumored so long ago, and actually written specifically to be gender neutral:
A couple of weeks ago a source told me that one of the characters who had been written as male/neutral in the script had been gender-swapped in casting.
Here's the quote from Faraci's source which is very intriguing:
UPDATE: I'm have new info that puts things in new perspectives. She's definitely hunting Boyega. I think she's an Imperial officer, but I got one more piece of information that puts everything in a new light:

SPOILERS!

The actress has been training with a lightsaber. Could she be an Imperial officer who has a lightsaber? Or is it something more? I'm hearing the S word.
Having Christie cast as a Stormtrooper would have been pretty awesome and definitely would have broken the mold of an all-male dominated Empire, but having her as a commanding officer, and antagonist, ratchets-up the dynamics even more. It places the idea of an Empire much more into line of an all-encompassing entity, moreover an entity in which people of all races and genders willingly volunteered to serve. However, having Christie play a female Sith Lord carries the drama to untold depths. It also breaks type for Christie by casting her in the role of an antagonist, something that will no doubt, if true, be very fascinating to watch.
These latest rumors come from Devin Faraci of BadAss Digest. Of course, all the salt and caveat qualifications apply, but regardless of how true this turns out to be, it appears that Christie will have a very dynamic role within the evil Empire.
Stay tuned for more developments, possibly as soon as the San Diego Comic Con commences, on this one, folks.
UPDATE!
Since the BadAss Digest rumor first broke Latino Review has chimed-in with some interesting speculation of their own. Their speculation, which is uncited and unconfirmed, is based on hearing a rumor that Jon Boyega selected a lightsaber hilt. IF, as it is rumored, Boyega is playing a Stormtrooper deserter and IF the rumor about Gwendoline Christie playing Boyega's commanding officer and possibly a Stormtrooper as well also pans out as true, then we could be looking at the original Ralph McQuarrie Stormtrooper concepts in the flesh.
When these rumors are taken together, and remember just rumors, the info seems plausible. In fact, the only negative comment would be that the proliferation of lightsabers would make them less special, yet would allow for more types of villainy, NOT just Sith Lords, combating the Jedi. Either way, all this talk of Stormtroopers suggests that they rise to more prominent levels in the canon and not just canon fodder. We shall see . . .
UPDATE 2!
Gwendoline Christie was doing some "Game of Thrones" signing at the Warner Bros. booth at Comic-Con and briefly spoke about her passion for Star Wars.
From AccesHollywood:
"That was a real, real dream come true. That was like nothing you ever imagined," she continued. "It's so burnt into our minds. It's burnt into my mind. I was shown those movies when I was a tiny little girl and then, to be a part of that thing that you held in such high regard, that's been your escapism and your love and your entertainment and it's been not just yours but everyone around you, I'm incredibly lucky. And it's a lot of fun."