Kevin Smith Talks Star Wars: Episode 7. Confirms Stormtroopers!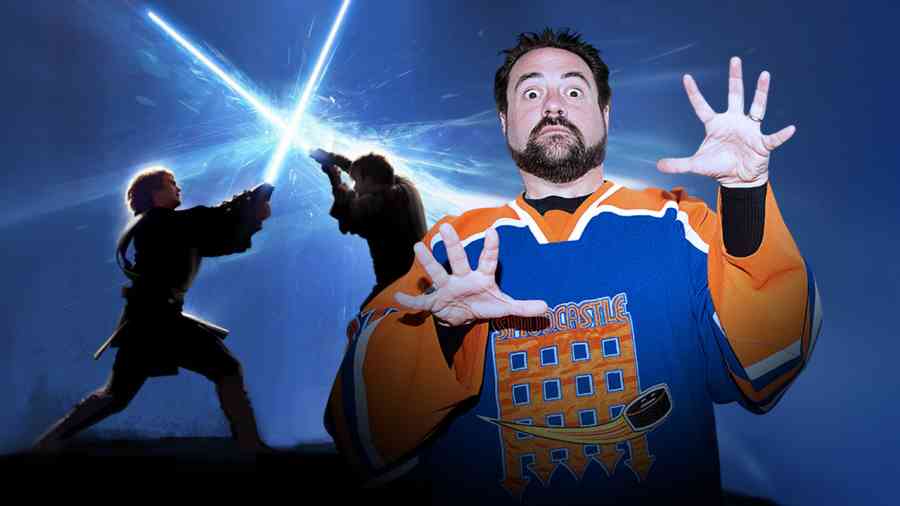 Kevin Smith is currently in the UK touring his animated film Jay and Silent Bob's Super Groovy Cartoon Movie. He is a huge Star Wars fan and not surprisingly while he was in London he was invited to the set of Star Wars Episode VII. Hit the jump for some details he shared on the Hollywood Babble-On show …
As we posted on the site's Twitter feed, after Smith's visit to the Episode VII set he posted this image with the following text:
"Visited JJ and his EP VII set. I signed the NDA so all I can share are this old Bantha-Tracks subscriber's tears and snotty nose of joy. The Force is WITH this movie. Holy Sith…"
Later he added some more bits.
From Flickeringmyth:
Smith noted that he had signed a non-disclosure agreement so he couldn't talk any specifics, but he did say that he saw costumes, characters and sets that took him back to his childhood.

"They had a sign at on the stage – I can't even say which stage – which had the Imperial Starship logo and it said, 'loose lips sink starships".

"I'm really excited and you know, people keep saying that I liked the last trilogy and I did. I liked 1, 2 and 3. But I liked them as an adult, when I watched them they didn't give me the same feeling I had when I was seven watching them for the first time and that's fine. This movie though… Dude, I cried four times. The seven year old in me came. [J.J] has f**cking captured it, man. He has nailed it."

Due to the non-disclosure agreement, Smith couldn't say much more but he gave his co-host Ralph Garman a pad with some words to read out which he then nodded to in agreement. When asked, "did you see Stormtroopers?", Smith nodded his head with the biggest smile on his face.

Smith also confirmed lightsabres and blasters, but that was pretty much a given.
Well it's surely not much but it's always great to hear a huge positive output from a hardcore Star Wars fan.