Is Star Wars: Episode 7 Harrison Ford's Last Star Wars Film?

By now everyone from here to Planet Mars knows that Harrison Ford broke his ankle while on the Millennium Falcon set, filming Episode VII. Broken ankle aside, could this be Harrison Ford's last Star Wars movie? Check out what Harrison's son Ben Ford had to say about it after the jump…


First and foremost, I want to make clear that in no way are we suggesting that Harrison Ford will refuse to appear in any more Star Wars movies as a result of this ACCIDENT. Mr. Ford has been injured on other movies as well, to include nearly freezing to death on The Empire Strikes Back, blown knee ligaments sustained during Raiders of the Lost Ark and an injured back sustained during The Temple of Doom. Harrison Ford is an ex-carpenter and it's gonna take a lot more than a spaceship door to keep him down. So that's laid to rest.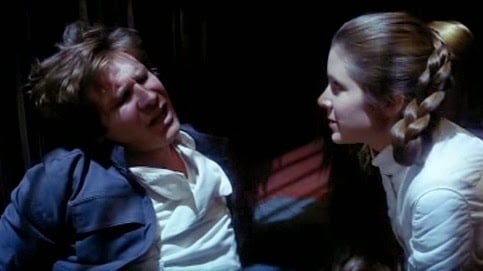 Harrison Ford's son Chef Ben Ford, as Viral mentioned in his coverage of "ankle gate," recently gave Access Hollywood an interview with some updates about the most watched ankle in the history of forever! Thanks to a head-up from someone we shall call "AWwriter" we were tipped that Ben was on CBS's morning show called "The Talk" Friday, promoting his new book and doing some burger cooking. Co-host Julie Chen informed the audience that Ben was Harrison's son and then asked:
Julie: What are you guys doing Sunday for Father's Day?
Ben: Well, he's in London right now shooting the LAST Star Wars. (2:27)



Freudian slip? Insider info? OR just an honest slip of the tongue? Its hard to tell. But let's take a closer examination of what we know thus far and see if we can find the truth.

Back around April and early May word spread like wildfire that Ford's character, Han Solo, was to be an integral part of Episode VII, according to an April report by Deadline Hollywood:
The new cast members will join returning Star Wars alums Harrison Ford, Carrie Fisher and Mark Hamill. The big surprise, I'm told, is that Ford has a gigantic role in the first of the next three films.

Could it be that Han Solo has a central role because his death is the plot motivator for the rest of the Trilogy?



Up until the last couple of years, Harrison made it very clear that he never intended to play Han Solo again. In an interview with MTV back in 2010 we read the following:
I had to ask a question that means a great deal to me and many people in my generation: Will he ever play Han Solo again?
"I wouldn't take that bet," he said, shutting the door on the reckless smuggler once and for all. "I wouldn't bet on that, no."
And aside from choosing not to play the character again, it is no secret that Harrison Ford wanted Han Solo to die in the original trilogy, not once but twice!!! According to a recent interview of George Lucas, during Empire:
'Harrison kept yelling through the whole thing, "Kill me! Kill me! Kill me!", Lucas recalled.
'I said, "Harrison, I can't kill you. I need you at the end of the next movie. There's this love thing going on. But I'll do the next best thing. I'll put you in a slab of concrete and ship you off to Mars", he told Empire.

Then during the filming of Return of the Jedi Ford re-iterated his plea for character "death":
"I just thought that it would supply some emotional bottom, a grounding. George didn't agree, and so that did not happen."

For an in-depth review of Harrison's complicated relationship to the character that made him a HUGE box office star, check out this article.


So we know that Harrison Ford wanted his character to die in a way that carried great emotional impact. Could it be that Ford came back to finally get that death he wanted so much? (Well, that and another shot at a satisfying Indiana Jones movie.) What better way for the plot of the Sequel Trilogy to be realized than for Han Solo to be mixed up in it and die? What better way to show that no one is safe than to illustrate that one of the main characters has died? What better way to illustrate just how lethal the new villain(s) is/are???

Course, the only downside to this speculation is that it's rather predictable, I know. But it makes a ton of sense on all accounts: Ford (Solo) passes the torch to his kid(s), serves to motivate the plot, and illustrates the lethality of the villains, as well as the desperation of the conflict. Plus, Harrison finally gets to put Han Solo to rest once and for all in a dramatic way that creates an "emotional bottom."



As for the most watched ankle in forever, according to new reports, Harrison is said to require at least 6 to 8 weeks to recover before he can start filming again:
"At the moment it looks like Harrison is going to be off set for six to eight weeks but the main priority is making sure he is OK."

But this won't hold up filming as JJ and co were able to shift things around to work around the accident:
A source told the Mirror "The initial day or two after the accident it was hard to move things around but now we have had more time we can juggle things, bring some scenes forward and push others back. There are lots of other actors in the movie so it is not a disaster. We are still confident the film can stay on schedule."

As a die-hard Han Solo fan, the prospect of losing the character is rather dis-heartening, if not entirely understandable. As a die-hard Harrison Ford fan, I thank Mr. Ford for deftly bringing "Han Solo" to life and making him my favorite character, even if he never understood him or his popularity. And despite his reluctance to play the character again, I think I speak for all Star Wars fans when I say, "Thank you, Mr. Ford, for coming back one, last time," if this indeed turns out to be the case.