Gary Whitta Shares First Star Wars Spin-Off Script Picture. Plus Daisy Ridley Gets A New Agent.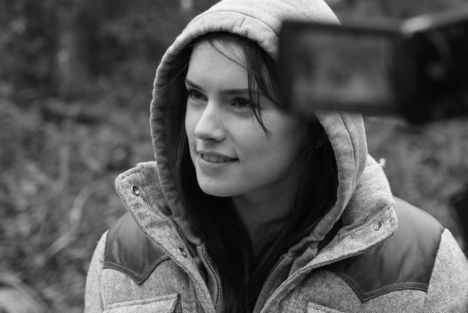 The Star Wars: Episode VII production has wound down into a scheduled two week hiatus to give Harrison Ford a little more time to recover. But that doesn't mean that the presses stop here in the Star Wars Blogosphere or that there is no news from the galaxy far, far away, so catch-up on some tid-bits from around said galaxy after the jump . . .
First up, we have a Deadline report declaring that Daisy Ridley has signed-on with UTA, United Talent Agency, as her American agency. Apparently she was in hot demand among Hollywood talent agencies and why wouldn't she be? She has the kind of beautiful, fresh face that Hollywood drools over, not to mention that pretty much every actor to appear in any of the Star Wars Episodes and Spinoffs is bound to become a hot property. Curiously though the same article states the following:
the plan is for her carry through to the second and third films that will be directed by Looper helmer Rian Johnson.
The curious part of this equation is that it was widely presumed, at least by this Blogger, that Daisy was cast because she is going to be one of the leads throughout the Sequel Trilogy. The same presumption was made with Domhnall Gleeson as well, with the thought that Disney/LFL took their time with casting in order to make sure it is perfectly correct for the long haul, vis-a-vis The Sequel Trilogy and perhaps movies beyond Episode IX. Oscar Isaac and John Boyega may not be in for all three episodes, but Ridley, suspected to be Han and Leia's daughter, and Gleeson, suspected to be son of Skywalker, were expected to be signed-on for the duration.
The next bit of news on the plate relates to the first spinoff, presumed to be Boba Fett, with its writer, Gary Whitta, recently sharing a cool pic on Facebook:
https://www.facebook.com/photo.php?fbid=10152223368111016&set=a.10150299829081016.334115.679476015&type=1
It's surprising to see that Whitta has just now begun the script when he was announced as writer back on May 23rd. Did he really write that or is that just a generic page the writers are supplied with? As a writer, albeit a Blogger, I find it a little amazing that Whitta was able to exercise that kind of restraint in waiting so long to write anything. Perhaps Guardians of the Galaxy affected him more than he let on, left him with a sever case of "Writer's Block." Get crackin', Gary, December 2016 isn't that far away. LOL At any rate, it is this kind of scrutiny of minutia that gives us Star Wars geeks our reputation.
Next up we have this Tweet that's sure to raise some eyebrows as well as some questions among Star Wars fans:
#ThrowbackThursday A wild @simonpegg appeared! #tbt pic.twitter.com/M9I45kopNw

— Gravy Whitta (@garywhitta) August 7, 2014
With all the rumors swirling about Simon Pegg possibly having some involvement in Episode VII, it will surely fuel the fire to see Pegg and Whitta together. Perhaps Pegg is playing a role in the first spinoff as well and is giving him some inside scoop?! LOL Not likely.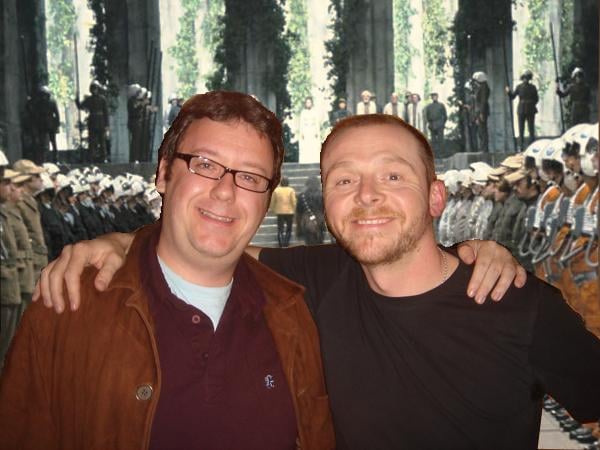 We think Whitta follower Darick Robertson made a pretty cool adjustment to the picture! Seriously, though, Gary, stop messing around with Simon Pegg and start writing already!!!
Finally, we have to mention that the Evil Empire has begun a propaganda campaign against the Rebel Alliance. Citizens of the galaxy are encouraged to review the following info-vids on the HOLONET NEWS. Citizens not reviewing said vids may be subject to discipline up to and including being sent-away to Imperial re-indoctrination compounds. But seriously, check out this cool website promoting Disney's new animated show Star Wars: Rebels!