SPECULATION: Who Isn't Who In Star Wars: Episode 7???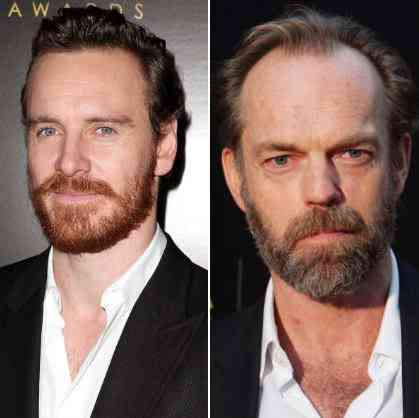 Ever since the D-Day announcement of October 30th, 2012, fans like me and you have been speculating as to who will be

cast

in Episode VII. Well now we know the meat and potatoes of it. But who — and almost every living actor on the planet had to be either speculated about and/or considered by Lucasfilm et al — wasn't cast . . .

IF Kathleen Kennedy and JJ Abrams listened to the fans the cast would look something like this —

Michael Fassbender, Hugo Weaving, Gary Oldman, Daniel Day-Lewis, Benedict Cumberbatch, Saoirse Ronan, Chloe Grace Moretz, Dominic Monaghan, Ksenia Solo, Judi Dench, Sigourney Weaver, Julianne Moore, Ryan Gossling, Lily Collins, Summer Glau, Gillian Anderson, the entire cast of Game of Thrones, and Zac Efron. Okay, maybe not Efron, but you get the point. The fanbase's fantasy dream casting would have contained a million names. Just the cost of the actors alone would have topped $200 million!!!

But Kennedy and Abrams wisely chose a new old path, which will be the path to undoubted success. Dominic Monaghan told us as much:

"What he said was, we don't want to fall into that mistake of people going 'Oh, it's that guy from that thing!' and then you're completely out of the 'Star Wars' universe."




So you see, from a certain point of view, the new path is the old path to success. JJ is doing what George did in '77 when he cast unknowns Ford, Fisher, and Hamill. Today's Hollywood, which has infected the fanbase, is to get the biggest names on the planet. But this cast of relative unknowns is the right way to go.

When the cast was announced a couple days ago I was pretty sure we'd have a few names that were pretty famous (or infamous) that would be controversial to someone. But this cast is largely unknown with the biggest names being Max Von Sydow and Andy Serkis. Just for fun, though, try to guess all of Sydow's movies. Or maybe just the recent ones. That's right! It's difficult because he has been a character actor that isn't know for any one thing. Andy Serkis is known for being Gollum, Caesar, and some other CGI characters. Before Tuesday 6.5 of the 7 billion people on the planet couldn't have picked him out of a lineup of hobbits.

So, it must be said thus far that Kathleen Kennedy, Lucasfilm, JJ Abrams and moreover, Disney, is doing everything possible to get Episode 7 right for the fans and for the franchise as a whole going forward.




However, what's the point of who isn't in the movie? Well, the point is that there has been a lot of speculation over the last couple years. Some of the NOT cast actors include Sigourney Weaver, rumored to have been "in talks," and Julianne Moore. So I ask, does the lack of a redheaded female mean there will be no [Mara Jade] in Episode 7 as has been rumored for a while now??? OR is a brunette already cast to play the fiery redhead??? After all, recall that Karen Gillan cut her beautiful red mane for Guardians and donated her fiery tresses for a wig:

Marvel are the best company to work for, they really are. They treat you really well. They made my hair into the most incredible well-made wig and they gave it to the Star Wars people. It's just so funny to think that my hair is made into a wig, next to all these Star Wars monster heads in a warehouse.

Then there's the curious case of "Rachel", a.k.a the "Shut up and eat your apple!" girl. Keep in mind that this description was released AFTER the Arndt-Abrams-Kasdan writing shake-up.



It would seem that Daisy Ridley is almost certainly playing a Solo daughter. Just based on her positioning in the cast photo from Tuesday even suggests as much, not to mention what her father said.

Would they have cast these characters and not reveal them now? OR are "Rachel" and "Mara" yet to be cast?

Personally, I wholeheartedly believe Star Wars can definitely handle adding more women to the cast as either villains or heroes or both and hope they do! One of the latest, and most persistent, rumors has been that Oscar winner Lupita Nyong'o of 12 Years a Slave has been pursued by the Episode VII production. Could she have been cast and not announced?


Academy Award winning Night Sister???
Per Viral Hide's report:

– Oscar Winner Lupita Nyong'o is also in the cast. She will be playing a character called 'Asajj Ventress'. Nyong'o was not officially announced in yesterdays report but was one of the first names to have signed up after Mark Hamill, Carrie Fisher and Harrison Ford.

And just for the record there has been plenty of speculation that Billy Dee Williams, Frank Oz, Ian McDermid, Ewan McGregor and even Hayden Christiansen would return in order to reprise their roles as Force Ghosts or Sith Specters or questionable friends. Does the lack of word on these fronts declare that they won't appear? OR is their inclusion in an official announcement too much of a spoiler alert for JJ's Mystery Box strategy???

Stay tuned . . .