Star Wars: The Force Awakens – Yoda's Planned Cameo Was Cut.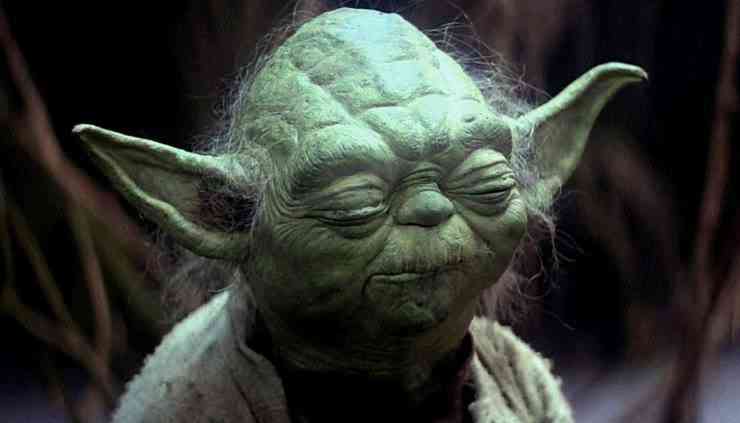 Entertainment Tonight recently interviewed Maryann Brandon and Mary Jo Markey, the editors of Star Wars Episode VII: The Force Awakens. The interview confirmed that Frank Oz reprised his role as Yoda for a cameo, but was ultimately cut from the film.
"There was one point where we were actually thinking of having Yoda in the film, and then we decided not to," Brandon told ET at the 66th annual ACE Eddie Awards. "Frank Oz came in for a day and did a whole bunch of Yoda and he was over the moon to do it — and we were tickled pink!"
Note that this is strongly implied to be an actual, physical cameo as opposed to an auditory one (like Ewan McGregor's delivery of "These are your first steps…"), and Frank Oz recorded new lines, so that would most likely mean that we would have seen Yoda as a Force Spirit somewhere.
Back when the movie was wrapping up production, one of our own informants told us that there was apparently a scene of Yoda talking with Luke about serious matters – and another source claimed that there would be new dialogue for Yoda in the film. If this was indeed the scene that was cut, it suggests that the "Force Back" sequence was going to be a lot longer. I would personally imagine that the scene in question would take place after a scene showing Ben's betrayal, leading Luke to ask an old friend for advice on his next course of action (and setting him on the quest to find the First Jedi Temple).
Hopefully, whatever scene that Yoda had in the film will be included on the upcoming Blu-Ray release. Stay on target with Star Wars News Net – your Force for news about the Galaxy Far, Far Away.
Grant has been a fan of Star Wars for as long as he can remember, having seen every movie on the big screen. When he's not hard at work with his college studies, he keeps himself busy by reporting on all kinds of Star Wars news for SWNN and general movie news on the sister site, Movie News Net. He served as a frequent commentator on SWNN's The Resistance Broadcast.