Ahsoka Tano Premium Format Figure Announced By Sideshow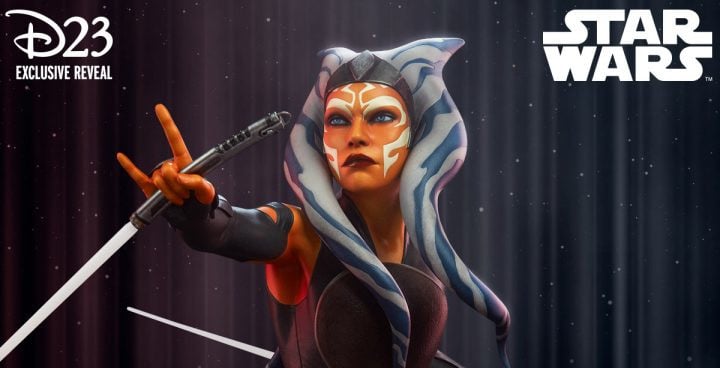 May the 4th is already underway. Even though most of the world still lives on May the 3rd as of the posting of this article, Star Wars is officially kicking off its festivities for its day of the year. D23 has announced a new Ahsoka Tano figure from Sideshow, in premium format, will be available to pre-order tomorrow, on May the 4th, at 6 am PDT.
The figure is based on Ahsoka's appearance in Star Wars: Rebels, and is fully sculpted in Premium Format — it is 19.5 inches tall and comes on a Malachor-inspired display base. She is also wielding her two white lightsabers, in a pose meant to recreate the famous battle from Twilight of the Apprentice, the final episode from the second season of Rebels. From D23:
"The polystone Ahsoka Tano Premium Format Figure is fully sculpted to capture the energy and action of her animated presence in a three-dimensional statue format. Ahsoka's vibrant orange portrait bears her distinct white facial markings, and her face is framed by her white and blue patterned montrals and lekku. Her costume features a blue-grey bodysuit and sculpted skirts, belts guards, and detailed tan tassets at her hips. In her hands, her unique, white-bladed sabers are unsheathed in anticipation of a fateful duel."
Here is the figure, available tomorrow to pre-order: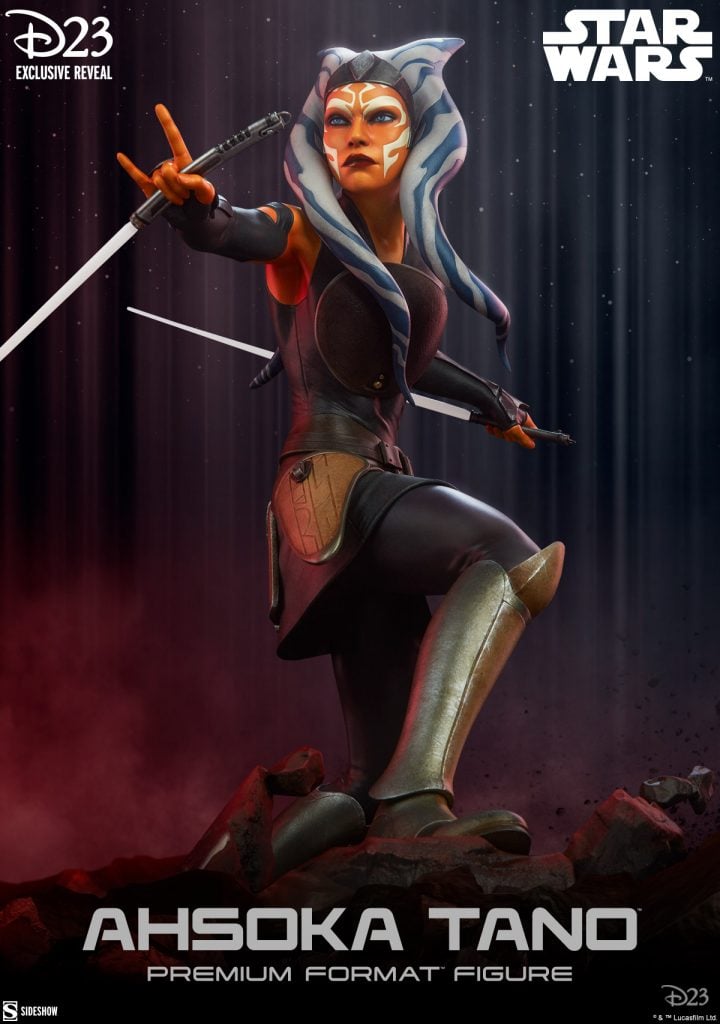 Whether or not Sideshow has more announcements in store for us, we'll find out as the day progresses. If you want to stay tuned with everything happening in the world of Star Wars on May the 4th (or any other day, for that matter), make sure to regularly check out Star Wars News Net. Between The Bad Batch (which drops tomorrow, make sure to check out our initial, non-spoiler thoughts here) and perhaps some announcements coming our way tomorrow, we have a busy week ahead.
Miguel Fernández is a Spanish student that has movies as his second passion in life. His favorite movie of all time is The Lord of the Rings, but he is also a huge Star Wars fan. However, fantasy movies are not his only cup of tea, as movies from Scorsese, Fincher, Kubrick or Hitchcock have been an obsession for him since he started to understand the language of filmmaking. He is that guy who will watch a black and white movie, just because it is in black and white.